Posted on
New COVID-19 protocols in place – SVG prepares to receive AA tomorrow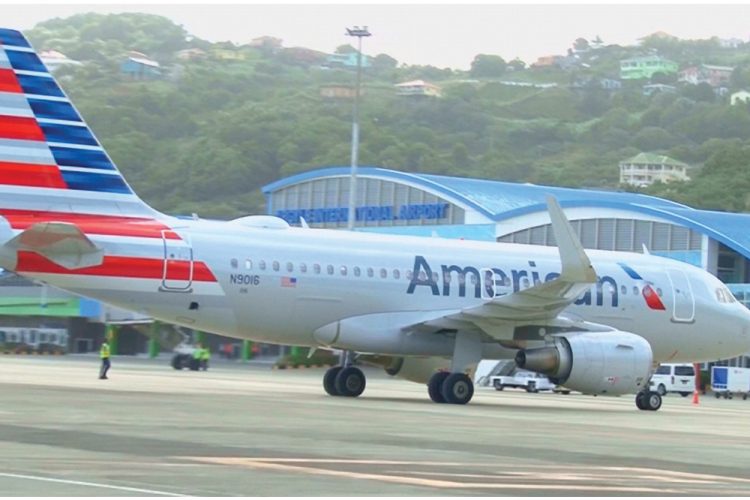 by Bria King
Protocols for outdoor and indoor mass gatherings have been issued, even as this country prepares to receive an American Airlines flight from Miami, tomorrow, July 11.
The first phase of protocols for mass gatherings will run up to July 31 and coincide with the lifting of the ban on amplified music, which was announced by the Commissioner of Police, yesterday.
Prime Minister Dr Ralph Gonsalves, who was speaking on NBC radio this week, revealed the protocols' provisions for indoor gatherings with a maximum of 200 persons and outdoor gatherings with a maximum of 300 persons.
"The measures of the protocol recognize the increased risk of the spread, now that people are going to come in again from countries with many cases of COVID-19 and of course, their altered nature of the quarantine requirements," the prime minister said.
Gonsalves said these protocols were established as part of authorities' thrust for citizens and visitors alike to "live well with COVID".
He added that it was developed with four objectives in mind: to minimize the potential for creating a COVID-19 super-spreader event; reduce the exposure of attendees of mass gatherings to the virus; early identification of persons at mass gatherings suspected of having COVID-19; and to facilitate early contact tracing and containment in the event of a spread at a mass gathering.
According to the prime minister, indoor mass gatherings include in-door church services, concerts, house parties, nightclubs, meetings and boat rides on ferries.
Outdoor mass gatherings are considered to be open air crusades, block-o-ramas, outdoor fetes, gatherings around bars (eg: Heritage Square), gatherings with direct access to the courtyard or large yard or a large pool area, catamaran cruises, beach and river picnics.
The protocols require that temperature checks be carried out by organisers of events at venues where there is a central, controlled entry point.
"The temperature checks are to be provided by the organisers of the event and if you need any help, you can contact the ministry of health and any patron, attendee or congregant found to have a temperature greater than 100.1 degrees Fahrenheit…should be referred immediately to the COVID hotline (784 534-4325)," the prime minister said.
It is also a requirement to ensure that there are sufficient sanitizing stations. The recommendation is that there be one sanitizing station for every 40 persons at the event.
In cases where it is a street type event, Gonsalves said that shops and bars involved must provide sanitizing options for patrons.
Persons are also being asked to observe social distancing guidelines of three feet at both indoor and outdoor gatherings.
And while he recognizes that it may be difficult, the prime minister said the use of facial coverings is strongly recommended in both instances as well.
Adequate toilet and bathroom facilities are also necessary for indoor and outdoor mass gatherings.
To date, St Vincent and the Grenadines has recorded a total of 29 COVID-19 cases, all of which have recovered.
This country recorded its last positive case on June 16 and of the 29 cases, 19 have been attributed to seafarers who returned home during the repatriation process.
A search of the American Airlines website yesterday indicated that almost three-quarters of the 172 seats on the flight scheduled to arrive in SVG tomorrow from Miami, Florida have been booked.
Florida's Department of Health on Wednesday confirmed 9,989 additional cases of COVID-19, the fourth highest single-day total recorded since the pandemic began in March. The state now has 223,783 confirmed cases, with more than 53,000 being in the Miami area.
As an added measure to the protocols on mass gatherings, Gonsalves said that bars and restaurants will be asked to record the name and contact number of patrons and store the information for up to one month.
"That is really to help with contact tracing if it happens that at that particular place, somebody is likely to have contracted COVID, that you could know basically all the persons so we can contact trace them in a very short time," he said.
Persons are also being asked to download the MOHWE Patient Reporting application on their mobile devices so as to facilitate the early identification of contacts of new or suspected COVID-19 cases.
The protocol said that this app will be available from mid-July.
A press release from Royal St Vincent and the Grenadines Police Force indicated that the ban on amplified music in public and private places has been lifted, effective today, July 10.
The release noted that the managed conduct of the mass gatherings with amplified music will be a collaborative effort involving the police force and the Health Services Subcommittee core team.