Posted on
Farmers Market held to cushion impact on businesses of Covid-19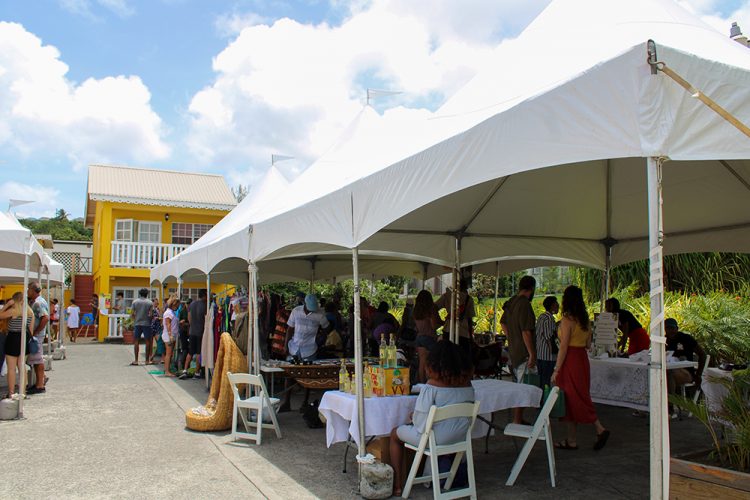 A local hotelier has found a way to generate income both for herself and a number of small businesses in St Vincent and the Grenadines (SVG), as entrepreneurs seek to recover from the impact of COVID-19.
The Paradise Beach Hotel held for the first time on Sunday July 5, Farmers Market, where several small businesses placed their products on display to be perused and purchased by patrons.
"This is an idea I had for a while. I went away and went to a couple farmers markets and said shucks, we could do it here, so it's been in my head for years but…I never really put it together," Kim Halbich, the manager of Paradise Beach Hotel told SEARCHLIGHT on Sunday.
The event also included a brunch where persons could enjoy quality time with family and friends.
Halbich said the intent is to have Farmers Market on every first Sunday of the month, once the COVID-19 situation remains under control locally.
She said persons seem pleased with how it has been handled so far, which translated into many people showing up to support the new event.
"We started it on a small scale, but it's been fabulous so far. We had every table that we had filled and a lot of interest, a lot of people passing through," the hotelier said.
Farmers Market started at 9 am on Sunday and continued into the afternoon, so that persons could have an opportunity to come at different times.
All 26 stalls were filled with small businesses selling fruits and vegetables, plants, locally made art and swimsuits. Catering companies, cafés and other businesses were also on display.
Fanfare SVG Inc., which specializes in event planning, event rentals and most recently the distribution of cleaning products were sponsors of the event.
Alexis John, the director of Fanfare SVG Inc. told SEARCHLIGHT that this was his way of helping to provide businesses with a platform to showcase their businesses, particularly during this pandemic, which has been difficult for many people.
Several budding entrepreneurs told SEARCHLIGHT they were happy to have the platform, including Gaylon Matthews who produces local herbal teas.
Matthews' product, 'Camara Tea' is one she developed while at the St Vincent and the Grenadines Community College (SVGCC).
"We should have walked with more boxes because we are selling out," she said.
'Camara Tea', made from the Lantana camara plant, is popularly known in St Vincent and the Grenadines as 'Buddy me eye' and has numerous health benefits.
The 20-year-old told SEARCHLIGHT that as her business grows, she hopes to incorporate other herbal tea products.
Ronessa Hadaway, part owner of the Oshun Café was also present with her team to drum up some publicity for her two-week-old business, which is located at Villa Flat.
The café's specialties are burgers and creamy pastas but they also offer confectionary items including cakes and cookies for the persons with a sweet tooth.