Posted on
Masked crusaders battle CPEA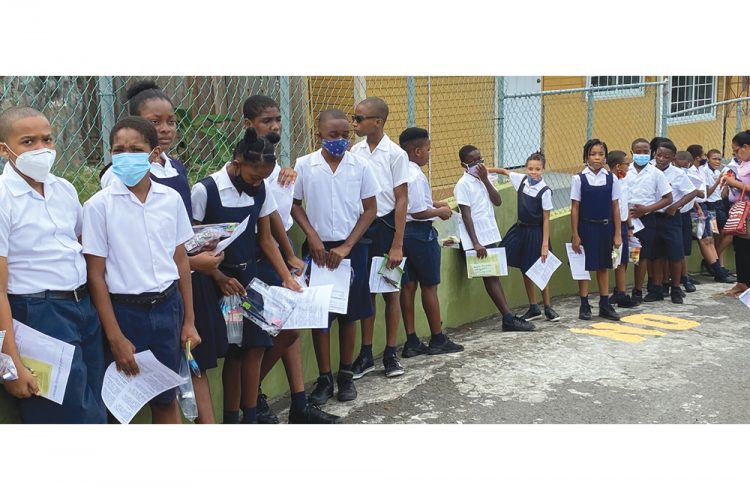 by Katherine Renton
Yesterday, wearing masks and carrying transparent bags containing pencils and even hand sanitizer, 1920 grade six pupils around the country were finally able to begin day one of their two-day primary exit examinations.
In order to ensure that these 964 male, and 956 female students were safe while sitting their Caribbean Primary Exit Assessment (CPEA), the Ministry of Education increased the number of centres for the exam from the 16 used in 2019, to 57 this year.
"This change has come in an effort to observe the social distancing protocol and to allow more students to take the CPEA final exam at their resident schools, when the exam is administered this Thursday and Friday, June 25 and 26," the Ministry stated in a release issued on Tuesday.
Four papers will be administered, including Mathematics and Social Studies yesterday, and Language Arts and Science today. The students have 50 questions to answer in each of the tests, and one hour and 15 minutes in which to do so.
School based assessments done prior to the exam account for 40 per cent of their grades, while the external exam makes up 60 per cent.
Results for the exam will be released by the examiners, the Caribbean Examinations Council (CXC), in July.
"This allows the Ministry of Education sufficient time to conduct its secondary placement exercise for the new
academic year (2020-2021)," the MOE indicates.
Despite the physical school year being broken up by the pandemic, with a two-month break occurring in at-school learning, the parents of the children who were filing in to take their exams yesterday indicated that their children were feeling confident and happy rather than nervous.
"She is a child who has always worked, she has always maintained a very high percentage and I know that she will do her best, so I'm not nervous or anything. I just see it as a normal day where you're going to write an exam and she felt that way this morning," Cheryl Bacchus said in speaking about her daughter, 11-year-old Kathryn Miller.
In terms of online school, the Kingstown Preparatory School (KPS) "did a lot", Bacchus noted, adding "They took a little while to get off the ground, but when they got started, for my child's grade in particular, it has always been a constant flow of work."
"I think the online was even more challenging, because you got so much work, it kept them abreast. So up to the point of where they are today, I would say that they are fully prepared so to me the COVID had challenges, but where the curriculum was concerned I think the KPS was able to pull their business together and get it done for today," she revealed.
"…I don't think we really have the answers to deal with COVID effectively, but we have to live with the situation, and I was very happy when the Ministry made the decision to (have the exam)," the mother commented.
In the case of Laura Stephens-Dublin, mom to 12-year-old aspiring pilot, Alpha Dublin, she revealed that she didn't sense that her son was nervous, and that he was confident.
She noted that as parents, they are more anxious than their children, because "although we are not the ones sitting the exam, but you know all the hard work has led up to this."
"…For the last couple of weeks it has been very hard, especially with the pandemic and all of that, I know that there were some topics that were not touched," she commented.
"The teachers tried their utmost best to get that in one package, so I know especially for the children to get all that information in at once was very difficult," the mother said.
Dublin-Stephens admitted that preparing for the exam in the face of COVID-19 was difficult. "It was difficult, I'm going be honest, it was difficult. There were times I just had to say you know what happen, just breeze (to her son), just relax a little bit," she revealed.
However, she also indicated that her son's teachers at KPS pushed on, created a chat group, and offered their numbers to call in case there was a query about any topics.
"However, with fervent prayer, I know that God understands, he knows what the challenges are and he would send his holy angels to take charge," Stephens-Dublin noted.
Eleven-year-old aspiring doctor Orhanne, daughter to Latheisha Brewster, was excited to take her exam, her mother said.
"She woke up earlier than usual so she's excited and she has prayed a lot," Brewster disclosed.
In preparation, Mathematics was her daughter's weakest point, but she was able to get help from her father, the mother noted.
Orhanne even told her at one point that she was even grateful for the extra time so that she could study more, her mom recalled.