Posted on
Five-year-old boy electrocuted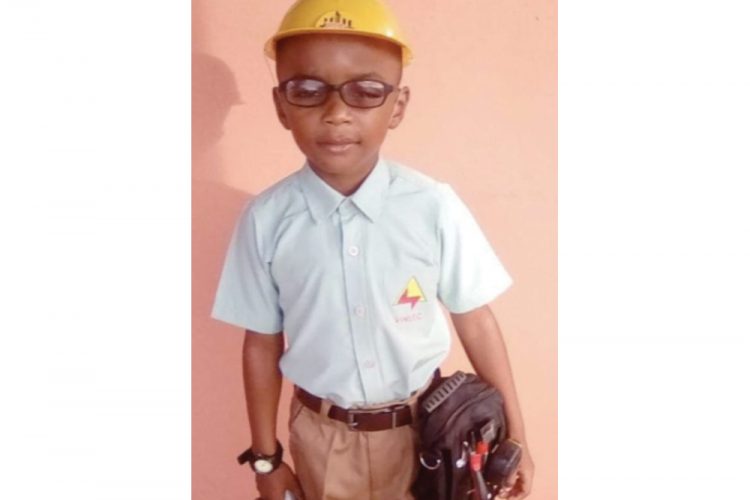 by Lyf Compton
Five-year-old Jeremiah Eustace-Huggins wanted to become an electrician like his father Carl Huggins.
So much so, that for career day at the Kingstown Government School this past February, Jeremiah, a grade K student, dressed as an employee of the St Vincent Electricity Services Limited (VINLEC).
But the Upper Cane Hall, Arnos Vale youngster will never realize his dream, as some time during the morning of Monday, June 22, Jeremiah died from an electrical shock while walking behind a relative's house.
"I feel very distraught because Jeremiah died from electrocution and I am an electrician.
"That place that they have where he get shock had a problem and I wasn't told of the problem and that is something I could have dealt with. I could have prevented that from happening and he would still have been alive," Jeremiah's father Carl told SEARCHLIGHT.
According to Carl, on Monday morning, he left his son in the care of Jeremiah's grandmother (Carl's mother). When he left home, Jeremiah was still asleep.
Carl said he returned around 3 pm and was told that Jeremiah could not be located. Carl and Jeremiah's mother went looking for the youngster and while searching, someone called them and told them that the five year old was behind one of their relatives' house.
Carl said the house is located on the same property as his parents' home where he also resides, and the tenants knew there was an electrical issue, but never said anything about it.
"Nobody told me about it…he went behind the house and was electrocuted by the earth rod. She knew it had a problem and did not say anything," Carl said while wiping tears from his eyes.
He said he believed the problem was caused by a faulty appliance in his relative's house. He said the house was wired using an old method and did not have a residual-current device (RCD) system that would shut off the electricity when a fault was detected.
RCD, or residual-current circuit breaker (RCCB), is a device that quickly breaks an electrical circuit to prevent serious harm from an ongoing electric shock.
"I feel hurt inside. A piece of me gone. I don't even know how I would function.
"He wanted to be an electrician, that was his dream because I used to carry him out to work with me. He used to go anywhere with me," said Carl.
He told SEARCHLIGHT that of his four children, Jeremiah was closest to him and would often times accompany him out on jobs and to a site in Green Hill where he is constructing a family home.
"'Transformers' is his favorite cartoon. Me and he have a tight relationship. That is a part of me gone there that I could never bring back. I can't even function properly I don't even know how to pursue what I doing now.
"It hard for me to go on without him because he was a big part of my dream. He was a big part of my plan. That is the reason I was working, to give them a head start in life so they would not have to work hard like me. I would do all the hard work," Carl said while shedding tears.
He believes that Jeremiah, who was barefooted, touched the ground rod (which should have been buried in the earth) and received a strong volt of electricity and could not pull back.
He noted also that Jeremiah was there for some time before he was found and maybe if he was discovered earlier, his life could have been saved.
"I can't bring him back. It's hard for me to move on. I have my other children, but he was my biggest joy out of all of them," the distraught father said.
Police are investigating.