Posted on
Facebook robber sent to jail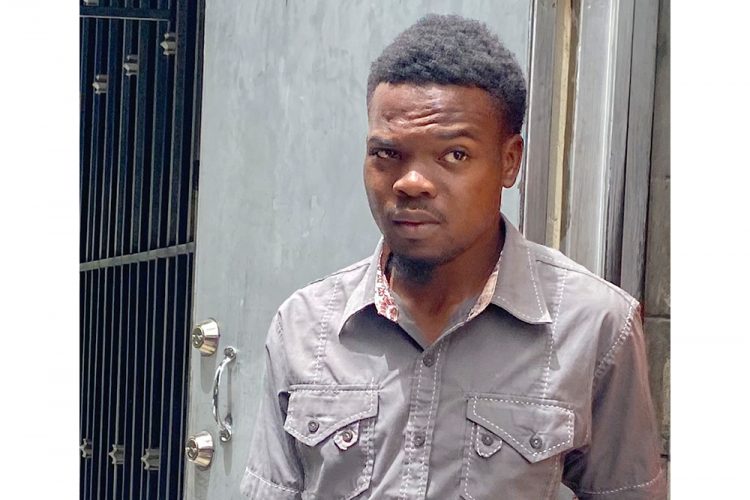 A fleet-footed target, who had been lured to the scene of an attempted robbery by someone on Facebook, has made sure that the culprit now has to spend four years and four months in prison.
Furthermore, the perpetrator, Oranson Garraway of Layou, now has a slew of other robbery charges that were laid after his capture.
Everything started, the court heard, on June 16, when Ronique Toussaint of Mesopotamia was scrolling through his Facebook page and went on to Vincy: Buy, Sell and Trade. There, he discovered a Yamaha dirt motorcycle which was being offered for EC$700 by a woman.
Toussaint wanted to purchase the item, so he screenshot it, and contacted the owner of the page. They apparently agreed to meet in Layou the following day, June 17, at around 3:30 p.m.
Toussaint went to Layou as agreed, and was accompanied by his friend, who drove him to the Leeward town. On arrival, they phoned the seller, who had told them over Facebook that her son would be completing the transaction. The meeting place was relayed, and when the two friends arrived there, the defendant was sitting on a wall at the side of the road. After they spoke to Garraway, he told them that they would have to wait for the woman for 15 minutes.
However, shortly after, Garraway took out a homemade gun made of wood and galvanize that he had stored behind the wall he was sitting on, and pointed it at them. Toussaint became very frightened and ran to the base of the Rapid Response Unit (RRU) in Layou. As he did so, he heard the defendant telling his friend to "give me everything wey you get."
Toussaint met Corporal 403 Nigel John at the base, and John took the initiative to, using a private, unmarked vehicle, take a party of police officers to investigate. At Ruthland Vale, they came across the defendant, and stopped him. A search of his backpack revealed a gun, and further searching revealed a shell. "Nothing nah happen for me so me try rob a man," he apparently told the Corporal.
Sentencing for Garraway on charges of possession of a firearm, possession of one 12-gauge ammunition, and unlawful assault, occurred yesterday, June 22, at the Serious Offences Court (SOC).
Senior prosecutor Adolphus Delplesche recalled that a similar charge was withdrawn against the defendant based on a technicality, and he pointed out that in just over two weeks he is back. Delplesche commented that in his mind the defendant did not show remorse.
"A 21-year-old child, this is his approach to things – 'nothing nah do for me so me try rob a man'," he stated, continuing, "Your honour this is serious, extremely serious, and in times like these we all live in this community and we know what is happening here."
"…We have to do what the law allows to make our society safer so people can feel comfortable going about their daily business," he told Chief Magistrate Rechanne Browne, and recommended a jail sentence on the "upper scale."
The magistrate, in delivering her sentence, noted that once a firearm and ammunition is involved the consequence could be death. She considered the possible need for the victim for prolonged trauma, and the anxiety that such an incident causes.
She deemed the offence very serious, and more aggravated by the fact that it took place during the daytime, that a weapon was "brandished", that there was the presence of ammunition and a firearm was used to instill fear and intimidation.
However, the defendant had no previous convictions, and was young.
After adding and subtracting prison time based on these factors, the magistrate found that a sentence of six months would be appropriate for possession of the ammunition, four years and four months for possession of the firearm, and eight months for the unlawful assault of Toussaint.
These run concurrently.
But that was not the end of Garraway's legal worries. On Friday, June 19, he was also charged that he did on March 10, being armed with a shotgun, rob Kenniel Neptune of Richland Park of a Samsung s10, and on May 2, being armed with a gun, did rob Mario Baptiste of Campden Park of Samsung Galaxy s6 and a wallet, and Delanto Lewis of Campden Park of a BLU studio 5.5 cellular phone.
All of these offences allegedly occurred in Layou.
Garraway was not required to enter a plea to these indictable charges.
On May 7, 2020 the public was advised to be alert to attempts to lure them into danger, following two armed robberies which happened at the Layou Playing Field on March 10, 2020 and May 2, 2020 under similar circumstances.
According to reports, on March 10, a male resident of Richland Park was robbed of one Samsung Galaxy S10, after communicating with a female who claimed that she was living at Layou.
The complainant explained that he had made plans with the female to meet at the playing field at Layou; and on his arrival there, he was robbed by two armed masked men at gunpoint.
Further, on May 2, two male residents of Campden Park were also robbed at gunpoint of their property valued over EC$1100 by an unknown assailant.
The complainants reported that prior to being robbed, they made plans with a female who identified herself as "Alicia" to meet at the Layou Playing Field where they were eventually robbed.