Posted on
STEM comes to the rescue with delivery of innovative online teaching services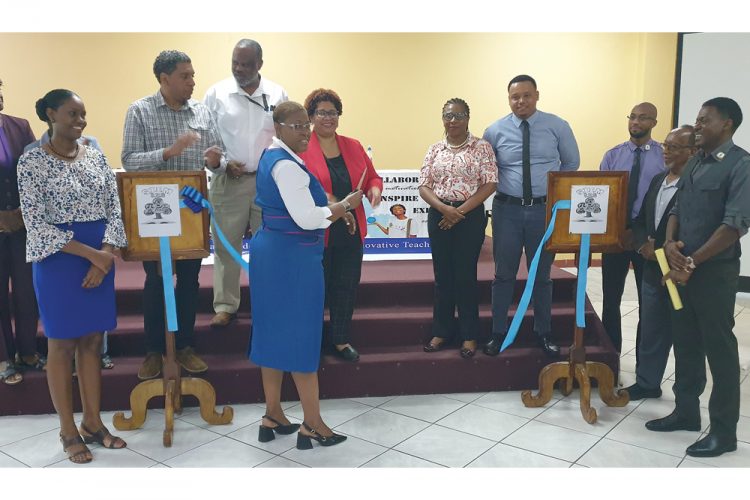 The COVID-19 pandemic has created several challenges around the world, among them, the delivery of teaching services.
"We are at an adaptive phase where we are trying to figure out how to do certain things and in this phase we have to have a good problem solving culture that fosters creativity, innovation," teacher Petrus Gumbs told persons at the Methodist Church Hall in Kingstown on Thursday June 18.
Gumbs was speaking at the launch of the STEMSVG Educational Institute, a locally-based online option for anyone interested in pursuing science, technology, engineering and mathematics (STEM) and other subjects.
Gumbs, the Director of STEMSVG, said the online platform gives students the options of taking evening classes or having one-on-one interactions with local teachers in many subject areas, all listed on the site.
"Today is all about change and change has been dramatic for the last couple weeks…especially in the education system," said Gumbs while adding that this change has been brought about by the COVID-19 pandemic.
He said the education system has changed drastically in the past 10 weeks compared to the last 50 years.
"We are having a crisis and there is no doubt about that. Crisis disrupts the norm, disrupts our plans, disrupts our goals and disrupts our lives, but although it disrupts, it reveals some opportunity," Gumbs stated while adding that a crisis reveals our value system and if we are agile or resilient enough to cope.
According to Gumbs, in our case, COVID-19 revealed our school structure, but also revealed capabilities that we did not know we had.
He said that in a crisis, we need to minimize the impact on equity and in our case, equity is our schools, students, and teachers.
"If left unchecked, the pandemic and the crisis we are facing has the potential to widen some already existing gaps," Gumbs noted.
"One of these gaps is our socio economic gap," Gumbs explained while adding that the gap between the student that has rich academic support and a student that does not will also widen, "meaning, they would drop further back and we need to find ways to reduce these gaps and reduce the impacts."
He added that this also goes for young professionals looking for training.
Gumbs, a teacher at the St. Martin's Secondary School (SMSS) said the adaptive phase in a crisis sees the enablers coming forward to work with persons as a team to solve challenges.
"…And this is the part where I am able to reach out," he stated.
STEMSVG has 23 teachers on roll, and the platform at www.stemsvg.com, is easy to use.
Interested persons may go to the website, and just like with Amazon and other shopping websites, choose the course one wishes to purchase, place it in a cart and pay using either the Squeeze Cash or Pay Swift digital currency apps.
Persons without these payment options may call the number listed to make payments.
After the payment is processed, the student is signed up through their email address and can meet with teachers for orientation.
Gumbs said the platform contains a conference room that can hold up to 50 students, but classes will be limited to 15. He noted also that the option for one-on-one teaching is available.
Presently, STEMSVG is focusing on physics chemistry, mathematics and Spanish as according to Gumbs, these are the subjects that present the most challenge for students. However, many other subjects are listed.
Fees range from EC$50 to EC$180. Some subjects will cost EC$100 a term with classes scheduled for 5 pm. Classes to prepare students for Caribbean Primary Exit Assessment (CPEA) and Caribbean Examination Council (CXC) are also available.
Gumbs said he is looking at partnering with corporate entities to have competitions where the winners will have their subjects paid for.
Other courses available include robotics, game development and app development.
Gumbs received a grant of EC$40,000 from the government's PRYME program to make the online initiative possible.
The launch also heard addresses from minister of finance Camillo Gonsalves, country manager of Digicel Fanta Williams, manager at Coreas Pharmacy and City Store Jean Johnney-Findlay and senior education officer in the Ministry of Education Dixton Findlay.