Posted on
Sandy Bay man collects $1.6m lotto jackpot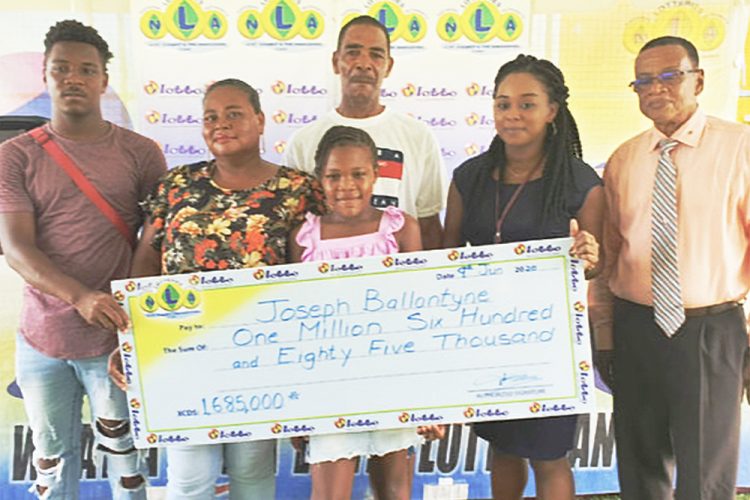 by Lyf Compton
The EC$1.685 million National Lotteries Authority (NLA) jackpot won by Sion Hill, Sandy Bay resident Joseph Ballantyne means more that just money to the lucky man's family.
The historic jackpot means that one of Ballantyne's daughters can receive possibly life saving breast cancer treatment while another, Joline Baptiste, can fulfill her dream of becoming a medical doctor.
Joseph, accompanied by his wife Noreen Baptiste, grandson Tyrese Baptiste, granddaughter Sarai Gilbert and daughter Joline, collected his winning cheque on Tuesday June 9 during a ceremony at Victoria Park.
He waited almost a week before he took the winning ticket to the NLA's base at Paul's Avenue last week Thursday. The wait fueled speculation on social media, with some claiming that something sinister was in the mix.
But the winning numbers – 08, 33, 21, 30, 03, are themselves a matter of intrigue as explained by Joline, the one who gave them to her father.
On Tuesday, Joline said the numbers were given to her by her deceased grandmother in a dream and she decided to pass them on to her father as she was fed up of playing the lotto and not winning.
She said one night around 11 p.m., she was asleep at her home at Arnos Vale, when she dreamt that she was at the home of her grandmother, who died about two years ago.
"I was having a conversation with her in my dream about moving back home and stuff like that and she told me she was going to sleep and I told her okay I was coming in after," Joline recalled. She said that in the dream, she was looking at television and the lotto draw­ was on.
"And the same time they were calling the numbers, I was sleeping, but then I woke up and said, 'those were lotto numbers those were five numbers' and exactly how they came I put them in my phone," said Joline.
She said she decided to use her phone as she could not find a pen so instead dialed them into her call log.
Joline said when she went to Sandy Bay with her son to visit her father a few days after, she told him she dreamt about his mother and lotto numbers were in the dream.
"So, he was like 'give me them, I want some money' and I was like okay and I gave him, and he wrote them down," recalled Joline.
She said her father played the numbers on Tuesday May 26, but they were not called and on May 29, she was watching the draw live on Facebook when she saw the numbers she had given to her father come up.
"Right there and then I was excited, I started to cry and called home," Joline said. She recalls her mother answering the phone and she asked her mom if her father had played the numbers.
Joline said her father told her that he was not sure if he had bought the numbers at which time, she told him that someone in Sandy Bay had won and it "must" be him.
"Like five minutes after, he called back and said give him the numbers, so when I call them out for him, he started to cry," Joline said while adding that she is happy for her father.
When asked if she will be asking for half the winnings, she said, "No, no, whatever he give to me I will be satisfied. It's his, it is my blessing to him, and he really deserves it," Joline said.
She said growing up, they were not "that fortunate" and her dad has worked in Mustique in the construction sector since he was 17 up to present day. He is now 58.
"He was working hard, sending us school, he has four kids, he had to maintain the household which is two houses inside the yard, so he had to maintain everybody in the household sending us school, paying for exams, everything, and it was a strain on him, he was struggling.
"Sometimes he couldn't even make ends meet and if he have his last and we want it, he would give it to us. Numerous times," said Joline who added that her father would have bills to pay and neglect them, to give her money for her bills if she asked.
"It is just my blessing to him. I'm glad he won," Joline said, while noting that she is a registered nurse who works at a call centre, but wants to become a medical doctor.
"I don't want half of it. People are saying the daughter say she want half, but that is not true. Whatever he gave to me I will satisfy," Joline said.
Addressing the rumour that an under aged child had bought the ticket, Joline said her nephew, 17, bought the ticket as her father sent him on the errand.
The tickets purchased by Ballantyne, some EC$30 worth, were bought from the NLA's agent 117 in Sandy Bay. The free ticket letter for that draw was H while the bonus ball was 31. The agent was rewarded with $25,275.00 as a 1.5 per cent commission.
Joline said she always entertained the idea of going to medical school.
"Hopefully, he helps me with that," said Joline who attended the St. Clair Dacon Secondary School, the Professional Secretarial Services training school and the St Vincent and the Grenadines Division of Nursing Education.