Posted on
Mother of seven jailed for cocaine trafficking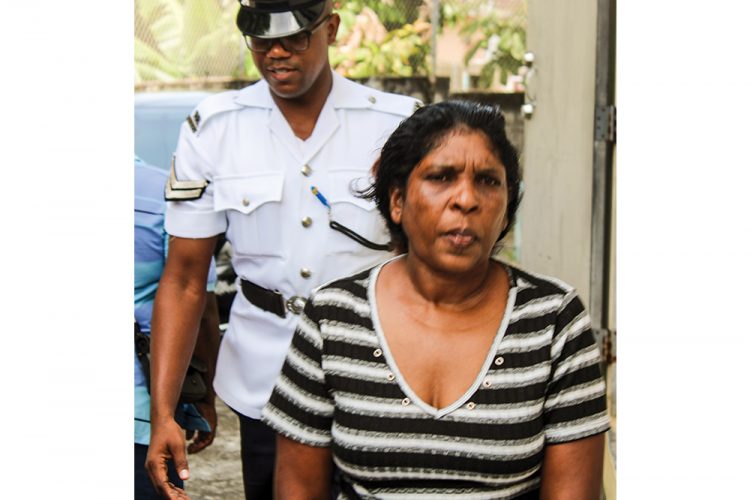 A mother of seven has been sentenced to one year and five months jail time for cocaine found inside sealed juice boxes shipped from Trinidad to her.
Susan Jilcina DeBique-Mason, a resident of Rose Hall, went through a full trial on Tuesday, June 9 at the Serious Offences Court, which was very emotional on her part.
The Court saw evidence from customs officers Stacy-Ann Adams, and Eddie DeFreitas, and officers from the Narcotics Unit, including Sergeant 508 Huggins, and Detective Corporal Germano Douglas.
From their accounts DeBique-Mason went to the Kingstown Port to clear a package sent to her. She was assisted by customs officer Adams, who also proceeded to conduct a routine search of the boxes. While in the process of doing this, she noticed that one of the juice boxes felt as if it did not contain liquid. Upon cutting open this box the customs officer noticed packages and a white powdery substance inside.
Customs Officer DeFreitas was called over, and he did a thorough search of the packages and discovered that two more Orchard orange juice one litre boxes felt abnormal. Therefore, three boxes were found in total, one in a six pack of the juices, and two among the loose juice boxes. The package also contained other items including toilet paper and laundry detergent, but the search the police conducted afterwards revealed no more cocaine.
When the Narcotics Unit arrived on the scene that day, they said that they smelled the strong odour of cocaine. DeBique-Mason told them that she "nah know nuttin bout dem dey."
The bill for the packages was handed over to the police and it bore the name Jerome DaSouza as the sender. When questioned she told the police that he was a man who she met when she went to Trinidad and usually sends things for her.
An electronic interview was shown during the trial which contained mostly repeated cries by the defendant that she did not know anything, and sobbing. DeBique-Mason, held her head, stretched out her arms, held her stomach and screamed as she told the police that she was a poor woman and she didn't know anything.
However, she denied knowing a Jerome and said she knew a 'Jim'.
Nonetheless, in her evidence before the court, the defendant said she met Jerome in 2013 when she went to Trinidad for her daughter's wedding. She said she did not know who sent her the boxes because she cannot read and write, and that she could only spell her name.
She picked up the way bill, went looking for the boxes, she said, and found one piece, but was looking for the other one. She told the customs officer that the number of the packages was 124. The officer helped her find the package, and during a search found one lighter than the others. After they cut open the box, DeBique-Mason said that they cut one open and one of the officers put it to their nose and said it smelled like poison.
She said soon after she doesn't know what happened and after "I ketch myself I was on the floor."
Senior Prosecutor Adolphus Delplesche asked her if she told the police in the interview she didn't know who Jerome was.
DeBique-Mason, who remained distraught throughout, replied that she didn't know what she was saying at the time.
The prosecutor pointed out to her that she had just told the court in her evidence that she knew Jerome since 2013, and that she had lied in the interview.
Later on in the interview, the prosecutor asked her why "you didn't tell them up front, 'Officer is Jerome send this thing you know, rather than covering it up at the time."
She, amidst crying, said that she couldn't call persons names just like that, and maintained she didn't know.
"And you notice all the bawl you bawling give the police, you never wipe your face? You bawl for about ten minutes…but you been ah wipe your foot instead. How you dangerous," the prosecutor told her as she continued to cry.
Debique-Mason maintained that she was speaking the truth, and, while crying declared, "I'm innocent."
"Everyone is innocent…" the prosecutor replied.
He scoffed that she knew about everything else about the packages except the cocaine.
Chief Magistrate Rechanne Browne convicted DeBique-Mason on the charges of, on January 11, 2019 in Kingstown, having in her possession 1,810g of cocaine, for the purpose of drug trafficking and the attempted import of a controlled drug.
In mitigation DeBique-Mason asked the court to have mercy on her, saying she had three young children ages five, 13 and 11.
The prosecutor asked for an adjournment to fact check this and on Wednesday he confirmed that Corporal Atnel Ash discovered that she had three small children but also adult children. She also has a husband who suffered a stroke.
Delplesche indicated that while the court should be cognizant of her children, it should look at the seriousness of the offence and the impact it can have on her own children.
Cocaine, a serious substance, can cripple and destroy persons which they have seen evidence of. He noted that to try and penetrate our borders is even more dangerous, and the amount was not insignificant.
Delplesche recommended a custodial sentence.
The chief magistrate in her sentence quoted dicta from a Justice, Taylor Alexander, who stated that the court must show a manifest denunciation of offences of this nature.
"I am satisfied that you would have been motivated by financial" or other advantage, the magistrate told the defendant, and that she did not operate alone.
She also noted that it was concealed sophisticatedly and it took the vigilance of the customs officers to see through the cover-up.
After calculations, the final sentence came to one year and five months imprisonment on all charges, to run concurrently.
DeBique-Mason continued to cry.
l See also Back Page