Posted on
Opposition Leader appeals to youth – 'don't give up!'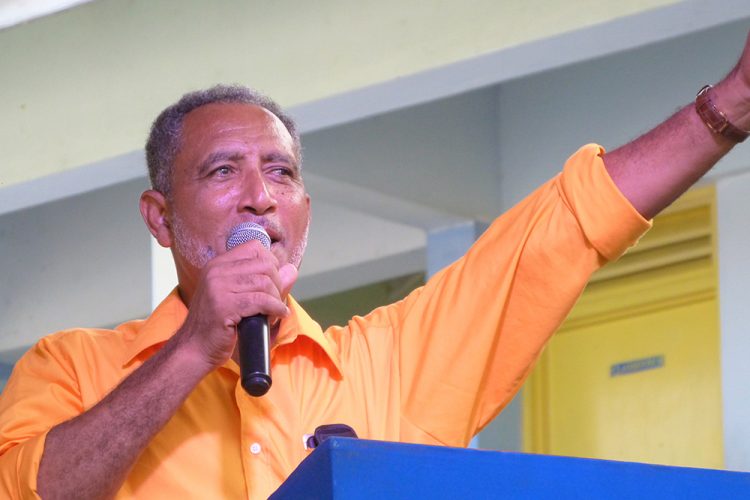 The opposition New Democratic Party (NDP) has a plan to make this country's economy stronger and bigger than it ever was, but the party cannot do it without the support of the young people of St Vincent and the Grenadines (SVG) in the upcoming general elections.
This was the message of the NDP president, Dr Godwin Friday as he addressed the party's virtual public meeting last Thursday, June 4.
This country's main opposition party broadcast their meeting live via Facebook and Nice Radio so as to get their message across to the nation, while observing physical distancing guidelines in the midst of the coronavirus pandemic.
"Our young people, I want to say to you, my heart goes out to you. I know the pain that you are feeling. Before COVID-19 it was a difficult struggle for you, but don't quit. I will not quit on you. Don't give up the struggle," Friday said.
The opposition leader said that the current government was more concerned about giving handouts rather than creating jobs for the youth of the nation.
He said also that the Unity Labour Party's (ULP) administration had failed in several areas that were of concern to the younger generation.
Friday stressed the NDP's commitment to the nation and people, which he said is born out of love for one another, "but more than that, it's practical because when we work together, we can achieve more together".
"That is what we are going to do for the people of our country," the political leader said. "Our people don't want a handout, they want a hand up. This is why in the New Democratic Party, we say that this government, that we intend to usher into St Vincent and the Grenadines is one that will focus on creating opportunities for our young people, creating jobs for our people…"
Falling within the objective of creating jobs is the development of the Ottley Hall Marina, which Friday said has potential to create skilled jobs for people from the technical division of the St Vincent and the Grenadines Community College.
He also mentioned more of his party's plans which include investments in agriculture "so that we have a new version of agriculture", a Development Bank in SVG, which will invest in entrepreneurs and a Citizenship By Investment Programme for the overall revival of the country's economy.
Friday said that while the current government will have persons believe that they (the ULP) are appealing to the young generation of this nation, the NDP was in fact the first party, under his leadership to have a dialogue with young people to discuss and exchange ideas.
"We are the party that values the contribution of the young people so when I speak to them on the street, and as I speak to you here tonight, I say we are fighting for your future because your future is longer in this country than mine and Leacock and Cummings and others," he said.
The opposition leader said "all of you young people out there are tempted to say in politics that you're not interested because all politicians are the same and you have lost faith in our system; again, I say to you don't quit. I will not quit on you. The members of our team will not quit on you".
Friday said that the nation can do better but the people must believe in themselves. He added that this was what his party was about — "getting our people to believe in ourselves to transform our country. We change government so that we can change our country".
"Lets take this opportunity to create something that will make us the shining light in the Caribbean… there is no reason why in St Vincent, we are always known for the wrong things, a high crime rate, sexual violence and rape," he said.
Last Thursday's meeting also included speeches from NDP's public relations officer, Lavern King and parliamentary representatives for North Leeward, Central Kingstown and West Kingstown, Roland 'Patel' Matthews, Major St Clair Leacock and Daniel Cummings respectively.
General Elections in St Vincent and the Grenadines are constitutionally due by March 2021.