Posted on
Youth taken into custody in connection with chopping death of nephew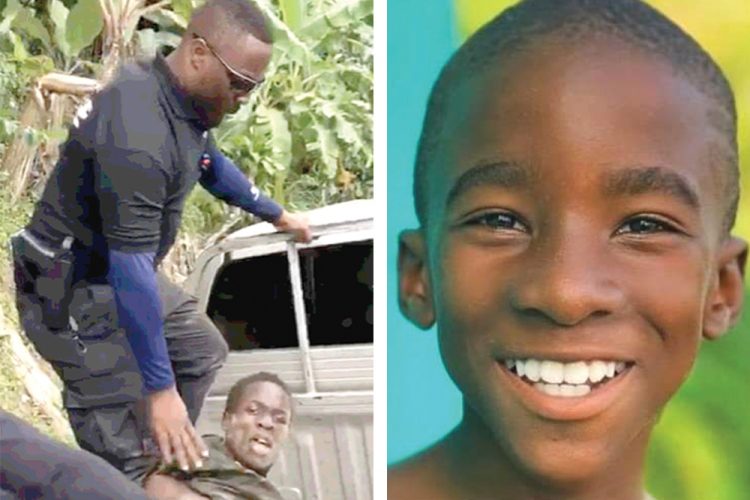 by Lyf Compton
Tzan "Zaza" Phillips was a promising footballer and athlete who had a bright future ahead of him.
But now, the 21-year-old Cotton Ground, Richland Park youngster is warded at the Milton Cato Memorial Hospital (MCMH) nursing a gunshot wound to the leg and facing the possibility of charges in relation to the death of his 9-year-old nephew Jamarie Phillips.
Jamarie, a student, was chopped on his neck, head and hands at his home on Friday May 29 at about 12:30 p.m. He died on the spot.
After the discovery of the body, members of the Rapid Response Unit (RRU) were summoned to the Richland Park area where a recording shows them trying to restrain Tzan who was acting in an erratic manner.
Tzan was shot and thrown into the back of a police pick-up truck while shouting for the officers to leave him alone.
On Tuesday, residents of Cotton Ground described Tzan and Jamarie as two of the most mannerly youngsters one could find in the area where they resided.
"Tzan is not one them youths who does go around smoking and drinking. He was a really good athlete and I never saw him being rude to anyone," an elder in the village told SEARCHLIGHT on Tuesday without giving his name.
The man, sitting on his porch, said Tzan represented his former school, the Thomas Saunders Secondary School in athletics and he was known as one of the best defenders in the area, on the football field. Last year, he also played professionally in Barbados in a tournament.
"I have never seen him act like he did on Thursday and Friday last week, persons are at a loss over what went wrong with the youth," the man said while noting that Jamarie was also an exceptional youth whose only transgression was, "he would sometimes pass my gate going to school late, only once in a while."
Two other youths from the area also described Tzan as a "good youth". The boys also stressed that he was an exceptional footballer and was seen with a ball going to play soccer a day before he was accused of killing his nephew.
"We don't know what the issue is," one of the youngsters said on the condition of anonymity while adding that he did not want to give his name because of what he was going to say next.
"People saying is obeah and all that and that someone do he something," the boy told SEARCHLIGHT, "he was round some Christian people and people talking all kinda thing."
A relative of both Tzan and Jamarie said the incident is "really weird" as Tzan loved Jamarie and he and his grandfather were the ones who took care of the youngster.
"He would wash his clothes and stuff," said the relative who revealed that Jamarie's mother is in England where she is enlisted in the British Armed Forces.
The relative said Jamarie died one day after his birthday on Thursday May 28.
On Jamarie's birthday, one of his aunts visited to take some "stuff" for him, and while there, spoke to Tzan because he was "acting strangely".
"In a matter of hours, she hear the boy kill Jamarie. I don't know if the grandfather saw signs before, but is the day before he was really acting out," said the relative.
The family member said in the last few days, Tzan was talking quite a bit about God and persons were happy as they said it seemed as if he had "accepted Christ".
"He love Jamari. All now, he saying the boy ain't dead and tell people must go way Jamarie dey and call he name and he would rise," said the relative who added that after Jamarie was killed, Tzan went on to someone's house roof and jumped into someone's vehicle windscreen, hitting his neck.
Jamarie's death and the wounding of Tzan by the police bring to the fore once again the issue of the response of society in general and the police in particular, to people who show symptoms of mental ill health.