Posted on
Fire erupts at kids store in Kingstown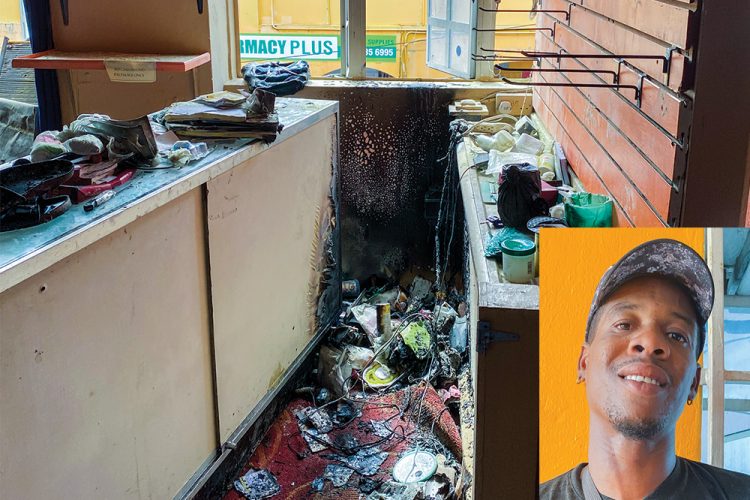 A fire that erupted suddenly in a kids store in the heart of Kingstown on Wednesday, was extinguished before the fire fighters arrived thanks to the quick actions of a vegetable vendor.
"Kids Town" has sold toys, children's clothing, accessories and shoes in a rented space in the Y De Lima Building at Egmont Street for 15 years says owner Jean Audain-Hinds.
But now the store has had to completely empty its shelves due to the after effects of an inferno that threatened to engulf the area.
Audain-Hinds was driving when she received news that "Kids Town" was on fire, and admits "I had to take a deep breath, calm myself." However, she said she understood there was nothing she could do, and proceeded to the scene calmly.
When she arrived the fire was already out. Instead the store, its carpet and floor, and items were soaking wet, there was dust scattered around, and in the corner the wall and electrical wires were charred, and curtains melted.
The owner was in the process of clearing out all the items in the store with the help of a number of persons, and putting them in plastic bags when SEARCHLIGHT arrived.
Audain-Hinds said that she is unsure whether the fire was an electrical one, although it happened where the electrical fires are. Her employee told her that she heard a pop, looked up and saw fire coming from the ground.
The blaze is estimated to have erupted around noon on Wednesday.
"…The workers along with a young man, I must say, from downstairs, who… he's working in the street outside, selling onions and potatoes, so he came up and assisted us," Audain-Hinds disclosed.
When the Fire Department came, they doused the area with water.
"It could have been worse… no one was hurt, we had little damage, except for the water, little fire damage, just the water and the smoke so we have to give God thanks," the proprietor concluded.
Audain-Hinds said an assessment will have to be done to see what can be used and not used.
Assisting the owner with the clean up of the aftermath of the fire was the vegetable vendor responsible for extinguishing it: Steven Nichols.
He recalled: "I hear someone shout and say fire upstairs 'longside Bonadie by the store, so I tell my partner or buddy watch my business downstairs".
Nichols went upstairs, and using the building's fire extinguisher managed to put out the blaze.
The vendor said that he was not afraid, as those things don't scare him.
"Kids Town" which has not suffered extensive damage should be up and running again "very soon", Audain-Hinds has assured and thanked her employee Donique, friends and the other store owners who also came to help afterwards.