Posted on
New protocols established for students returning to the classroom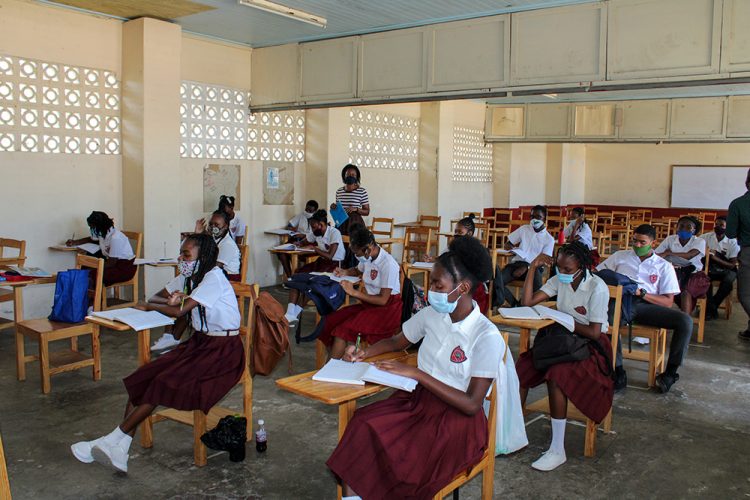 by Bria King
Educators are satisfied that the first day back at school for students has gone well, with positive adherence to the new protocols that have been established due to the coronavirus pandemic.
Secondary, primary and TVET (technical and vocational education and training) institutions welcomed back Form 5, Grade 6 and TVET students yesterday, May 25 to engage in face-to-face instruction as part of the preparation to sit regional examinations in the coming months.
"It was not hectic or anything of the sort. I think we are in a mode of transition and I could tell that the students were eager to be back because everyone came here and we didn't have to tell anybody about a mask…and brought extras as well," Ronnie Richardson, a teacher at the Bishop's College Kingstown told SEARCHLIGHT.
This is the first time since March 20 that most physical school compounds have welcomed students back into the classroom — and with a set of new protocols to ensure health and safety.
Richardson, who is a part of the administrative team for the school, said that several protocols have been put in place to ensure students are safe at school.
These involve the mandatory wearing of masks, regular hand washing and physical distancing.
Several signs and markings can be found at various points throughout the compound to remind students of the new rules.
"We removed the partitions from the classes to give more space, we have assigned specific rooms for subject areas so they students know when they have a particular subject…" he said.
He added that there are several sanitisation stations where students sanitise upon entering a classroom.
"We have a lady who cleans the classes when they are finished and we have staggered the timetable so that not all of the students will have break at the same time, not all of them will have lunch at the same time," Richardson added.
Rosmond Richardson, another member of the administrative team at Bishop's College Kingstown agreed that "so far, it's been going good".
He said the team is in place to ensure that students are reminded of the protocols, should they be found without a mask.
Similar protocols have also been implemented at other schools, including the St Martin's Secondary School.
Acting Principal, Yohance Gibson told SEARCHLIGHT that there are 62 fifth formers at the all-boy institution.
"We're having one subject per day and those days were designed around the student numbers doing the subjects," he explained.
Gibson said that there was full attendance yesterday for the 27 students expected to sit EDPM (electronic document preparation management) at CSEC examinations.
He further explained that classes will run from 9:30 am to 12 pm and from 1 pm, students who wish to do so may book an appointment to have individual time with a teacher.
The Catholic institution was one of the first schools to implement e-learning for students while they were at home.
And Gibson told SEARCHLIGHT that this will continue to be implemented, with students having access to a wealth of resources on the platforms being used by the school.
The educator assured that all protocols are being observed at the school in terms of sanitisation so as to ensure that both students and teachers are safe.