Posted on
Questelles police station broken by tragic loss of slain colleague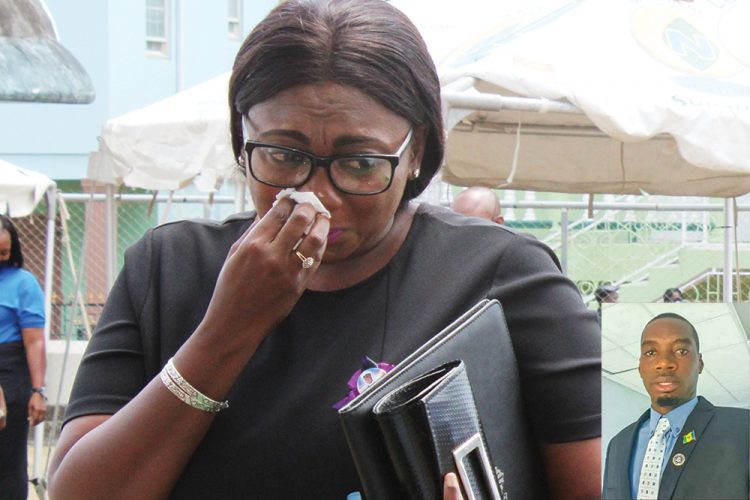 by Katherine Renton
The Questelles police station, where slain police officer Sergeant 209 Philbert Chambers was last stationed, has been left broken by his loss.
Superintendent of Police Kamecia Blake-Byam made this revelation in her tribute to her colleague on Sunday, May 17, the day the late Sergeant was laid to rest at his home town of Barrouallie.
"His sudden departure has left me broken, has left us broken at the Questelles police station, because Sergeant Chambers is hard to replace."
Blake-Byam spoke to Chambers around 20 minutes before he was gunned down in the line of duty on April 26 while trying to execute a search warrant along with a party of police officers.
"…Had I known 20 minutes later he would be no more, I would have told him so much more," the Superintendent of Police stated.
"The police youth club has lost a mentor and father figure. The Questelles police station has lost a committed and hard working police officer. The Royal St Vincent and the Grenadines police force has lost a true soldier, a hero," she told the family, loved ones, colleagues, and residents of Barrouallie.
Blake-Byam became the divisional commander of the Central Division in 2019, and she commented that Chambers was the glue that bridged the gap between her and the other ranks.
"He was spirited which made working at Questelles lighter than it actually is," she noted, in remembering that he was fun loving, and revising the jovial moments that came about because of him.
Chambers only wore his rank of Sergeant once before he died, and this was because he was detailed to be a pallbearer, she disclosed.
"On the day of ASP Hall's funeral he took so many pictures, he certainly felt good and looked good," Blake-Byam recalled, noting, "The picture on the service program is one of the many pictures he took that day. He was right, it was his first, last and only opportunity for him to wear his uniform and the Sergeant rank."
Chambers' girlfriend of three years, Shevern Williams, also revealed that she spoke to him before he died on that fateful Sunday morning.
With a hoarse voice, she recalled hearing the station phone ring, and her lover telling her that he was going on duty.
Moments later, while at her shop in Campden Park she heard gunshots sound.
"I say boy somebody gone boy, somebody family gone; dem dey connect. But poor me didn't know it's in my home it connect to…" she stated.
She went to the police station, the hospital and then the crime scene before she realized that Chambers had been killed instead of wounded.
"I feel his death, nobody knows the pain that I'm feeling inside, I can't sleep, I can't eat. I have an eleven-year-old daughter, he been a father to my daughter for three years now, three solid years," Williams, who cried a number of times throughout the service, revealed.
She also told of Chambers' dedication to his job, and how their home became a police station because of how many people came looking for him.
The late Sergeant was the ninth of 13 children for Calbert 'Sat-I' and Coreen Bobb. His parents never lost a child before his death.
One of Chambers' brothers, Kishroy Chambers, who is in the army in the United Kingdom, left a message for his fallen sibling, which was played at the funeral service.
As a military man, the officer noted that he has been close to death, experienced many pains, and fought many battles in places like Iraq and Afghanistan. However, "I never thought that in the beautiful island of St Vincent and the Grenadines that I have to watch from how many miles away, the pain that I've seen my mother and my family in due to the loss of my brother," he revealed.
His brother was a man who loved and was dedicated he stated.
He was a "man who gave all to St Vincent and the Grenadines, who paid the ultimate sacrifice, who put duty before country, who put duty before anything else," Kishroy commented.
"He was in a sense the hero of the family…and indeed as he said he was not only the hero but he was indeed the most favorite son," the brother disclosed in his tribute. "After all, all of us have to tow the line calling mom 'mommy' but Mush was able to call mommy 'sugar mommy'", he commented to laughter.
"…indeed brother, St Vincent cries out, angels surround our parents today because they rejoice in the work that you have done. Children are inspired because of the work that you have done," the brother also stated in his tribute.
He was speaking on behalf of himself and Chambers' brother Joshua, also in the British army, and indicated that they would never forget their brother. They were unable to attend the service in person.
Edmond Bramble, who Chambers had to call uncle also remembered him, asking especially that those in the youth clubs that the officer mentored would not let "his effort go down the drain" and "Go as big men and women, role models in your society, and make St Vincent and the Grenadines a better place for all of us."
The late Sergeant now rests eternally at Glebe Hill cemetery in Barrouallie, but his memory is promised to live on through a scholarship in his name at the Royal St Vincent and the Grenadines Police Force (RSVGPF), a plaque with his picture being hung at the Central Police Station, and the retiring of his number so that no other may use it.