Posted on
What a glory for relatives of repatriated ship crew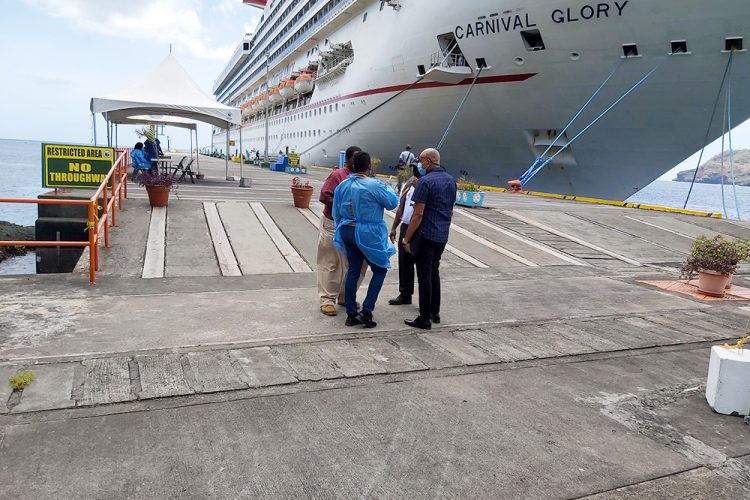 The agony of having family members stuck at sea not knowing when they will be home ended on Saturday for the relatives of 87 sailors.
Eighty-seven Vincentian cruise ship workers arrived at the cruise ship terminal in Kingstown aboard the Carnival Glory cruise ship around noon Saturday, as their employer, Carnival Cruise Line continued the repatriation of its employees.
Chief Medical Officer (CMO) Dr Simone Keizer-Beache told SEARCHLIGHT yesterday, that after final checks, it was determined that 87 cruise ship workers arrived on Saturday and not 91 or 92 as was previously stated.
"Now that we have checked off the actual names, it's 87. Five persons were listed as Vincentians, but weren't," she said.
Eighty-six of the crew members were from Carnival ships and one from the Caribbean Princess.
"I am picking up my grandson's daddy and we are pretty excited for him because he misses his daddy very much," Michelle Peters told SEARCHLIGHT on Saturday while standing at Upper Bay Street outside the main entrance of the cruise shop terminal.
She said her grandson had been complaining about the absence of his father but they had not told him his father was coming as they were waiting to surprise him.
"I am giving God thanks and praise and I am happy for him and all the others on Carnival Glory," Peters said while noting that her daughter was the one being allowed to pick up the sailor.
Denise Ashton, the mother of one of the sailors said she was happy her son is home but noted she is not pleased by the way the government handled the situation.
"It was horrible the way they dealt with it," Ashton said while adding that prior to arrival at the cruise ship berth she was asked for her name and vehicle number but when she arrived the guards did not yet have that information.
She added, "I am so happy because this has been two months of sitting in a cabin and can't leave the room only to eat and go back in, so I am really, really excited to have him."
Ashton said she had secured a one-bedroom apartment for her son to quarantine.
Another woman who said she was picking up her boyfriend but refused to give her name commented that the process was frustrating for her. She said there were many ups and downs and changes of dates and that made the family apprehensive.
"We are just glad this is over for us, but we are hoping the other sailors could come home also," she told SEARCHLIGHT.
On Saturday, it was noted that a lone sailor was transferred from the Caribbean Princess to the Carnival Glory, while both ships were off the Leeward coast of St Vincent.
Prime Minister Dr Ralph Gonsalves in an interview with SEARCHLIGHT on Saturday morning said the Carnival Glory began rapid testing for Covid-19 for all the sailors at 6 am on Saturday.
Late Saturday night, a release from Dr Simone Keizer Beache, Chief Medical Officer and Chair of the Health Services Committee of the National Emergency Management Organization (NEMO) said the two crew members, who both came from the same ship, were found on rapid testing to have been exposed to COVID-19.
The two, along with four others who came in close contact with them were taken to a government facility while the other 81 were allowed to go home to take up mandatory quarantine for 14 days in the first instance.
They were all served with court orders and left with family members or friends who provided transportation.
Over the weekend, continuing into yesterday, members of the public took to social media claiming that they had observed newly repatriated sailors breaking quarantine.
A resident of a village in the interior of the country said a sailor had been observed walking about in the village and persons were upset. SEARCHLIGHT was unable to independently verify this.
Under the Public Health Act, which was amended in April 2020, anyone caught breaking quarantine will be liable to a $2000 fine and six months imprisonment. Every day on which an individual breaks quarantine would be considered a new offence. Therefore, a person could be charged for every day quarantine is broken.
Hundreds of other Vincentian cruise ship workers who are still at sea are expected to arrive later this month.
The Disney Cruise Line is expected to bring 25 Vincentian crew members home on May 20 on its vessel Disney Fantasy, while a Royal Caribbean Cruise Line vessel is expected to arrive on May 25 with 400 Vincentians on board. Other Vincentians still at sea include 25 Vincentians onboard the TUI Marella Cruises off the coast of Southhampton, England.