Posted on
Dozens ignore safety protocols while registering for assistance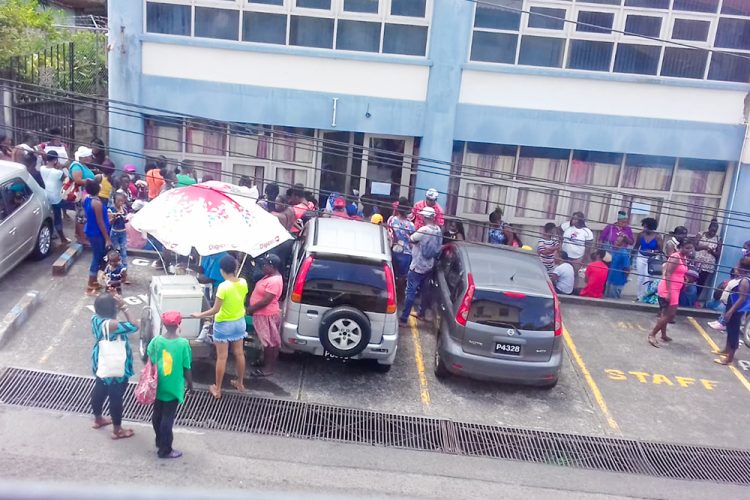 Dozens gathered outside the office of the Ministry of National Mobilization yesterday, as registration for the Government's interim assistance benefit continued.
The benefit is available to vulnerable persons who have been affected by COVID-19 and is meant to be an add-on to what is traditionally called "poor relief".
Minister of Finance Camillo Gonsalves said at a recent press briefing that one does not have to be a senior citizen to benefit, but one must establish that one is vulnerable and that one's vulnerability has been exacerbated by the pandemic.
"Maybe you say you had somebody used to send remittance and they laid off and can't do it; a family member is now unemployed so can't help anymore or you are elderly and vulnerable and not captured under the social benefit program and now it is worse…," Gonsalves explained.
Beneficiaries under this program will receive EC$200 a month for the rest of the year and applications can be made at the Ministry of National Mobilization where the traditional social assistance benefit comes from.
"If you are vulnerable, go and explain the situation at the ministry and have them evaluate. You can't be disqualified by age or [if] people have job in the household. The ministry will process the claim," Gonsalves stated.
Since last week, crowds outside the office of the Ministry of National Mobilization have been building, but concerns have been raised that there is no physical distancing among those waiting to get inside the building and of these, very few are wearing face masks.
There were also long lines yesterday outside the office of the Kingstown Board where registered vendors waited to apply for a benefit of EC$200 a month for three months in the first instance.
The Kingstown Board began accepting applications from the approximately 600 registered vendors last Monday, May 4.
This payment to vendors is also part of Government's COVID-19 stimulus package and is meant to bring relief to this group of workers whose incomes have been adversely affected by the pandemic.