Posted on
Trinidadian trio given marching orders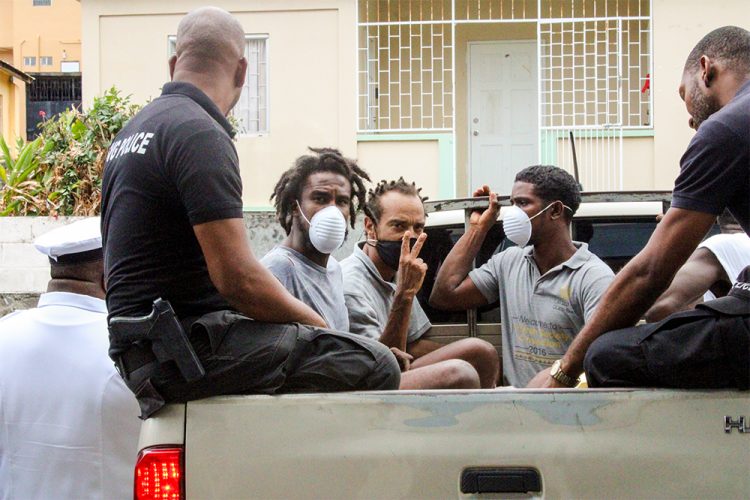 Three Trinidadians who were nabbed for illegal entry but were required to complete 14 days of quarantine before entering their pleas, were yesterday ordered to be removed from the country, after being reprimanded and discharged.
Benjamin Lewis, a 28-year-old fisherman, Nareem Julian, 27 years, and Kenwyn Lambert, a 44-year-old fisherman visited the Kingstown Magistrate's Court on Monday, May 4, after being kept in quarantine at the Biabou Police Station.
Their matters first came to the court, in their absence, on April 22, and had to be fixed for report at the end of their quarantine.
When the two-week period ended yesterday, a report was submitted by one Dr Duncan, clearing them.
Therefore, the three, represented by attorney Grant Connell, were finally able to enter pleas to the charges that they did, on April 19, enter the state by boat without a passport and at a place other than a port of entry.
The court heard that on that day, the coastguard went on patrol after receiving information about a white pirogue at Sail Rock. After reaching this rock, the coastguard saw a white vessel, but this boat attempted to flee. After a lengthy chase they were able to intercept the vessel, and found the three on board. The passengers aboard the vessel told the coastguard their names and that they were Trinidadian.
A search of the boat revealed six dogs, and a number of items on board, including a quantity of plant salt, dog food and some groceries.
The men did not have any identification, or travel documents with them. The boat and its occupants were towed back to the coastguard base where it, the dogs, and items, have been kept since.
Connell indicated his clients' position as to how they came to be in Vincentian waters. He said that his clients were travelling between Trinidad and Tobago, which is why they did not have travel documents on them.
The lawyer indicated that they got into engine trouble, and when this was sorted out, they were near Grenada, whose borders are locked down. From there they travelled to the "next possible port", following which they were intercepted.
Connell posited that the three cooperated with the coastguard, and that what was found on their boat is consistent with persons moving between Trinidad and Tobago.
"They were charged by Immigration and they were kept at the Biabou police station under quarantine, albeit not voluntary," the lawyer revised. He appealed "I'm asking this honourable court to take into consideration the conditions under which they were kept," and he submitted that they have been in a prison cell for 14 days.
Following the sentence, the lawyer also asked whether they could be allowed to go back to Trinidad on the vessel they were found on.
At this, Senior Magistrate Rickie Burnett asked him, "I am also following what is happening in Trinidad…would they be allowed back in Trinidad counsel?"
Connell answered that he did not know what Trinidad's approach would be, but added that Trinidad would likely put them in quarantine.
The magistrate commented that he was only mentioning it in passing, before concluding that he would make a removal order. He also indicated that he was minded to reprimand and discharge them for the matters before him.
However, the attorney wanted to know whether their boat and items would be returned to them, and whether they may use the vessel to return to Trinidad.
"Very unfortunate that three of our Caribbean brothers had to go through all that," he added, saying that he would not wish for the same to happen to Vincentians.
Prosecutor Corlene Samuel shed some light on this matter, indicating that the immigration Department has informed Trinidad that their nationals would be returning, and that the coastguard will escort them to Trinidad, but that they must wait for a directive from Trinidad.
This caused some concern to their lawyer who expressed "I don't think it would be fair for three Caribbean nationals just to be dashed back in a cell and kept until Trinidad says," and asked if this meant that they would be returning to the police station.
The senior magistrate told him that Trinidad is applying their law; that the matter was no longer before the court, and that it has come to an end by virtue of the orders given.