Posted on
Royal Caribbean sets new date to bring home local crew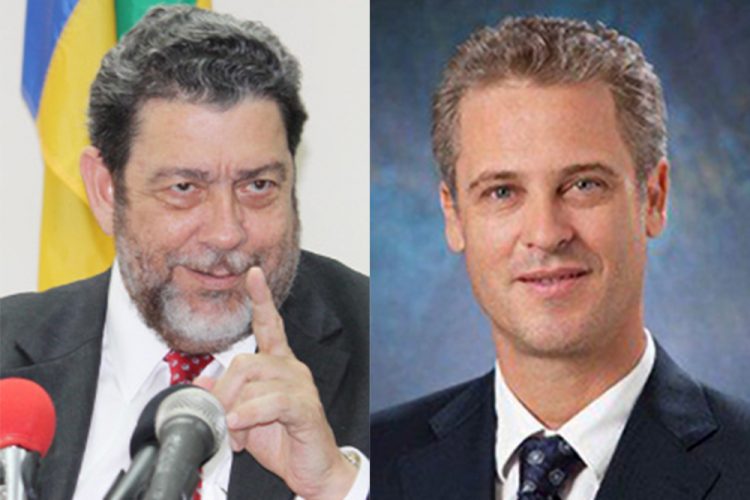 by Bria King
A new date has been set for the possible repatriation of 400 Vincentian nationals via sea, aboard Royal Caribbean Cruise Ltd (RCCL) vessel, Vision of the Seas.
But Government officials are insisting that the requisite protocols be followed before these persons can disembark in St Vincent and the Grenadines (SVG).
SEARCHLIGHT obtained a letter dated May 4, written by Captain Hernan Zini, the vice president of Port Operations at RCCL, and sent to Bishen John, the CEO of SVG Port Authority and local point person for the repatriation process.
"Our repatriation voyage will begin on approximately May 17. We request your permission to arrive in Port Kingstown, St Vincent on approximately May 26 with the aim to disembark our St Vincent crew members," Zini's letter said. "We are proposing that only St Vincent crew members that continue to be asymptomatic will be allowed to disembark."
According to the letter, the transfer of healthy and asymptomatic Vincentian crewmembers is scheduled to start on May 7.
This process involves Vincentian crewmembers from various ships within Royal Caribbean's fleet being transferred aboard the Vision of the Seas for repatriation. And prior to transfer, additional medical checks will be conducted on all Royal Caribbean ships.
The letter further noted that once transfer is complete, each crewmember would be escorted to their individual stateroom, where they will all remain until their arrival in SVG.
They will also be subject to daily health checks.
Zini's letter said that the last guest disembarked the vessel to be used for the voyage on March 14.
And since then, no crewmember has been ashore. Furthermore, crewmembers completed a fleet wide 15-day quarantine period, which included health checks twice a day.
RCCL's Port Operations vice president also noted that a "very strict debarkation plan" will be executed to ensure that the crew avoids unnecessary contact with the public.
The letter noted that one more health check will be conducted at the time each employee leaves the ship and a medical certificate will be provided and signed by the ship's doctors.
Other measures state that only asymptomatic crewmembers will be allowed to debark, each employee will be provided with masks and gloves with instructions to wear them during the duration of the travel home and written instruction will be provided for safe travel guidelines to each employee.
"We trust that given the protocols and quarantine periods implemented, no additional quarantine facility will be required upon arrival in St Vincent and crew members will be allowed to proceed to their respective homes where they would complete an additional isolation period if necessary," the letter said.
But Prime Minister Dr Ralph Gonsalves told SEARCHLIGHT yesterday, May 4: "If you come and you're here in the harbour for 14 days, well we can check you on a daily basis. We're not going to require you to go into quarantine on island, providing that everything is okay on board the ship, but if they just coming aboard the ship and expect to just walk off, that ain't going happen".
Gonsalves noted that there were asymptomatic persons in this country who had tested positive for COVID-19 for over five weeks.
While speaking on We FM on Sunday, the Prime Minister said that two asymptomatic persons who arrived in SVG on March 25 tested positive for the virus and have to date, been unable to be cleared, having tested positive four times since their first positive test.
"The testing, Royal (Caribbean) doesn't mention anything about testing. Because of our knowledge about asymptomatic persons, and about persons being positive on PCR for COVID much longer than 14 days, we are going to insist as much as is feasible on some sort of objective testing," Dr Simone Keizer-Beache, the chief medical officer told SEARCHLIGHT yesterday.
Keizer-Beache, who is also the chairman of the Health Services Sub-committee said "We're not going to just accept somebody being asymptomatic or somebody not having a temperature".
She further stated that the health authorities will insist on a 14-day quarantine period.
The chief medical officer added that there are certain protocols that are required if any cruise line is considering the period of sailing from port to port as their quarantine period.
"It has to be at least 14 days," she said, indicating that there are only nine days between Royal Caribbean's intended date of departure and the ship's arrival in SVG.
The chief medical officer said that even then, that period would not be one which was observed by local health officials and so they would have to rely on other persons to ensure that conditions of quarantine were maintained.
But she said that this was not something that health officials were prepared to do at this point.
Keizer-Beache explained that merging of different crewmembers on one ship will mean that they all have to complete a quarantine period together.
"…So for example, if you're in a home and you're doing quarantine, if somebody comes in, your entire quarantine period is supposed to start again," she said.
She said therefore that sailors coming on the Royal Caribbean vessel will have to complete 14 days quarantine even though they have already completed a 14-day quarantine period on their respective vessels in the fleet.