Posted on
Full military send-off for WPC 342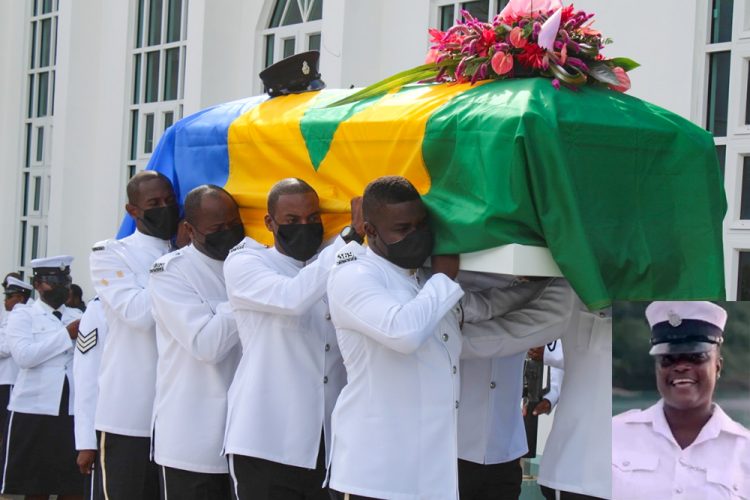 Tributes poured out for Woman Police Constable (WPC) Daniele Daisy yesterday, April 23 as she was laid to rest with a full military funeral held at the Kingstown Baptist Church (KBC).
Daisy, who enlisted in the Royal St Vincent and the Grenadines Police Force (RSVGPF) in 2003, died on April 11 at the Milton Cato Memorial Hospital where she was undergoing medical treatment.
And yesterday, members of the RSVGPF, close relatives and friends of WPC342 Daisy gathered, though six feet apart in the church, to pay their final respects.
Others gathered outside as they were not allowed inside and many more viewed via livestream online.
"This young woman has been an outstanding police officer and I know that the Commissioner of Police and the entire police force lost a very decent young woman," retired assistant superintendent of police (ASP) Ruth Jacobs said.
Jacobs described the deceased WPC as a decent, nice, young woman and said she was saddened to hear that Daisy had died, particularly since she was unable to visit her in the hospital.
Station Sergeant Brenton Smith, who grew up with Daisy in New Montrose, also delivered a teary, emotional tribute to his friend and colleague.
"I remembered when she told me she had joined the police force. I never believed that that would have happened. When she did, I was very proud of her and knowing that I was in the police force, my country girl had joined me," he said.
He said he was saddened by his friend's passing, but that the Lord knows best.
And he encouraged Daisy's family to continue to stay together and use Daisy's death as a moment to reflect on their own personal life and to see what positive changes can be made.
Daisy, who was affectionately known as 'Kelly' by friends and family, served for 16 years in the RSVGPF before her death.
Thirteen of those years were spent at the Telecommunications Department. But she also worked at the Rapid Response Unit and other areas within the force.
Though he had never directly supervised Daisy, Colin John, the Commissioner of Police, knew her when she entered the force in 2003.
"She was always very hardworking and dedicated. She was thorough in whatever she did," the Commissioner said.
John said he crafted his tribute based on the opinions of her direct supervisors, who all had good things to say of the woman police constable.
And he said he fully endorsed everything that they shared about the woman who was described as trustworthy, reliable, and a valuable asset to her department.
"Every time I heard the name 'Daisy', I remember my childhood days at the Gomea Methodist Church when I used to say recitation. One of the recitations was 'Buttercup and Daisy' and I am of the opinion that the Almighty Father needed a special daisy in his garden and he has since transplanted her to that celestial garden," the Commissioner said.
He added that "Daisy was very dedicated to the organisation. She went above and beyond the call of duty. She always lit us up with her smile. God has taken her to be with him. We will cherish her fragrance and her memories".
Other persons paid final respects to Daisy in tributes including her cousin, Michelle Ottley, the Police Choir and the Telecommunications Department Staff.
Her eulogy was read by her cousin, Keslon 'Taffa' Wilson and the sermon was delivered by Pastor Cecil Richards.
PC384 Renford Samuel gave Daisy's final radio call at the end of the service.
The procession from the church to the Kingstown Cemetery was led by Woman Police Officers and included the Police Band and several high ranking officers, all of whom marched in rain to lay their fallen sister to rest.