Posted on
SVG restarts trade with Barbados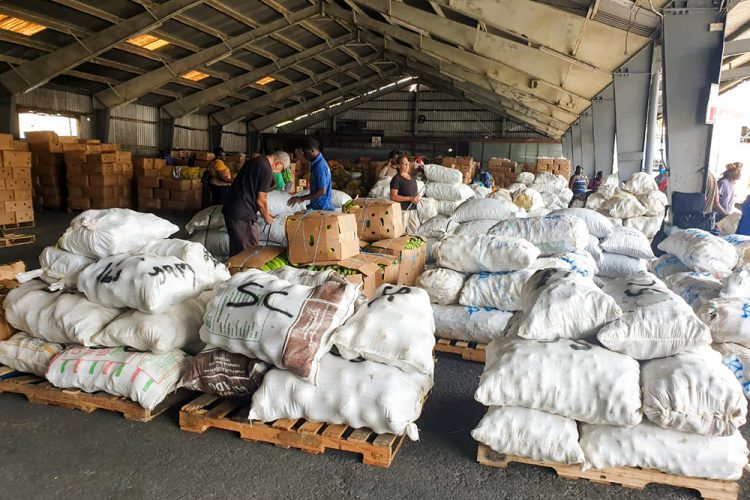 Local traffickers who sell produce to places like Barbados and Trinidad and Tobago (T&T) are hoping that the various travel bans are soon lifted.
The bans, which restrict the movement of travelers due to COVID-19, are taking a toll on traffickers' businesses.
But on Monday, the Geest Shed in Kingstown was filled with agricultural produce as traffickers took the opportunity to restart trade with Barbados, after a ban on the importation of goods from St Vincent and the Grenadines (SVG) into Barbados was lifted.
However, according to Ronda Sutherland, while she can ship her goods, she cannot travel to Barbados as she normally would to supervise her sales.
The Sion Hill resident told SEARCHLIGHT that she now must instead rely someone else to sell her goods and hope that her funds are correct when the money is repatriated.
"I can't go to Barbados, so I have to send up the load, so you don't know if you going to get back your right money," she stated on Monday.
"I sent to a friend, and this is the first time I do that, because I always go every week, but from the time this COVID thing happen I can't go, everything in God's hand," Sutherland commented.
She noted that she has been making a living from exporting for years and when things are normal it's a good living.
"I send eddoes, plantain and other things and I glad it open back, because that is my living, but when I came home last time, I was quarantined, so we just have to go with the flow," the business woman commented.
Another trafficker, Lesline Davis of Belmont said that things have been slow since COVID-19 stopped the world.
Taking time to talk while she paid some of her suppliers, Davis said since the onset of coronavirus, things have been uncertain.
She said that she is happy for the chance to be able to ship her produce, for which she pays suppliers upfront. She is hoping that things get back to normal soon.
Monica Ross said on Monday that because of COVID-19 she has been unable to travel to Trinidad and as a result, regular trade of certain goods is not possible.
She said she does not like to ship produce to Trinidad as the prices fluctuate a lot and sometimes it seems that one is doing business to pay transport costs.
"I praying and hoping that this will pass so we can get to go Trinidad. As soon as the port open, we will be there," Ross said.
On Monday, Minister of Agriculture Saboto Caesar was at the Geest Shed where the produce was being shipped. He said he is glad that the trade between Barbados and SVG has reopened.
He noted that Barbados was the only place that had stopped trading with SVG because of COVID-19, as other countries chose to block travelers, but not food imports.
"I want to take this opportunity to thank all the traffickers, farmers, vessel owners, the persons who are working in the fields, the farm workers and the governments of Trinidad and Tobago and Barbados for ensuring that we can facilitate trade even in the midst of COVID-19," said Caesar.
The agriculture minister, who on Monday spearheaded the distribution of masks to traffickers, however warned stakeholders in the sector.
"Even though we have been extremely blessed and fortunate so far, there is still a global pandemic and I am imploring all framers, fishers and producers in the agricultural sector to ensure that we follow the best practices advised by the Ministry of Health," Caesar commented.
He spoke about physical distancing.
"When we share implements on the farm, we have to ensure that we don't put our hands in our mouths, our eyes because all of these are proven ways in which the virus can spread," he added.
The agriculture minister said that in the OECS, several countries have not been able to export because they have not positioned themselves to be able to mobilize stakeholders in the agricultural sector.
"In St Vincent and the Grenadines our farmers are on the frontline and they have been able to maneuver many obstacles not only in county here in St Vincent and the Grenadines but obstacles in the markets they are sending their goods to, to be able to facilitate this trade," Caesar noted while describing SVG as a food secure country.