Posted on
SVG facing a water crisis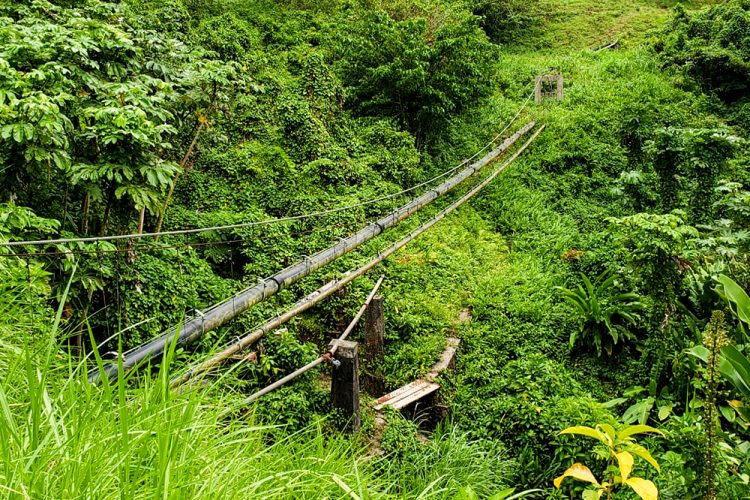 St Vincent and the Grenadines (SVG) has "now arrived at a crisis situation in terms of its water supply" and in order to ensure that every area of the country can be supplied with water on a daily basis, very strict measures are being put in place.
The Central Water and Sewerage Authority (CWSA) in a release issued Monday, April 6 said three of the country's water sources — Dalaway, Majorca and Montreal, which supply 70 per cent of local potable water had recorded rainfall totals 30 per cent below the average.
"In the 2018-2019 period, CWSA recorded an average of 84 inches of rainfall between the October and March period…," the release said. "This 2019-2020 six-month period shows a drop from 84 to 55 inches of rainfall at these sources."
And the situation is essentially the same for the first three months of 2020 where rainfall totals are 25 per cent below the 10-year average.
Garth Saunders, the general manager of the CWSA said on Sunday that analysis done by the Caribbean Climate Outlook Forum (CariCOF) highlights that SVG was one of four countries which recorded lower rainfall than usual over the last five months.
Other countries are the Bahamas, French Guiana and Northern Suriname.
"And these conditions, they say, can continue into May and even June and during that period, other countries could very well be added including Barbados, Belize, Eastern Cuba, Martinique, St Lucia and Trinidad and Tobago," the general manager said.
Saunders, while speaking on We FM on Sunday, April 5, said the three systems are currently underperforming because of the reduced river flow, which is directly related to rainfall.
He said the Dalaway system produced 26 inches of rainfall in 2019 for the first three months of the year, but only 22 inches in 2020.
And at Montreal, whereas that system produced more than 27 inches of rain in 2019, it only recorded 19 inches this year.
"So suffice it to say that our situation this year is worse than the average, worse than last year and it is likely, based on the prediction, to get worse for another month or so," Saunders said.
CWSA's general manager added that this meant the Authority would have to implement stricter measures than they have at present.
According to the release issued yesterday, these measures include inter-linking the systems at varying hours where deficiencies in one system can be bolstered
by a supply from another and locking down schools that are on vacation to reduce wastage.
Measures will also involve closer monitoring of storage tanks and intakes using both remote and direct means and implementing a system of water rationing from South Leeward through Kingstown to East St George.
"Of particular interest would be the higher areas in these zones, especially the marginal areas such as Green Hill, Bowood and Upper Largo Height," the release said. "In the first instance service interruptions will be restricted to nights, however very soon thereafter shutdowns make have to occur during specified daytime hours."
According to the release, "the CWSA will be communicating this rationing schedule to the public on radio and on its Facebook page. It is expected that regular updates will be required including updating any expansion of the rationed areas".
This means that consumers will be expected to immediately activate their hurricane preparedness plans in terms of at-home storage. And this will require that excess water be stored when it is available, to cater for periods of outage.
"CWSA has also diverted the selling of water to marine vessels to Barrouallie and Walliabou to reduce the demand on the Dalaway system," the release said.
And the water authority expects assistance of the public in terms of reporting leaks and incidents of abuse and wastage.