Posted on
Fisherfolk reeling under COVID-19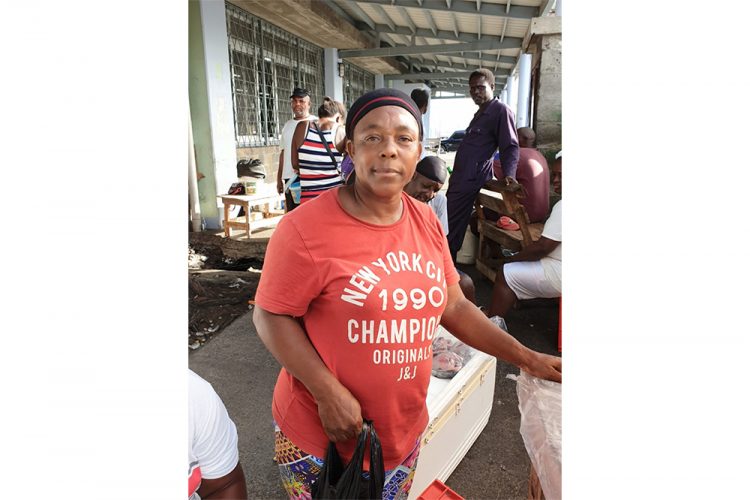 by LYF COMPTON
THE COVID-19 pandemic is taking a toll on the fishing industry here.
"I sell blackfish. I does go in the countryside, but since this, I can't go out dey," fish vendor Galeann Barbour told SEARCHLIGHT standing in front the Kingstown Fish Market at Little Tokyo on Monday afternoon.
The vendor shared that since the announcement that COVID-19 was present in St Vincent and the Grenadines, she has seen a drop in sales as customers are not coming out as they normally would.
"Just the other day, they talk and say it out ah country and from that I 'fraid to go out dey," said Barbour, who added that she cannot afford to continue losing sales as she has her children to support.
"I was selling since long, long, long time, since many years ago and this is one the worst times I seeing," Barbour said.
"We in a crisis," said another female vendor who was plying her trade outside the market. She said she preferred not to give her name, but noted that her sales had declined drastically as persons seem to be afraid to come around.
Fisherman Lance Douglas from Layou said COVID-19 is also hitting him hard.
"To be honest, I catch some jacks, I woulda make thousands of dollars with the Trinidad trawlers, but right now because of this situation, everything lock down," Douglas told SEARCHLIGHT.
He however noted that despite the hit on his pockets, he thinks that we should close our borders.
"Let's say the country close down Wednesday, big effect; no fish can't sell, no money cah mek. I have six children, plus a wife. I don't know how I will cope with it, trust me," Douglas said.
When asked why he was not wearing a mask, he suggested that persons research the proper use of masks as a person can do more harm than good with improper usage of masks.
On Monday, the normally busy fish market and bus terminal were short of the usual crowds. About seven persons were seated under a nearby stall in the vicinity of the Fish Market. There were also several similar scenes around the terminal.
One man threatened to smash the cellular device being used by a reporter to photograph the area. He approached menacingly, hands outstretched and was joined by another man, a popular figure in Kingstown known for aiming his fingers at moving vehicles pretending to shoot. The second man brandished an empty Sunset rum bottle. "Don't bother with he,
he drunk, he probably frustrated too," someone observing commented. The observer also offered, "a lot of people over here frustrated since this corona thing."
Last month, Minister of Finance Camillo Gonsalves said Rainforest Seafoods had stopped construction, for the time being, of their EC$10 million seafood facility in Calliaqua.
The stoppage affects about 45 employees.
He said much of Rainforest Seafoods' income stream comes from two sources, one, the sale of seafood products to hotels, primarily hotels in Jamaica and the Caribbean region (Barbados and Lucia), and two, from the sale of live lobster in China and Hong Kong.
The Finance Minister noted that it is now impossible for Rainforest Seafoods to sell live lobster because there are no flights going from the United States (US) to China and parts of China are already locked down.
The Government will today present in Parliament a Supplementary Appropriation Bill containing a number of stimulus measures aimed at combatting the negative effects on the economy of the COVID-19 pandemic.