Posted on
Man cut down in hail of bullets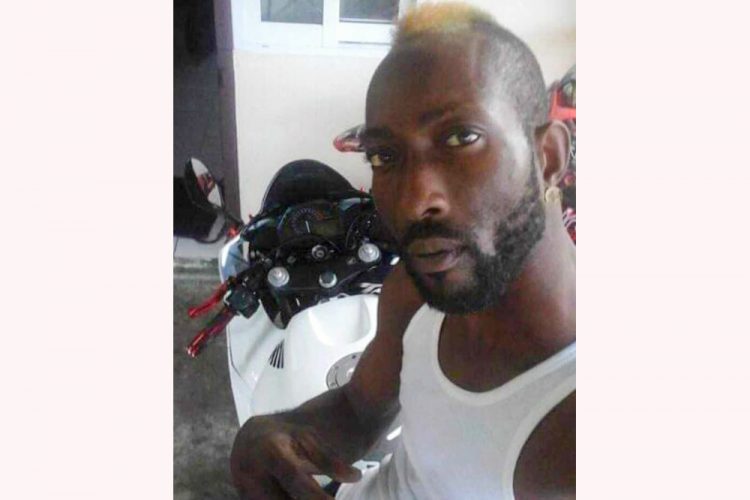 Two gunmen created mayhem in Fairbairn Pasture on Sunday afternoon when they brazenly ran into a shop and fired over 15 bullets into a 34-year-old man.
Dead from the chaotic 3 pm shooting is Marlon John of Fairbairn Pasture, who was in the company of several persons inside Mama's Corner shop when he died.
An eyewitness told SEARCHLIGHT that it appears that the men knew their target when they entered the shop, as they went directly for Marlon who was sitting on a stool, socializing and drinking.
Gunshots sent persons running in every direction.
"This is a hard one, 15 ah them they throw pon him," Lawrence John, Marlon's father told SEARCHLIGHT on Monday, a few hours after witnessing his son's autopsy at the morgue of the Milton Cato Memorial Hospital (MCMH).
He said that bullets broke one of his son's legs, one his arms, damaged some of his fingers and penetrated his chest and face, among other parts of his body.
"…that's life eh. I must feel bad, is me son; me and he alone live here," Lawrence said while standing on the porch of his Fairbairn Pasture dwelling.
He said Marlon would have celebrated his 35th birthday in July and it is very disturbing the way he was killed.
"I just don't know, but how he dead dey eh, it mysterious. It seems like they went for he because that is all I could suggest, he already gone," a confused Lawrence said.
He told SEARCHLIGHT that on Sunday, he was fixing a lock when Marlon left for Mama's Corner and soon after, he heard several loud popping sounds that caused him to go to the main road and look.
"From the time me hear that sound, me say something happen, so I go in the road and stand up and see people running," Lawrence recalled while adding that someone shouted to him and told him to come quickly, as Marlon had been shot.
Lawrence said he went to his son and saw him on the ground in a pool of blood trying to get up.
Marlon was eventually placed in a vehicle and rushed to the MCMH where he was pronounced dead.
Lawrence said he had no idea why his son was massacred, but he knew that he kept late hours.
"We had a good relationship, but you know when you have children, you off and on, but he was no problem to me. He was not troublesome, that's all I know. I don't know if he make trouble up the road," Lawrence offered, while adding that his son had spent some time in prison for being involved in an incident in which a man was burnt.
Lawrence said Marlon is the ninth of his 10 children and his mother passed away three years ago.
"Well he gone meet her. Is the way how you live in life if you wah be own way," Lawrence mumbled, while adding that Marlon would have been 35 in July.