Posted on
Minibus operators call for government subsidy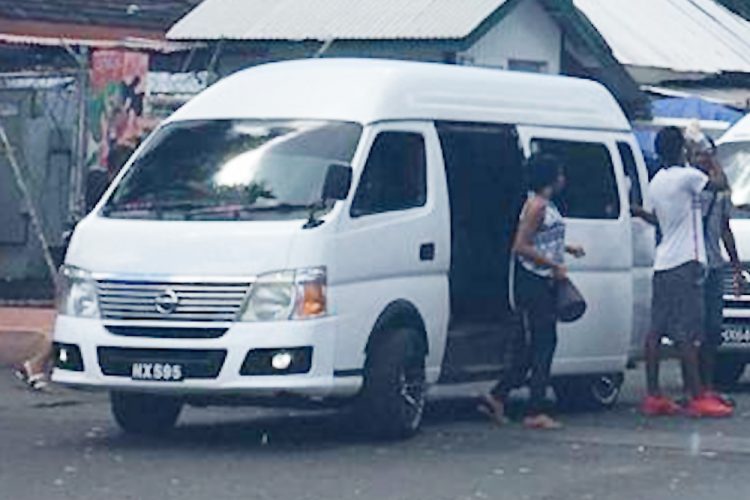 IF THE AUTHORITIES want minibuses to carry fewer passengers in order to implement physical distancing, the minibuses would have to be subsidised.
That is the view of some bus operators, who shared with SEARCHLIGHT yesterday how they felt about an advisory from the Royal St Vincent and the Grenadines Police Force (RSVGPF) that they carry only 13 passengers.
Most minibuses are licensed to carry 18 passengers.
But a release issued by the RSVGPF on March 28 advised operators of minibuses to conform to the social/physical distancing guidelines by allowing only one person to sit in the front passenger seat and no more than three persons on the other four seats.
"That amount of people per [trip], that can't work at all. Although I see the importance of it, but something has to be subsidised," one operator told SEARCHLIGHT.
The bus driver, who has been operating in the Murray's Village area for the last four years,said minibus operators need to think about fuel and tyres when it comes to their business.
And while he would have no issue adhering to the advisory of taking 13 passengers over the 18 that he is licensed to carry, he is adamant that Government must subsidise their businesses if it is to work.
"You just can't say 13 and then you don't have nothing to subsidise it with. They have to come up with some sort of plan," the bus driver said. "I think they could compensate by some sort of financial thing to assist, because we have insurance, license and so forth that we have to pay…this thing (COVID-19), we don't know how long its going to continue like this. My suggestion is something… but monetary."
Another bus driver working the Layou route said police have been on the road, stopping drivers to ensure that they adhere to the physical distancing guidelines.
When SEARCHLIGHT spoke with him yesterday at midday, he said he had not yet carried only 13 passengers, but the 18 that he is licensed to carry.
And the minibus operator said that he will only do it "when police on the road and them thing dey, but if police not on the road, we carry the same as how we do."
He said authorities wanted drivers to carry 13 passengers but have not suggested how they will help drivers with the fallout of carrying fewer passengers.
"It go be bad fo we…if them drop the diesel and thing like that then it go come like almost the same. Come like we na go lose nothing, because if the diesel still dey up and we carry less passengers it go still be harder for we," the driver said.
One driver, operating in the Redemption Sharpes area, said he still had to pay a loan to pay for his van.
And while he understood that carrying 13 passengers would help prevent the spread of COVID-19, he agreed with other minibus operators that they should be compensated in some way.
"Somebody go have to compensate we because its a loss… big loss," he said.
According to Prime Minister Dr Ralph Gonsalves during a call to We FM's 'Issues at Hand' programme on Sunday, March 29, subsidising minibus drivers in SVG could cost the Government as much as $640,000 per month.
Gonsalves said that there are as many as 1600 minibuses operating in this country.
"…if you have 1,600 minibuses and they are all properly registered and doing work and you give them…$400 a month as some kind of a subsidy…that's $640,000 a month and if it's two months, that's…call it $1.3 million," he said. The prime minister said $400 per operator was not affordable and it may have to be a lesser number.
He added that the Ministry of Finance would have to determine what that figure is and if a subsidy can be given at all to operators.
Late Monday, a release from the Vincentian Transportation Association said Government had agreed to assist by providing a stipend of between $250 and $300 for two months in the first instance ( lstory on page 12).
"I appreciate that if the minibus men are cooperating, but you can't still not be cooperating with doing 13 or 9 passengers and then you have the thing with your 18 still and you line up at the trough like everybody else," he said. "You can't be fair and I can't have an army of transport operators, transport observers to be employed by Ministry of Transport to see what these 1600 minibuses do."
Gonsalves however noted that there were other areas of relief being considered.
The Prime Minister said minibus operators received a dollar off of gasoline and diesel last Monday, March 23.
And he is prepared to reduce the price even lower.
He also said that banks and credit unions have agreed to give some forbearance in terms of principal and interest on loans.
"Of course, they have to go into their individual banks and credit unions. So it's not true to say that they haven't gotten any relief, but I am prepared to give even some more relief on the diesel side, gasoline and diesel," Gonsalves said.
He added that someone suggested to him that a crew of up to 20 persons can be hired help clean the inside of vans, handles and other areas between trips.
Gonsalves said if that is done, it would be done under the Public Health Department and for about two or three months.
One driver agreed that it was a good suggestion but said that he always kept sanitising products in his vehicle and cleaned regularly.
"I don't know for others, but I keep sanitised stuff in my van… and it's something that I did before COVID-19 come in, so personally that don't affect me, but it's a good idea," he said.
However that idea has been described as "stupidness" and "bare shit", by another driver, opining that it would hold up drivers when they go into their respective terminals.
However, one passenger sitting in the front seat chimed in and told him "that's how you have to do it".
She cautioned that different people use his van when he makes several trips per day and "you can't account for somebody whereabouts".
Gonsalves however said that he was open to having a meeting with omnibus operators to discuss the matter.
"…There are things which we can work out but there are some already worked out in their favour," he said.
That meeting was held yesterday afternoon at the Office of the Prime Minister.