Posted on
Proud to be Garifuna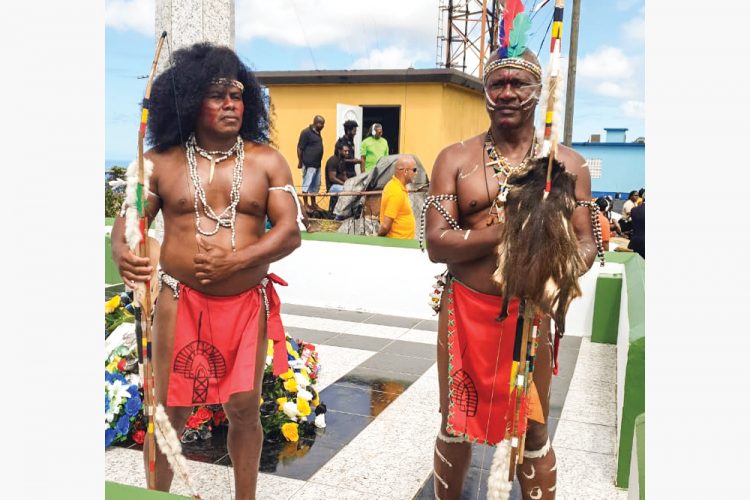 THE GARIFUNA PEOPLE of Belize are appreciative of the honour that St Vincent and the Grenadines (SVG) has given to paramount Chief Joseph Chatoyer says Dr Gwen Nunez Gonzalez.
However, there are many Garifuna descendants living in countries other than SVG who are ashamed to be called Garifuna.
Nunez-Gonzalez, a Belizean educator and a representative of the Garifuna Heritage Foundation Inc. made the points last Saturday March 14.
She was in SVG for the National Hero's Day celebrations, which saw persons journeying to Dorsetshire Hill for the annual wreath laying ceremony held in honour of Chatoyer.
Addressing persons at the ceremony, the Garifuna descendant thanked the locally based Garifuna Heritage Cultural Foundation for their ongoing work.
She said that events like the honouring of Chatoyer and the International Garifuna Conference give her a sense of gratitude and pride and reinforce the mission to write their history from their perspective.
"Our responsibility as a nation here and in Belize is to ensure that our legacy lives on," Nunez-Gonzalez said but noted that some descendants do not feel the same.
"One of our challenges is to ensure that Garifuna people, Garinago, embrace who they are. In different areas, and so, they are people who are ashamed to be called Garifuna because of the oppression, because of the stigma, but I keep telling them we come from good people, we come from solid people.
"We are descendants of Chatoyer, a solid man. So, we must ensure that we keep the pride going. Don't be afraid of who you are," she said.
The educator noted that she has now been inspired more than ever before to write the Garifuna's history from their perspective.
"It is very important that we not only celebrate Chatoyer today, but we also have to celebrate him 24/7, 365 days a year," said Dr. Nunez-Gonzalez.
The event also heard from Prime Minister Dr Ralph Gonsalves, Leader of the Opposition Dr Godwin Friday and Minister of Culture Cecil McKie.