Posted on
Death penalty not a bad idea for murderers – Minister Stephenson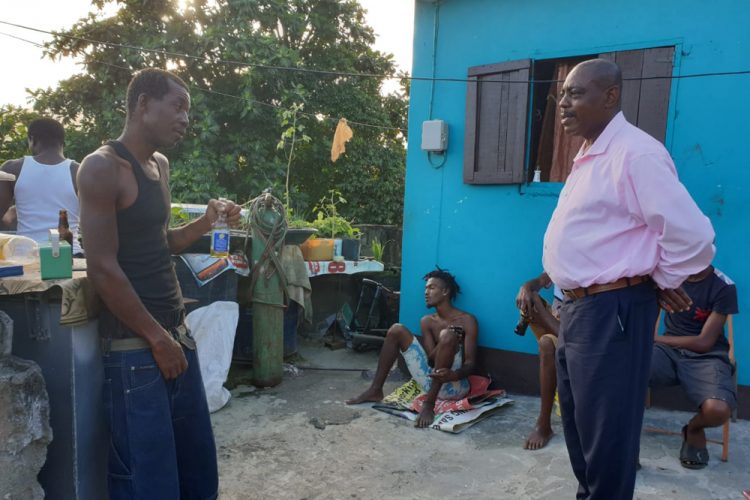 THE DEATH PENALTY isn't a bad idea if someone is found guilty of the murder of 26-year-old Park Hill resident Mickeisha Gumbs.
This is the opinion of Frederick Stephenson, minister of gender and family affairs, which he shared with SEARCHLIGHT on Sunday. Mickeisha was stabbed to death Saturday, March 7 around 4:30 p.m. She died on the spot. Gumbs was the mother of Raynique, 9, Mariah, 8, and Vanique,1. She was murdered in the presence of two of her children, her one-year-old falling from her hands during the attack.
"There is a child there, just about a year old who is a victim of domestic violence. What is the child going to do without a mother and a father?
He goes to prison, he should be hanged, in my estimation," Stephenson said while standing outside the home of Mickeisha's sister Joseth Gumbs in Park Hill.
"I am appealing to men again, as I continually do, and I'm appealing to women who are involved in domestic (violence) relations, talk to somebody and please get out.
"I'm saying to our men, your woman is not your property, they're not your car, they're not your house, they're not a piece of land, they're not a chattel. Please, if you cannot be comfortable in a relationship with a woman, you don't have to kill her just leave, go your way," the minister said.
According to Stephenson, the current situation is sad and what makes it worse is that a few weeks ago, a husband was charged with killing his wife. The Minister was referring to the murder of Cuban- born nurse Arianna Duharte Taylor who was killed on January 30, 2020, at Wilson Hill.
"You can't kill the women of St Vincent and the Grenadines… here today in Park Hill…a man just decide, listening to commess and listening to something that he heard from somebody, came up here and killed his girlfriend.
"I understand he has another girlfriend too. He killed his girlfriend who has three children. I mean, this is not good. You can't have one or two girlfriends and just because you feel that; you hear somebody send you a message and tell you that one of your girlfriends got a ride in a vehicle and you come up and kill her," said Stephenson.
The minister said he is sending a strong message to the men to remind them that women are not property.
"Women are not persons that you invest in and you figure that if your investment ain't go right that your only choice and the only way out of it is to kill. You can't do that. Women are your mothers, women are your sisters. Women are your children. They are your nieces. They're your grandmothers," stressed Stephenson.
The minister is appealing to men who are inclined to domestic violence to be responsible and do
better.
He said this incident has left three children without their mother and he is encouraging persons who may have witnessed the killing to do their part.
"The law is there. He would be charged for manslaughter or murder. He goes to court and we want the people in Park Hill, in village here, who saw what transpired, they must go to court give the evidence so that the legal process would take its rightful course," said Stephenson.
He noted that Park Hill is normally a lively, joyful community, but Saturday's killing seemed to have created a sombre mood in the area.
"I want to appeal to our women folk who are in [violent] domestic relations, to speak out, to report incidences of domestic violence, talk to a friend, talk to somebody you know.
"And if you feel you're not getting anything done, talk to me. The police have a responsibility under the Domestic Violence Act to investigate and to do the necessaries," Stephenson said.
He also encouraged persons in the various communities to be vigilant and talk to persons who may be in a domestic violence relationship or report it to the police.
"And at the end of the day, go to the courts and give the evidence… the law is there to protect you. The law is there to ensure that whatever is done is done in a manner that persons can get redress," Stephenson said.
The gender affairs minister also admitted that his ministry and the government can do more.
"The police have to visit the communities, talk to individuals and talk to persons and act. Under the Criminal Code, if a woman is beaten, the police can charge a man for assault, common assault, assault bodily harm, grievous bodily harm, murder, whatever," Stephenson told SEARCHLIGHT while adding that the Domestic Violence Act is there to protect persons.
The dead woman's boyfriend Vandyke "Dez" King has been detained by police in relation to the brutal killing.