Posted on
BOSVG provides hand washing stations for members of the public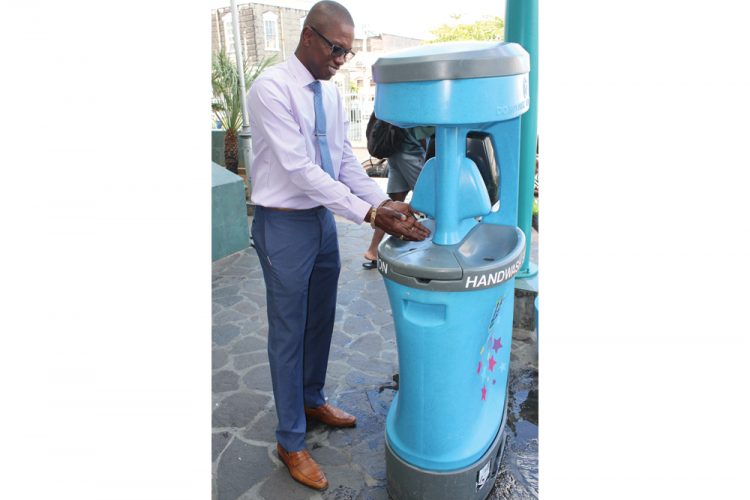 THE Bank of St Vincent and the Grenadines (BOSVG) is making it possible for its customers and members of the public to wash their hands more frequently while running errands in capital Kingstown.
Just one day after health officials confirmed the first case of coronavirus (COVID-19) in this country, the Bank announced its partnership with Fanfare Events SVG to place hand wash stations at both branches of BOSVG in Kingstown.
"…What we are doing is bringing what we have done inside for our staff and making it more available to our customers," Derry Williams, the managing director told SEARCHLIGHT yesterday.
Williams said measures have been put in place at the bank over the past couple weeks, with several hand sanitising units and informative notices being placed at various points in the branches.
Indeed, customers are being asked to sanitise before entering the lines and tellers wash their hands after several transactions.
And the managing director said the hand washing stations are "an added feature so persons using the ATM or persons coming out of the bank or going into the bank, can basically wash their hands".
"Part of what I understand in terms of this whole thing is that you can use hand sanitisers and so on but after a while, you need to wash your hands so our staff have access inside to wash their hands, we are providing that same access to our customers to wash their hands and I imagine anybody who wants to, as they are passing if they want to do so," Williams said.
He said the bank was looking not just at preventative measures but also from a business continuity standpoint by ensuring what needs to be put in place operationally.
The managing director revealed the Bank's intention to have notifications to create awareness run on the screens in the bank and at ATMs.
Williams also said that BOSVG will also do its best to keep customers informed on the Bank's operations in this time.
Alexis John, the owner of Fanfare SVG told SEARCHLIGHT he was excited to partner with the Bank to launch what is essentially a clean hands campaign.
"We want to encourage persons to wash their hands, which is one of the key measures to help persons from getting this virus and we basically living our corporate social responsibility to play our part in keeping St Vincent and the Grenadines safe," John said.
The events rental company boss said hand wash stations will be at the Reigate and Granby Street locations in Kingstown.
But he hopes to place other stations at other hotspots in Kingstown sometime next week.
"We also recognise that Kingstown is pretty limited…facilities are really not in place for that easy access when it comes to the general public and hence these other two units will be placed in hotspot areas," John said.