Posted on
First all-female boat crew for Bequia sailing tournament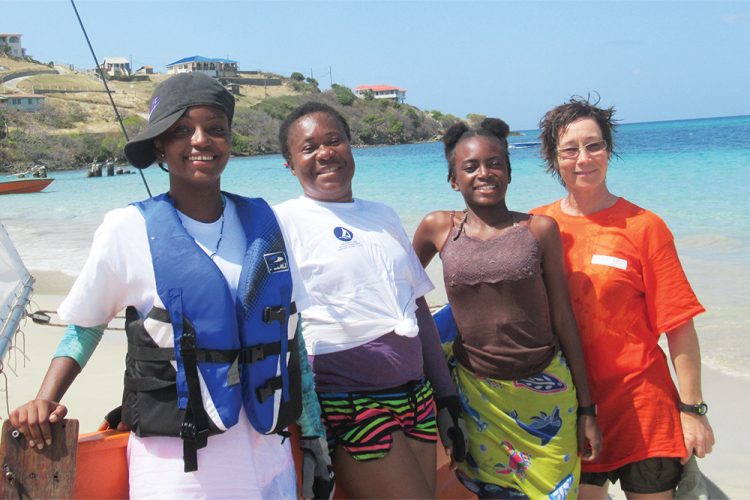 Fresh from a two day sailing tournament in Mayreau, successful participants have their eyes set on participation in the annual Bequia Easter regatta.
The Grenadines Sailing Tournament, hosted by the Canouan Island Council, on February 15 &16, featured an all-female crew from Mayreau, who raced a working boat for the first time ever on that small Grenadine island.
Two members of the crew, skipper Jeaneil Cayenne and her secondary school counterpart, Smantha Forde, were joined by Helen Forde and Charlene Wilson in a 14 foot working boat 'God's Angel, owned by Lenus 'Claude' Alexander of Mayreau, completing the course in a time of two hours, 54 minutes.
The crew described their experience as amazing and competitive with Cayenne noting that "the best part was coming up from Jondelle", a rock near to Mayreau's Catholic island.
Nancy Saul-Demers, who describes her association with the group as "perhaps their biggest cheerleader" told SEARCHLIGHT that it was the first time that the Canouan Island Council was organising a regatta on Mayreau and it provided a "wonderful opportunity for all our junior sailors and junior crew" to be exposed to competitive racing.
The sailing programme on Mayreau was initiated by a group of young people, including some students, about four years ago, as a way of providing youths with gainful activity when they return to Mayreau from school in nearby Canouan with training taking place on a daily basis.
She said it's providing them with life long skills, including team work, planning and problem solving.
The junior sailors are anticipating making their second appearance at the Easter Regatta on Bequia.