Posted on
Large 'orange' turnout pays tribute to nurse Arianna Taylor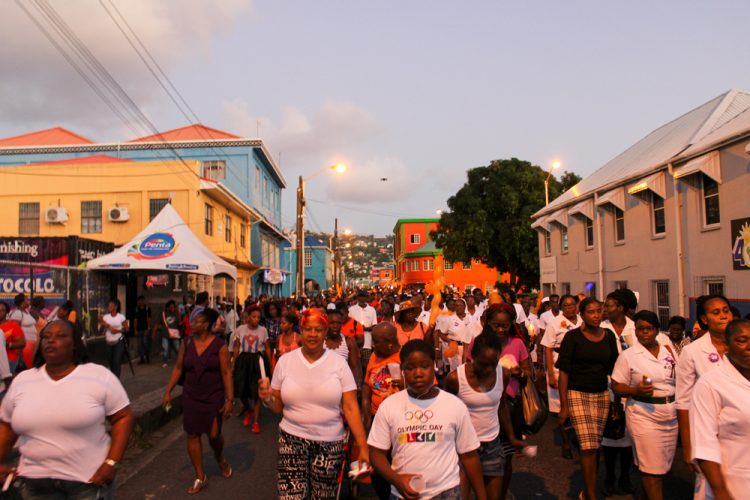 There were few dry eyes at the OT Car Park where hundreds of people gathered last Thursday, February 6, to pay tribute to slain Cuban-born nurse, Arianna Taylor.
Members of organisations, wearing orange t-shirts in protest at violence against women, nurses, doctors and hundreds more, marched through the streets of Kingstown in song as they made their way from the St Martin's Secondary School before settling at the carpark.
Candles, with cups to protect the flame from the wind, flickered, as the large crowd raised their voices as they called for justice for the nurse, who was shot on the grounds of the St Martin's Secondary School on the afternoon of January 3. She was pronounced dead at the Milton Cato Memorial Hospital shortly after.
Her husband, Mitchell Israel, who is alleged to have pulled the trigger, has been charged for the murder of his wife. He is scheduled to reappear in court on May 18.
"Too often we suffer in silence, out of the fear of judgment and ridicule," psychologist, Dr Jozelle Miller said.
"We are our sisters' and our brothers' keepers. Too often we use the cliché statement without substance and meaning that says, 'I have your back' but how often the ball falls when it is truly needed."
Miller, while paying tribute to the nurse, said that no one would have known the issues that Taylor was experiencing because she never showed what she was going through.
And the psychologist said that there are several lessons to be learnt from her death.
Several persons and groups also paid tribute to the slain nurse in spoken word and song. But none was more touching than a poem, read in Spanish, by Neuricel Fonseca, a member of the Cuban medical brigade here.
Fonseca shed tears for her fallen sister as she passionately recited the poem, and many others, some of whom did not understand the nurse's language — cried right along with her.
"Rest in peace, Taylor!," she said as she came to the end of her recitation.
It is said that Taylor had made several reports to the Questelles Police Station of abuse and death threats from her husband, who was the holder of a firearm license.
"What does the face of an abused woman look like? It looked like Taylor's, a beautiful smile," Senator Deborah Charles said at Thursday's vigil.
"I'm saying to us women, I'm saying to us girls, do not allow your situation to overwhelm you, do not sit and think that there's no one who cares. There are persons out there who care. You only have to look close enough to find someone in whom you can confide, someone who can help you through your difficult times."
The Parliamentary Secretary in the Ministry of Education, noted that Taylor was part of a contingent of Cuban nurses who arrived in St Vincent in 2002.
Charles, who is one of two women in Parliament, called on those present to do what it takes to ensure that the scourge of violence against women and girls ends.
And she asked that persons "make this — Taylor's death — not in vain, so that each of you, each of us, will know what our responsibility is as of tonight, and we work to ensure that violence against women, against our girls, end as a result of this one."
Health minister Luke Browne, who was also present to express his condolences, said he had a special relationship with the nurse who assisted in his annual Luke Kid's Summer Programme.
He said that her death not only has deprived the hospital of an excellent nurse, but also two boys of an outstanding mother.
Like Charles, the Health Minister also called for Taylor's death to not be in vain and appealed for persons to continue to rise up and fight against violence against women.