Posted on
Winners in 2019 Nine Mornings festival rewarded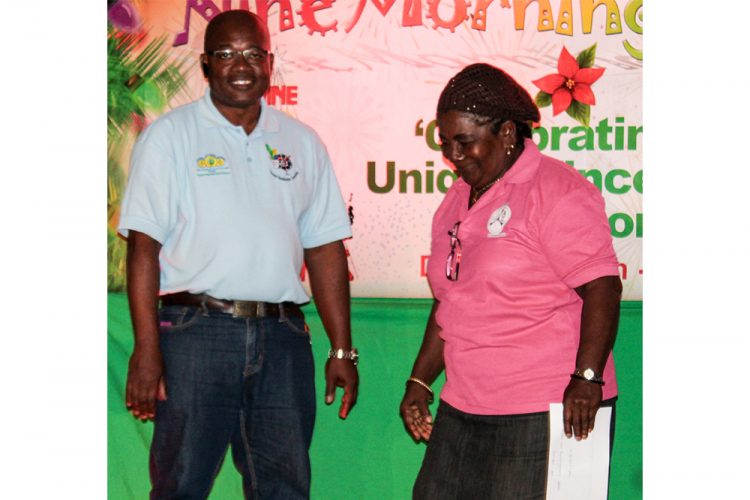 Winners in the various Nine Mornings festival competitions have been called to think about the festival's tourism potential so they can package their activities for the rest of the world.
Orande 'Bomani' Charles, chairman of the Nine Mornings Committee, threw out this challenge last Saturday, January 11, while speaking at the 2019 Prize Giving ceremony.
"We have all participated in Nine Mornings and we know what it is to us, but there are millions and billions of people out there who don't…," Charles said. "… I think we are ripe now with international access and other developments to begin to invite them, to let them see that St Vincent and the Grenadines has this unique thing that happens nowhere else in the world, that we are proud of and we are ready to share with them."
The chairman said that the cultural significance of Nine Mornings cannot be understated as many persons have tried and failed to replicate the unique festival across the region.
He said that it was not something that could be introduced "overnight", but rather something that was ingrained over generations.
"It has to be developed, it has to be taught. It has to become a part of your DNA and the positive thing we saw this year is the amount of young people, children taking their own initiative to get up at 3, 4 o clock in the morning to go out to the various communities, encouraging their parents. Some of them don't get up that early to go to school," Charles said.
And he proffered that it would be the younger generation that ensures the security of Nine Mornings as a festival, as it has transcended generations and is now residing in the youth of the nation.
The Stubbs community earned first place in the National Lottery Best Community on Parade category, with Carreire and Fitz Hughes tying in second, Green Hill in third and Rose Hall in fourth position.
Richland Park placed first in both the National Lotteries Best Nine Mornings Community and National Lotteries Best Christmas Community categories.
And Fitz Hughes was the community out front in the National Lottery Best Community Song competition, which took place at the launch of the festival last December.
Rondy 'Luta' McIntosh's "Something Bitter" was adjudged the most popular local Christmas song this year.
The parang was popular on five of the eight radio stations polled.
"Christmas Grinch" by Roland Bowman and "Little Piece" by Shaunelle McKenzie tied for second place in the National Lottery Most Popular Local Christmas Song category, Shernell 'Skarpyon' Williams' "Joyous vibes" came in third and Carlton 'CP' Hall's "Fusstina" placed fourth.
Tourism minister Cecil 'Ces' Mckie also spoke about the Christmas festival's potential to have significant impact on this country's tourism sector.
"I want to indicate that our arrival numbers were also very visible this year. I didn't have the benefit of receiving all the figures, but I want to think that from the region and from international carriers, that we had increased numbers," he said.
McKie said that the increase in visitors were evident at the Nine Morning activities as well as the privately organised entertainment shows.
And he said that "it would be interesting to see how close to the 15,000 mark we identified at the launch of Nine Mornings, how close we got to those figures".
The tourism minister said that the country needs to continue working along with international and regional carriers to see how the destination can further promote its Christmas events and have even more persons coming.
"We need to also look at opportunities to capitalise on what is possible in terms of memorabilia and promotional merchandise, not only central committee but also the communities. You need to understand that there are possibilities within your communities as well to make money," McKie said.
He also said that "We also need to take Nine Mornings, as was done with carnival to the next level. We need to have a corporation established and not just this ad hoc casual committee, but a structure that has an act along with it which allows us to take the festival to the next level".
Communities also received prizes last Saturday in other categories under the VINLEC Community Lighting Competition (Zonal, National, Best lit Garden, Best lit Private House, Best lit Commercial Building and Best Nativity Scene).