Posted on
More and bigger cruise ships coming to SVG this year – Beache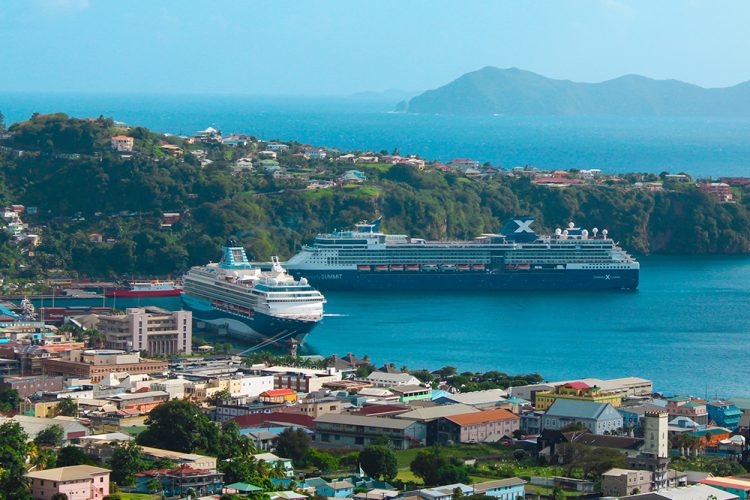 Glen Beache, the chief executive officer of the St Vincent and the Grenadines Tourism Authority (SVGTA), believes there will be an increase in number of passengers visiting these shores this year on cruise ships.
Some persons were particularly pleased to see two large ships making port in Kingstown last Saturday, January 11.
And Beache told SEARCHLIGHT yesterday that not only were those calls scheduled but it would not be the only time that two large boats would make port here this season.
"I know there was supposed to be two or three days where have two big cruise ships…I think the number of passengers will increase this year, because many of the calls are bigger ships this year," he said.
Beache said that this is not the first time that SVG has welcomed two big ships on the same day.
The two boats, Marella Explorer 2 and Celebrity Summit, were docked at the Geest Terminal and Kingstown Cruise Terminal, respectively. Both ships had approximately 3,800 passengers each.
The Geest Terminal was transformed temporarily to welcome tourists with stalls from local vendors selling local craft, snacks and accessories.
Beache said that while it is not an ideal location, the Geest Terminal has been used before, particularly in instances when there are two big cruise ships making port.
He noted that the Kingstown Cruise Terminal was only built to accommodate one ship.
"Most of the new cruise lines that are coming off the line, we can't take them. You're looking at about 6,000 people on one ship and that doesn't even include those who work on the ships," he said.
The CEO also said that "more of the cruise lines are going towards these very big ships. I am not sure exactly what the plans are, I know we have the new port development taking place sometime this year and I know at some time, government is supposed to be looking at something new with the cruise ship terminal so we will be able to take these bigger ships".
Beache told SEARCHLIGHT that the SVGTA was working along with other countries in the region to see what can be done to attract more cruise ships to visit during the off season.
He said that so far, the season seemed to be going well and as time goes on and this country continues to grow as a destination, "we're probably going to see more of these days where we have more than one big cruise ship in".
"There's always room to do better. It's our hope that we continue to grow the cruise ship season as more visitors come to the shores of St Vincent and the Grenadines, not only in terms of cruise ship passengers, but in terms of stayover passengers, so that the hotels, the industry on a whole, gets more business," Beache said.