Posted on
CCTV cameras being installed around capital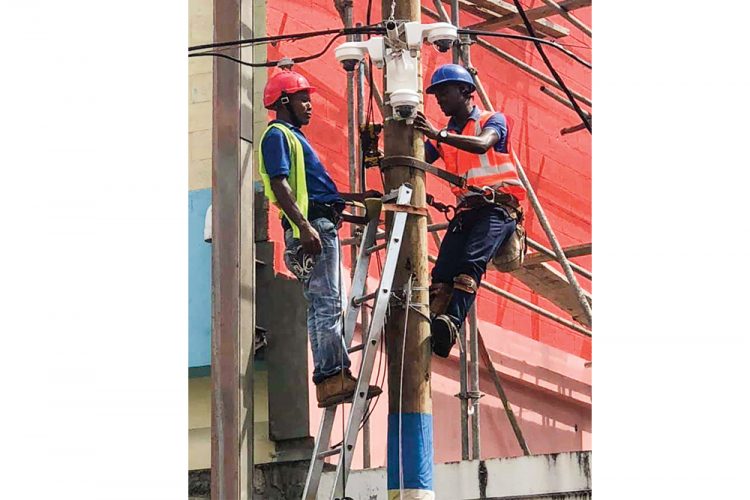 The installation of CCTV cameras in Kingstown this week has marked the implementation of the first phase of the 'Intelligent Bus Management and Monitoring System' project.
Camillo Gonsalves, the information technology minister announced last year that an e-bus system and CCTV cameras would be introduced locally.
The initiative involves equipping participating buses with electronic devices which would transmit certain information to specialized bus stops to be installed across the country.
Each bus stop would have a digital display which would let commuters know the whereabouts of participating buses and how long they will take to get to the bus stop.
Another aspect of the project, which is being implemented with the help of the Government of Taiwan under the Systems and Technology Cooperation agreement and the International Cooperation and Development Fund, involves CCTV cameras.
The cameras will also be integrated into the e-bus system, but are expected to serve as an additional security measure for this country and help in crime prevention.
The installation of surveillance cameras in the Kingstown area began this week.
"The other phases of the project for the windward and leeward sides of the island, are scheduled to be implemented between the first and second quarter of this year," a notice from the Information Technology Services Division (ITSD) said.
The ITSD and Royal St Vincent and the Grenadines Police Force (RSVGPF) are the main implementing agencies for the project.
And Commissioner of Police, Colin John told SEARCHLIGHT that he is looking forward to the implementation of both elements of the Intelligent Bus Management and Monitoring System Project.
"We look forward to the project coming on stream because we know that it would assist in reducing crime and also in terms of prevention of crime," he said.
John said that the force has been actively involved in the project from inception, having recommended to Cabinet key areas where CCTV cameras should be placed.
He also said that persons from the RSVGPF also received training in Taiwan.
The Commissioner of Police added that the control room for where monitoring will take place is in the process of being set up at the Questelles Police Station.