Posted on
Businessman denies that former employee, charged with fraud, was his lover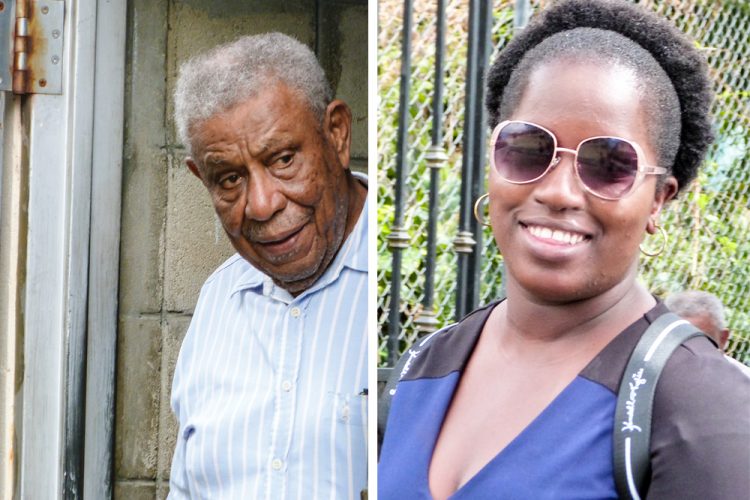 by Katherine Renton
Prominent businessman Bertille 'Silky' DaSilva vehemently denied under cross examination on Wednesday that a former employee, facing 52 fraud charges amounting to approximately $100,000, had been his lover.
DaSilva, 89, the CEO of Star Garage, was questioned at length by lawyer Grant Connell, who is defending 28-year-old Nigerian born Eunice Dowers (née Armachi) against the charges related to the unlawful use of DaSilva's credit card and cheque book between August 1, 2018 and January 31, 2019.
DaSilva took the stand as the first prosecution witness, and the first thing that Connell asked him about was how Dowers got the job as a secretary at Star Garage.
The CEO remembered that she came in person, but denied telling the worker who interviewed her to bring Dowers back to his office afterwards.
Connell suggested to him that he told her "don't bother with the interview, you got the job!" to which DaSilva replied that he never did.
"You then started asking her personal questions. Asking her if she was bored at home and if you could come and take her for drives on Sundays?," to which the CEO replied that he did not.
The lawyer put it to him that the Sunday following this interview, he took Dowers to a spring in Belair.
"That is true," DaSilva replied.
When asked what they did at the spa, DaSilva answered that he was collecting spa water for himself to bring home.
After this, he admitted that Dowers was still a passenger when they went to his house.
When asked why he took Dowers to his house, the CEO, who kept complaining that he couldn't hear Connell, said "She ask me where I was living."
"So if I ask you where you living you gonna take me to your house?" the lawyer asked him.
"Not you," DaSilva replied with emphasis.
The complainant could not remember what they did at his house, however he mentioned that Dowers probably had a drink. He said that taking people by his house was nothing special and that he takes people to his house all the time. Connell asked him about other female employees, and DaSilva noted "several."
However, Connell then submitted, "Mr DaSilva, every Sunday after that she came to your home," and that he had demanded Dowers come every single day.
When asked how many times a week she came to his house, the businessman answered several times.
A big topic of discussion in the cross examination was the submission by the lawyer that 'Silky' had, complained about Dowers being too fat.
"So after she keep coming to your house, you complained to her, "you getting too fat"…you start to complain about her physical appearance. You," the lawyer submitted.
This was denied.
Connell suggested he took her to the gym, payed for membership in the 'BeFit' fitness group, and gave her permission to order exercise equipment.
DaSilva denied these things, but said that he paid $60 which she asked him for once, because she didn't pay a fee for BeFit and she had been stopped from going.
DaSilva denied taking her to CK Greaves supermarket to buy food, but commented that Dowers was "always hungry". "One time she ask me to buy four pounds of beef…that girl come home and she cook it and eat it…"
He also said Dowers did come by his house but to cook for herself.
"Apart from cooking for you, she used to provide other services for you? She used to massage you?", the lawyer asked him.
"What?!" the CEO said heatedly, replying "Massage me? No."
When it was suggested that they used to have showers together, DaSilva commented, "Never. Never. Never happened. Never happened."
DaSilva also rejected the idea that Dowers was his girlfriend, and said she was his friend. He then added that if he wanted a girlfriend he wouldn't choose Dowers, and stewpsed.
'Silky' also said that the two of them did go to Spring Garden Estate together, to meet other persons, but rejected that it was for the party "Wet" put on by BeFit.
"You gave her money and you bought her outfit to go to "Wet"?" Connell suggested.
"Me? Boy I don't buy things for women. Boy you must be making jokes here boss," DaSilva replied.
However, later he was asked if he bought things for Dowers, and he replied "of course I bought things for her."
He went on to explain that he had gotten a used fridge for her.
DaSilva was asked about putting Dowers in a house for which he was the agent. The CEO explained that what happened was that after Dowers was evicted, she moved to another place, where the roads were bad, and he spoke to a friend who was going overseas, to allow Dowers to stay at her home for a rent of $400. He said he told his friend, this would be better than leaving the house empty.
Connell suggested that it was DaSilva that wanted her to move because he complained about the bad roads leading to her home, and said "my car go mash up I can't be coming up here."
DaSilva denied this as well.
The three-day trial, which is being prosecuted by crown counsels Roseanne Richardson and Karim Nelson, is expected to wrap up today.