Posted on
Man charged with breaking ex-girlfriend's arms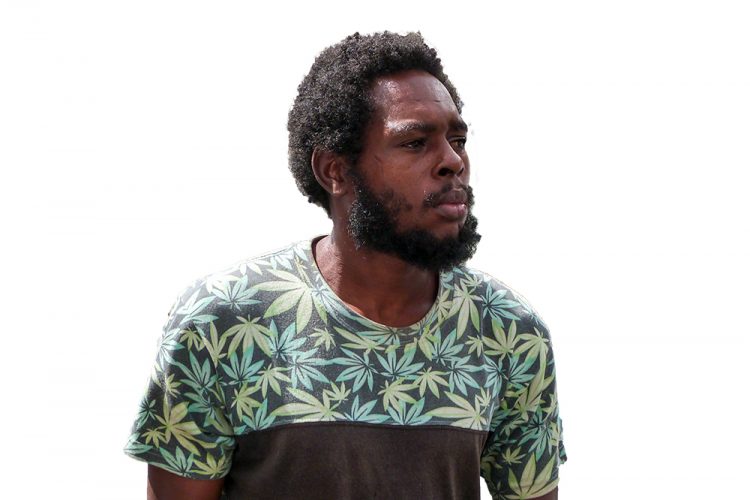 by Katherine Renton
A Cane Garden man who has been charged with breaking his ex-girlfriend's arms, has been denied bail after the prosecution noted he is alleged to have recently hospitalized the same woman with more serious injuries.
Although there is only one charge before the court as it relates to defendant Kimmarley Douglas, SEARCHLIGHT understands that he will receive more charges.
Yesterday at the Kingstown Magistrate's Court, Douglas was charged with unlawfully and maliciously inflicting grievous bodily harm (GBH) on 45-year-old Monique Hutchins of Cane Garden on December 8.
Hutchins is said to be the woman shown in a series of graphic and disturbing pictures circulated widely on the Internet last week Thursday. The woman, reported by local media to be an ex-girlfriend of Douglas, was covered in blood, with massive swelling to her face, and missing teeth.
Douglas, unrepresented legally, claimed that he was not guilty of the GBH, and said that he had to explain something to the court. He claimed that "since I get lock up on Thursday" police beat him up. He alleged that he couldn't hear out of his ears. He asked senior magistrate Rickie Burnett to send him to the hospital.
When the magistrate asked him who else he had complained to, Douglas replied that he was complaining all the time while he was at the Criminal Investigations Department (CID).
Prosecutor Corlene Samuel indicated that since the defendant is complaining of pain, "efforts would be made for him to go to the doctor. That is not hard."
However, Samuel objected to bail, explaining that for the alleged December 8 incident, "(Hutchins) was treated at the hospital and she was released. However, albeit just an allegation as it is now…the matter is not before your honour's court, we are asking you to consider the fact that the virtual complainant, she is now back in the hospital with more serious injuries."
She stated that these injuries are allegedly because of the defendant.
Hutchins is afraid for her life, the prosecution said, and they are also afraid that if Douglas were granted bail then he would hinder the investigations "and also find a way of making contact with this virtual complainant."
Samuel told Burnett that since December 8 the police could not find the defendant, and that he was on the run.
Therefore, the prosecution also had a fear that if he were granted bail, he would go on the run again.
She asked that he be kept in prison on remand for two weeks in the first instance.
Douglas' response to this was "If you make a trouble right, and police come one time, two time, and then three times, right?" and they don't find you, then this doesn't mean you're hiding. He said you could be not around but not hiding, and that he doesn't hide.
He then reverted to his 'problem' that he needed to go to the hospital.
Burnett assured him that he would be taken to the doctor, "but based on the information that is before me from the prosecutor, I am minded not to grant you bail at this stage."
He indicated the situation would be reviewed on January 13.
Unappreciative of the media attention, Douglas flashed middle finger gestures at the cameras as he exited the Kingstown Magistrate's Court.