Posted on
Eat More Eggs, Minister Urges Vincentians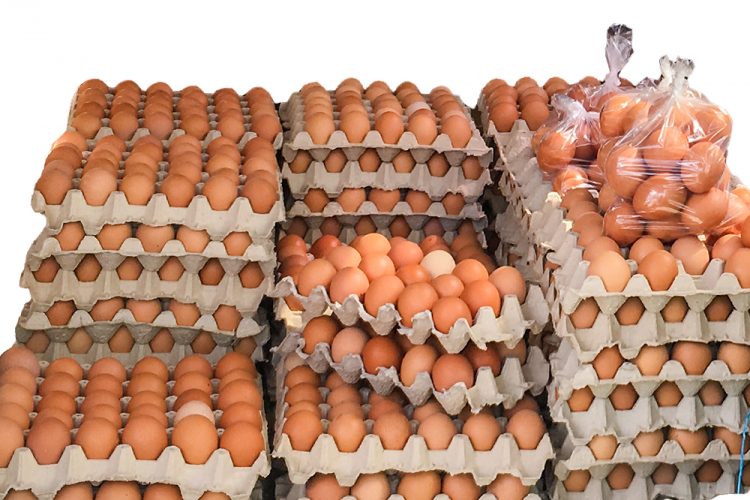 by Bria King
The Ministry of Agriculture is calling on Vincentians to eat more eggs for breakfast and dinner to address the current glut of eggs on the market.
Minister Saboto Caesar told SEARCHLIGHT that a check with producers over the last few days revealed roughly 210,000 eggs in storage as of yesterday morning.
"And the chickens are still laying," he said.
Caesar said that "this is basically an appeal from the Ministry of Agriculture to purchase locally produced eggs in the upcoming week and to substitute a lot of the processed foods that we use for breakfast and dinner".
"What we want to do is to address the issue of import substitution. Because we are importing a lot of high sodium, processed food," he said. "We're using it for breakfast with a lot of preservatives and creating a lot of negative impacts, high blood pressure and also diabetes and we have a locally produced high protein products in our eggs that is far safer health wise than a lot of these processed goods…"
The agriculture minister explained that the excess supply of eggs currently on the market is as a result of the Government's agricultural diversification programme which is part of the Banana Accompanying Measures (BAM) project.
He said that a significant number of farmers benefited from pen improvement under this project.
Caesar also said that the Poultry Association also did significant work to mobilise farmers. The minister said that these efforts have resulted in "an exponential increase in the production of eggs" which has surpassed the local demand to the point where export is now an option.
Caesar told SEARCHLIGHT that eggs were currently going for as low as $13 a flat (30 eggs) and vendors struggled to get prices up to $15 in the Christmas season, at time when eggs are usually sold for between $35 and $40 a flat.
"…and the Ministry of Agriculture, we are concerned that persons do not go below the cost of production of course…" he said.
"Good deal pon the egg dem here!" one egg vendor shouted from the front of a supermarket in Kingstown around midday yesterday.
Another vendor told SEARCHLIGHT that sales were very competitive at the moment due to the excess amount of eggs on the market.
"Market flood this year. I might sell for $13 but somebody else go sell for $10," he said.
He said that at his stall, eggs go for $13 for 30 eggs (a flat), $9 for 20 eggs and $7 for 15 eggs.
Jimmy Robertson, who has been an egg vendor for at least three years, said that the Christmas season was very slow for the sale of eggs.
"When we raise egg, we raise to $30, $35…but the season wasn't ok with the eggs and them because plenty egg on the market," he said.
Robertson said he thinks it is a very good idea for people to buy more eggs and support local farmers.
Caesar said that the ministry is encouraging persons to buy more eggs locally, but that this was only a stop gap measure.
"However that is a short term, an interim measure. We have to find an export market as a medium to long term solution," he said. "What we are looking at from a ministry standpoint, we have established an agri-expo strategy initiative and we are looking for a market in Trinidad and Tobago and British Virgin Islands for the eggs and we are coming up internally with a strategy to consume more eggs locally and to have the state institutions increase their purchasing of eggs…to ease the current glut."
The Minister congratulated farmers for being "very resolute and steadfast in 2019".
He said that poultry farmers have been doing an excellent job and he assured that the government is not only appreciative of their work but will do its best to address the glut of eggs in this country.