Posted on
Twin boys are the first babies born for 2020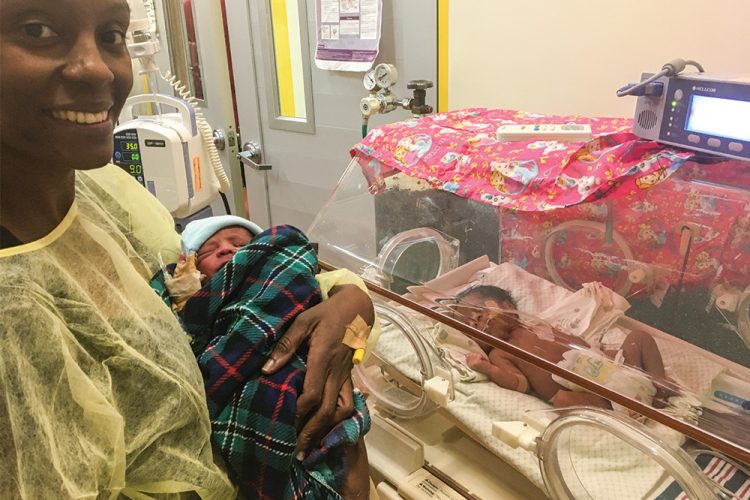 by Bria King
"Speak it into being" has never been truer for Shemica Hazell, the mother who gave birth to the first babies of 2020 — twin boys.
Hazell, who spoke with SEARCHLIGHT yesterday minutes after visiting her sons in the Neonatal Intensive Care Unit (NICU) at the Milton Cato Memorial Hospital, said that she had always said that if she were to have children, she would like to have twins.
"Words are very powerful because so said, so done," she said with a smile on her face, while surrounded by family members outside of the NICU.
The Bequia resident gave birth to her bundles of joy at 12:01am and 12:02 am via a caesarean section on New Year's Day.
She told SEARCHLIGHT that she is yet to name her children, who were born at 35 weeks, but she already has a couple names in mind.
Hazell said that she found out she was having twin boys in June 2019 and she always told her boyfriend, Myron Pierre that they would be born on a special day.
Because of extreme swelling of her feet, she was admitted to the hospital on December 31 and was told that she would have to have an emergency caesarean.
"They did necessary tests and whats not and realised I needed to be under care because of my feet but my pressure and everything was good, plus the babies were healthy. Up to this time, we are," she said.
The new mother was scheduled to have her caesarean on December 31, but it was postponed because of another emergency.
"So I'm there on the bed speaking to the babies, telling them at least wait for some champagne or candle light or something," Hazell said. "I was born on my mom's birthday, Donna Hazell, so I always told him (her boyfriend Myron Pierre) that they're gonna be born on a special day and actually I said I would be on tv, so like I said, words are very powerful."
Hazell also noted that twins run both in hers and her boyfriend's family. And she said all of these factors came together in the blessing she has received by way of her children, who are over five and four pounds in weight.
"So I must give God thanks for everything," the new mother said.
And more than 19 hours after the first babies of the New Year were born, a third baby was welcomed into the world.
Baby Treasure, who was sleeping peacefully when SEARCHLIGHT visited, came sometime after 7 pm and was born to Diamond Village resident, Querida Thomas.
Thomas let out a big sigh as she recalled giving birth to her second child. She said that she had to have labour induced because she had high blood pressure.
And it took all day to give birth to her 9 lb baby girl.
"It was very rough, but I thank God still because everything is ok," she said.
The mother of two said her second round at giving birth was nothing like her first, because her first child, who is also a girl came easy and she was three pounds lighter.
But she thanks God that everything went well and her new baby is more active than when she initially came into the world.
A fourth baby was born on New Year's Day but the mother and her bundle of joy had already been discharged when SEARCHLIGHT visited.