Posted on
Queen's Honouree hopes his award helps others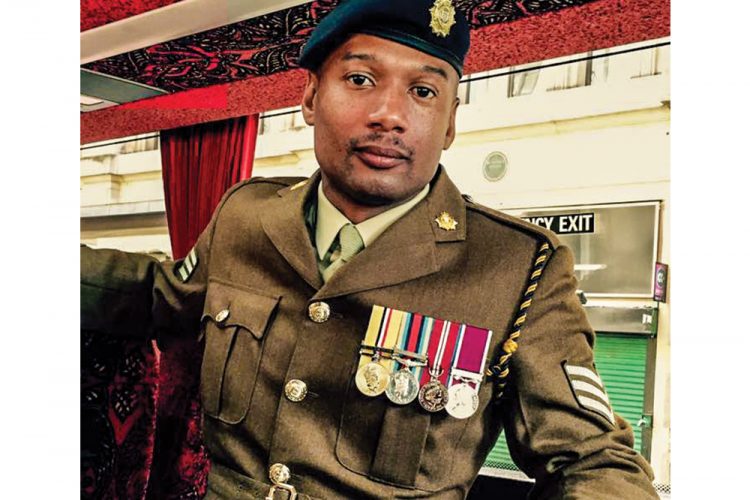 The only Vincentian to be named on the Queen's New Year's Honours List for 2020 is hopeful for the future, now that his work has been recognized, especially given the present climate towards LGBT+ individuals in his homeland.
Sergeant Guy Fitzroy Oronde Lowe-Barrow, of the Royal Logistics Corps of the British Army has been appointed to the Military Division of the Most Excellent Order of the British Empire as a Member (MBE).
Enlisted since 2001, Sgt Lowe-Barrow 43, has qualified as a Chef and has completed several Operational Tours of Iraq and Afghanistan, as well as multiple other overseas deployments.
When SEARCHLIGHT spoke with him on Sunday, he had just completed a tour as a catering instructor at the Food Services Training Wing of the RLC. On January 6, he begins a new job in the Royal Artillery, supervising a catering unit of the field army.
The soldier said he received the award for the work he does to promote inclusion within the Army for lesbian, gay, bi-sexual and transgender (LGBT) persons as well as blacks, Asians and minorities.
Lowe-Barrow has served in leadership positions in both the Lesbian Gay Bi-Sexual and Transgender (LGBT)+ Network and Black Asian and Minority (BAME) Network of the British Army, being one of three persons who helped to set up BAME Network.
He said as a black, gay, immigrant man in the Army, he is able to bring a unique perspective and give context to discussions. He is also an equality, diversity and inclusion advisor and the first point of contact when people have issues and need someone with whom to talk.
He is hoping that his story helps others to come to peace with who they are.
"I am trying to create a space that my younger self would have enjoyed and felt comfortable in. It is about going out there and living your authentic life… and hoping that by doing so, somebody can look at you and go, you know, if he can get where he is, I can surpass that."
Lowe-Barrow says he understands what it is like to be a gay man in St Vincent and the Grenadines (SVG) and the idea that there exists a law here that criminalizes how he expresses love does not sit well with him.
"…The idea that my reality, my lived experience, … me, being my authentic self, means that to love somebody …, and they love me; that act can be codified in a criminal sense, is just mad!"
In July, 2019, two gay Vincentian men filed court proceedings to challenge SVG's' "buggery" and "gross indecency" laws, which criminalise homosexual behaviour. The men, Sean MacLeish, 53, and Javin Kevin Vinc Johnson, 22, who have been living in the United States, and the United Kingdom, respectively, assert that their dignity and autonomy are stripped by these laws. They have filed claims with Affidavits stating that they have been exiled from SVG due to the severely draconian and damaging effects of these laws.
The challenge to the laws is being defended by the State, as well as by a group of 10 churches who successfully applied to the court to join the proceedings. No date has yet been set for the trial, but it is expected to be heard early this year.
There has been widespread opposition by the Christian community here to the challenge, and last November, thousands of people marched through the streets of Kingstown demanding that the laws be retained.
Lowe-Barrow said he has great faith, believes in God and goes to church, but does not believe that someone else's belief and faith trumps his lived experience.
He says he finds the comparison between what is going on in his home country and what is happening in his workspace "really interesting".
"I really respect the work of [MacLeish and Johnson and] what it is that they are doing at the moment."
Originally from Rose Place, Kingstown, Lowe-Barrow had his early education at the Kingstown Anglican School and then at the St Vincent Grammar School.
He is the son of Karen Barrow and former national footballer Guy Lowe.
The army veteran professed his love for his country but said he would like it to be a place where he, as an openly gay man, does not have to think about what persona he puts forward when he is here.
This is very different he says, to the life he lives outside of SVG, where he is able to project his authentic self.
"At the end of the day, we are just people who want to live and love according to how we feel, who we feel. We don't want to be criminalized by it; it is all about consensual relationships," Lowe-Barrow said.