Posted on
Auxiliary cop, paralyzed by bullet, has no regrets joining force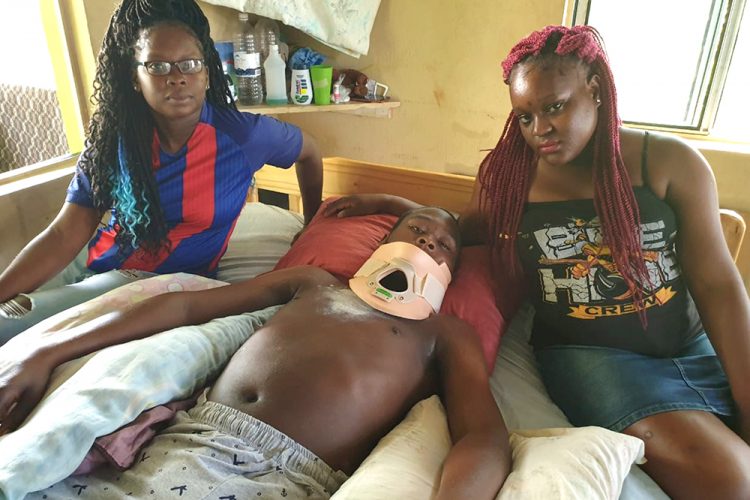 by Lyf Compton
Despite being shot and paralyzed from the neck down, auxiliary police officer Kurtland Jack says he does not regret entering law enforcement.
Just minutes before midnight on November 22, Jack was at Heritage Square in Kingstown when he was shot in his abdomen and in the side of his neck.
Also shot in the incident were Dwayne Peters, a 32-year-old unemployed man and 28-year-old Choppins resident Deron Quashie. Peters was shot in the knee, and Quashie the left side of the abdomen.
On Monday, speaking from his Campden Park home, Jack said he had attempted to speak to a man on the night of the shooting because a woman had complained she was being bothered by the man's behaviour.
Jack said he showed the man his police ID and that started a series of events that led to him being crippled. He is now awaiting surgery that will help him be able to hold his head upright and allow him to sit in a wheelchair, none of which he can do at this time.
"I am just looking forward to seeing what's going on," said the father of two children, one three and the other two.
Jack's plight became a topic on radio and social media when it was reported that he had been discharged from Milton Cato Memorial Hospital despite his medical condition. It was also reported that the surgery he needed would cost EC$40,000, but the money was not forthcoming from the government or from the police, so family members were embarking on fund raising ventures.
But Kurtland's sister Kelly Ann Jack told SEARCHLIGHT that she received an email on Monday from Trinidadian neurosurgeon Dr Peter Kowlessar, stating that the office of Prime Minister Dr Ralph Gonsalves had indicated the government's decision to pay for the surgery.
"I feel much better because at first when I didn't getting no call or anything, I did feel that them neglect my brother and after the surgeon give me a heads-up this morning, I feel much better," Kelly Ann told SEARCHLIGHT.
She said she visited the Prime Minister last week and he had indicated that he would help and had inquired why she did not come to him earlier. She said Dr. Kowlessar has indicated that they will need two blood donors and the first surgery may be done in January 2020.
"He (surgeon) say he will look for the implants," said Kelly Ann who revealed that the bullet to her brother's neck went in from the back and broke his neck.
She said it is very sad what happened to her brother as he only joined the constabulary last September.
Kelly Ann said her brother did different jobs but had his mind set on law enforcement and after training for some time, was given the chance to become an auxiliary police officer.
"He asked them to pull him in because he always training with them and this is what the devil does," said Kelly Ann.
She noted also that former commissioner of police Michael Charles has indicated the willingness of the police force to help her brother but that has not yet been confirmed.
She said her brother is adamant that one day he would walk again.
"In everything God work miracles. They tell us he paralyze in his foot and he would not be able to walk but he believes he will walk again," Kelly Ann noted while also adding that they are struggling to keep up with the expenses of caring for her brother.
"We have a struggle. He has to get adult pampers. Family and friends assist us, but we are unemployed," Kelly Ann said of herself and her sister-in-law Suline Alick.
Suline, the mother of Kurtland's children, said she is pleased about the support being given to her boyfriend.
"I'm not really pleased about what happened to him because I hate seeing him like this, but I am looking forward to seeing him get better and most of all doing the surgery," Suline told SEARCHLIGHT, while adding that it was frustrating not hearing from the authorities about help for her boyfriend.
Tyson Spencer, A 30-year-old has been charged with shooting the three men. A farmer of Green Hill, Spencer was taken to court on December 2, charged with the attempted murder of Jack, and for unlawfully and maliciously wounding Peters, and Quashie.
The charges are indictable, and Spencer will be required to go through a preliminary inquiry at the lower court to see if there is enough evidence for a trial at the High Court.