Posted on
Vincentian farmer among three dead in Barbados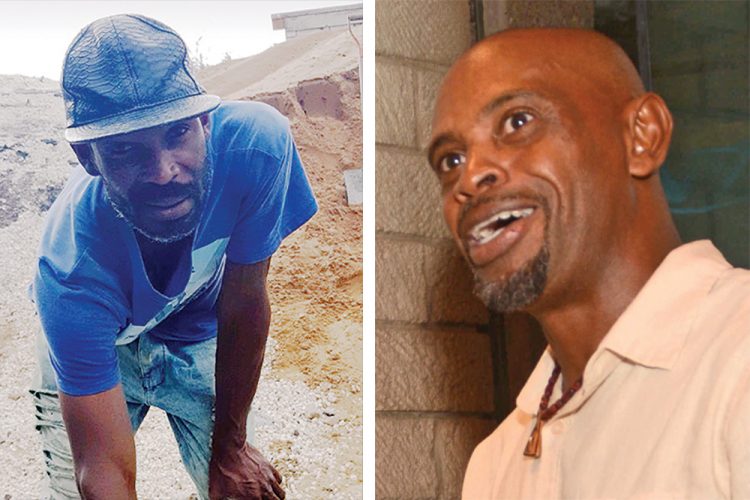 by Bria King
Close relatives of a Vincentian man who was found slashed to death in Barbados last Saturday are calling on the police there to carry out a thorough investigation and to not be swayed by the stories fabricated to taint their brother's character.
Lennox Jeffneil Browne was one of three people who were found dead on November 30 — Barbados' Independence day, in the St Andrew community of Walkers.
According to an article published in The Barbados Nation, Browne is said to have killed his neighbours, Cecil Webb, a 49-year-old farmer and NIFCA award-winning artisan Terry Small, who was in his late 40s.
The article said that "according to neighbours, the tragedy began around 8:40 a.m. with Browne attacking Webb with a cutlass as he was feeding his livestock in the yard. He then quickly crossed the street, they said, entered Small's home and also attacked him with the weapon."
It was also reported that Webb and Small died on the spot and Browne also lost his life but neighbours are unsure of how exactly that happened.
And one of Browne's sisters visited SEARCHLIGHT this week to share the family's perspective of what may have led to last week's tragedy.
"He was a good person but the only thing, the problem was, he was not Bajan and he should not have earned what he was earning in Barbados…," she said with tears in her eyes.
The woman, who asked to remain anonymous, said that her brother had called her one week before his death, begging her to speak to Prime Minister Ralph Gonsalves, who he believed could speak with Barbadian Prime Minister, Mia Mottley in order to put an end to the torment he was facing in the community.
She explained that her brother, who is originally from the small north central windward village of Park Hill had been living in Barbados since 1996 and he was in a relationship with a Bajan woman.
She explained that the couple separated in 2017 but one of the woman's relatives took Browne to a lawyer, drafted legal documents and gave him permission to work lands in the St Andrew community.
The relative said that her brother, who was a builder by trade, was also given permission to fix the house on the land and live in it.
"After that happened, that infuriated her. She wanted him to be gone from the community," the sister said. "On this piece of land that he was working, he had a farm, he had a real farm. He had a full irrigation water pump system, he had a horse, he had cattle, he had goat, sheep, turkeys, ducks, every pair of bird you could think of."
She said he also had numerous crops planted on the farm that he sold to earn additional income but his estranged partner had turned the entire community against him and this resulted in people chopping down his produce and poisoning his cattle and other animals he had on the farm.
"And when he went to the district police station, he told me that he was told that Bajan lands belong to Bajan and no foreigner should come around here, wanting Bajan lands. They didn't take action," the sister told SEARCHLIGHT.
And she said her brother believed that because the police did not take his complaints seriously, it gave persons consent to openly oppose him.
She said that she told him that it would be difficult for her to speak with the Prime Minister because sometimes people wait very long to see him.
"I say Jeff, this sound serious but if you feel so strongly about it, leave it, move on. Sell the animals and move on. He say I want you to do it for me, once prime minister talks to Mia Mottley, she will talk to the police and everything will be ok," the sister recalled.
Sunday, November 24 was the last time she spoke to her brother.
One week later, she said another sibling called her from Barbados at 6 in the morning to say that their brother was dead.
In addition to the three dead, reports also note that two other persons were injured — Valentine Wellanda Small and Cuthbert Mayers.
The Nation's article said that eyewitnesses claim that the two men injured were trying to stop Browne from executing his attacks.
His sister however said people in the community have told them that things did not happen the way they were reported and that foul play may be involved.
"It is alleged that he killed two persons and he chop off the hand of one and then they killed him. The information that is not coming out…is that the bodies were found in his yard, where he lived.That is what they are not saying," she told SEARCHLIGHT.
But she said that if her brother did kill those men, he did it in self defence.
She said her brother was found with a slashed throat and abdomen and multiple chops about his body and people are claiming that they do not know who killed him.
Lucia Hassell, the partner of one of the deceased men told The Nation that Browne seemed intent on waging war with his neighbours, Webb and Small.
Hassell also told the Barbadian publication that she and Webb had done all they could to make peace with the 48-year-old Vincentian.
But Browne's sister said that people are trying to taint his name by presenting him as an aggressor and monster, who went wild and chopped up his neighbours.
She also disputes that the incident happened at 8:40 am because she had already received the call almost three hours before to say that her brother was dead.
"They trying to make him out to be the bad person. They're saying oh he was harassing the community, he was there giving them trouble. He is not a Bajan, he is Vincentian. How come he was never prosecuted, hauled before the court or even deported? Was never locked up. Police didn't find anything. He was a hard working man, he was a farmer and they challenged him. You're a foreigner, how dare you come to Barbados and progress like this?" she said.
The distraught woman produced a screenshot of a Facebook post, made by a person who was expressing concern that no one was talking about how members of the community were killing Browne's animals and pulling out his crops.
She also made a call, in SEARCHLIGHT's presence, to another individual in Barbados, who lived in the community, who also spoke of the problems that Browne had endured on his farm.
"I am hoping that the Barbados police now have an opportunity to…investigate how many times he made reports on their books and they should have it," the sister said. "How much times he went to the station to make reports about what he was facing in the community and if these reports were addressed. He made several reports about them stealing his animals, about them killing his animals, them breaking his house. Were these reports ever addressed?"
She also expressed condolences to the family of the two men who also died on November 30, because "it is not something anybody would want for their relatives, whether my brother or their sons".