Posted on
Man files lawsuit against state for wrongful detention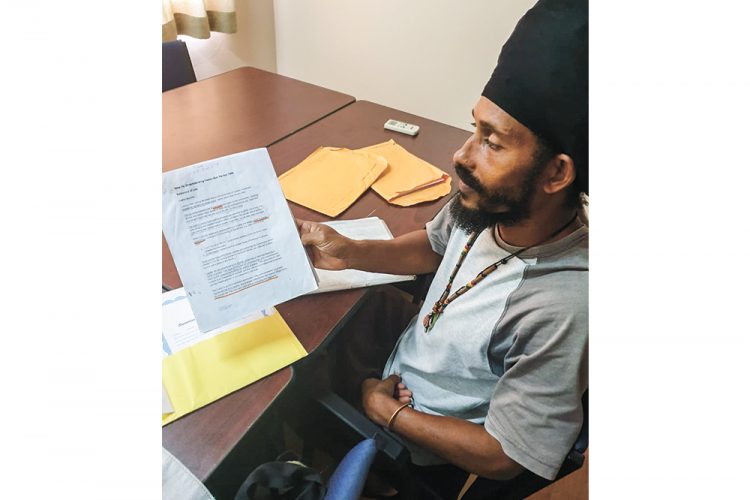 Hezekiah Naphtali, a Vincentian who legally changed his name to Tonic Ikiya Ali, and who was last year sent by the court for psychiatric evaluation at the Mental Health Center (MHC) is suing the government for wrongful detention.
Ali spent a month at the MHC in Glen in 2018 after a visit to the Serious Offences Court. On November 28, 2018 he appeared before Chief Magistrate Rechanne Browne-Matthias on traffic charges after which he, for the second time, was sent for psychiatric evaluation.
Ali's court issues stemmed from a July 28, 2018 incident at the Grenadines Wharf in Kingstown, where he was charged that being the driver of motor vehicle PD139, he did use the vehicle without the relevant license in respect of the said vehicle for the period April 1 to September 31, 2018.
He was also charged that on the same date and place, he used the same vehicle without there being in force a policy of insurance in respect of third-party risk in respect of the said vehicle. A third charge is that he did drive the said vehicle without being the holder of a driving permit.
When he appeared at the Kingstown Magistrate's Court in July 2018 to answer these charges, Senior Magistrate Rickie Burnett sent him for a psychiatric evaluation which came back clearing him of having any mental issues.
Ali claims that he is an indigenous Vincentian with "sovereign" rights and therefore renounces his nationality. He therefore is of the position that he is not part of the nation of St Vincent and the Grenadines, and as a result, under his "Moorish Rights" he is exempt from certain statutes, specifically, the payment of taxes.
He said that his second psychiatric evaluation, ordered by Browne-Matthias was uncalled for as he had already been cleared in July 2018.
Naphtali was eventually found guilty and fined in relation to his legal troubles, but he said his 43-day detention at the MHC in Glen robbed him of time with his family and also damaged his business as the December period is a busy time for him as it relates to his herbal business.
Named in the lawsuit are the Government, Browne-Matthias, and the Chief Psychiatrist at the MHC. The lawsuit claims that the report on his mental health was delayed for several weeks.
After his release from custody, Naphtali sought an independent psychiatric evaluation from a qualified psychiatrist in Grenada and the report said he was not found to be suffering from any mental defect which would justify his imprisonment.
Naphtali is suing for over EC$50,000 as he said his detention caused him to lose clientele and he has not been able to fully bring his business back up to what it was before.
"They kidnap me and put me in the mental health center," said Naphtali while adding that they tried to give him medication, but he refused.
He said that as an indigenous man, he was treated unfairly in his own country and he was never supposed to be sent to the MHC as he had already been cleared.