Posted on
Tourism Authorities recognize stakeholders in the industry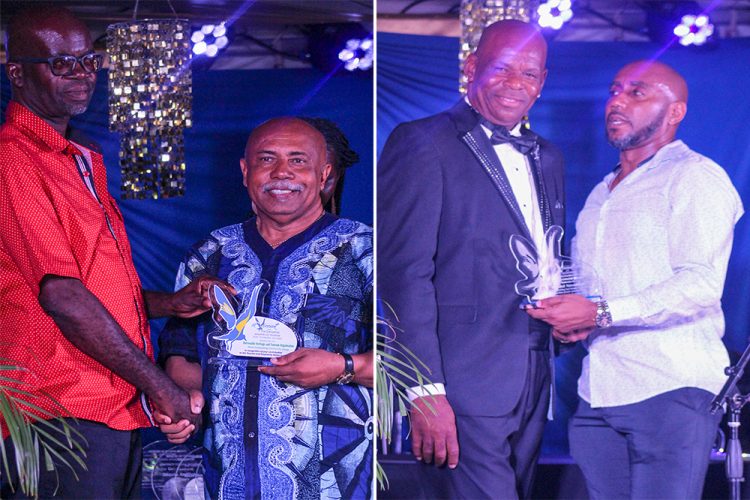 For their contribution to the tourism product in St Vincent and the Grenadines (SVG), several stakeholders were recognized last weekend.
Their moment in the spotlight came on Saturday at the Sunset Shores Hotel in Villa where the 2019 tourism awards and cocktail reception were held.
The event saw persons, organisations and businesses gaining recognition from the Ministry of Tourism, Sports and Culture, the St Vincent and the Grenadines Tourism Authority (SVGTA) and the St Vincent and the Grenadines Hotel and Tourism Association (SVGHTA).
The Ministry of Tourism gave out six awards, Most Outstanding Community Group of the Year -Barrouallie Tourism and Heritage Organisation; the Most Outstanding Tourism Site of the Year – Black Point Historical and Recreational Park; Most Outstanding Port Ambassador of the Year – Davina Roberts; Most Outstanding Immigration Officer of the Year – Kurt Noel. Special tourism awards also went to Breezeville Apartments and Keegan's Beachside Hotel.
The SVGTA recognized Rosewood Apartment Hotel on mainland St Vincent and the Bequia Beach Hotel as the Most Compliant Accommodations. The Most Outstanding Taxi Driver awards went to Kendol "Kenlyn" Neverson from mainland St Vincent and the Curtice Duncan from the Grenadines.
Trunos Fraser was recognized as the Most Compliant Tour Operator and Sharon Skerritt as the Most Outstanding Tour Guide while the Most Outstanding Tour Guide (in training) award went to Donnette Gordon-Cadogan.
The SVGHTA recognized as Bartender of the Year, Shawn Collis. Chef of the Year went to Vibert Barbum while Diver Operator of the Year went to Dive St Vincent. VeAnn Telemaque was recognized as Front Office Manager of the Year while Angelique Franklyn has been recognized as Front Office Person of the Year.
Gardener of the Year went to Stevon Harry while Vellana George is Housekeeper of the Year. Island Ambassador of the Year is Natalia Bhajan. The Room Attendant of the Year award went to Sadene Edwards while Crystal Findlay-Andrews is Supervisor of the Year. Harriett Olliver is proud to be Waitress of the Year.
Barefoot Yacht Charters copped the Yachting Operator of the Year Award while Isola Giddings is the Hotelier of the Year.
The SVGTA Employee of the Year Award went to Quality Development Manager Avanell DaSilva.
The Intermediate School (IHS) received an award for placing first in the secondary school's category of the Vincy Tourism Awareness Competition. The primary school category of this competition saw a tie between the Bequia Anglican Primary School and Barrouallie Government School. Winning in the government entity part of this competition was The National Public Library.