Posted on
New National Dress by Jeremy Payne inspired by 1800s gown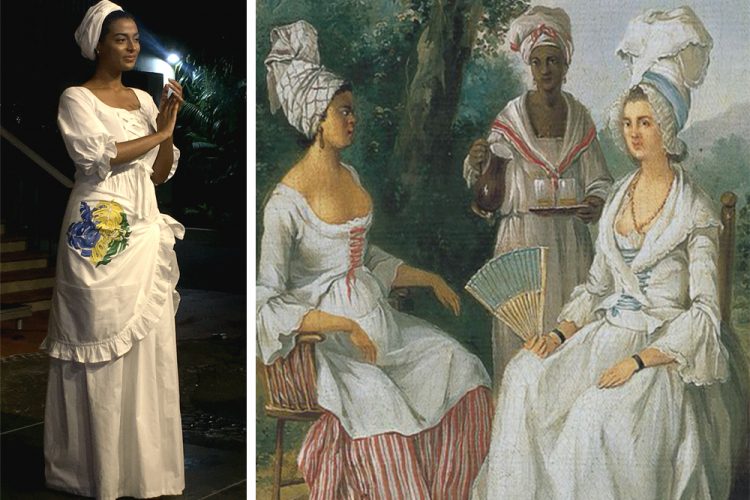 by Bria King
Jeremy Payne, the designer of this country's official national dress, says that his design is representative of the past, present and future.
A formal cocktail was held at the Prime Minister's residence last Friday to unveil what will be considered the official national wear for this country.
This unveiling included national wear for both men and women for official events and also a national costume for more elaborate and stage occasions.
And long before the live feed was finished on Facebook, or before images of the winning national wear for women — a white 1800s inspired gown with white apron and head wrap to match — began circulating on social media, Vincentians were voicing their displeasure with the design.
And while he is aware of the backlash his design has been receiving, Payne told SEARCHLIGHT that he is not too focused on those negative comments.
"It's not that it should be white, it's just that I like to work with white because it's clean and it gives the opportunity to customise it. So people could definitely add colour, it's not that it's set in stone," the designer said.
Payne said that whoever chooses to wear the dress can easily add colour to the dress but his initial choice to use white was also to pay homage to St Vincent and the Grenadines' history with cotton.
"It's something we harvested back in the day so its really just that, mixed with me working with a clean canvas and making sure that the pieces are as versatile as possible," he said.
Some views expressed about the dress suggest that the dress has nothing to do with Vincentian culture and is reminiscent of female servitude.
"St Vincent, I love you dearly. But this dress identifies nothing about us, the country, the people. Come on. Who design this dress? I have seen Trinidad and St Lucia national dress. And trust me, we need to do better than this," one person commented on a Facebook post.
Another individual said "I don't like any part of it. We supposed to be Garifuna people. Why her hair [w]rap up with a bonnet [?] It should be loose and untamed. The dress should depict our culture, our heritage, our spirits as a Vincentian. Instead it just stood there, white as milk".
But Payne told SEARCHLIGHT that his inspiration for the dress was drawn from paintings of Italian artist, Agostino Brunias who became famous in the 1800s for his paintings of coloured women from islands like St Vincent, Dominica and St Lucia.
The designer said that the dress pays homage to the working class then and now, with the headwrap as well as the apron — another staple piece of the whole look.
"I used the apron because it pays homage to our working class because back in the day, and even now, you will find market vendors, shop keepers, farmers, everyone wears an apron to hold their money or whatever bits and pieces they have around them to hold it close…" he said.
A print incorporating a mix of banana and breadfruit leaves in the national colours is also present on the apron.
The local designer said the use of breadfruit and banana leaves was a nod to the two crops that this country has been known for.
And Payne, a designer known for his graphic work, said this is a nod to the possible future of the national dress.
"My intitial pitch is that we look at creating our own printed fabric because what people usually do for national wear here is that they go to the fabric stores and purchase a print with the national colours in it, but it's not specifically ours…so I'm looking at creating a full print.I just started the conversation and hopefully as the years go by, it will catch on," he said.
The print used on the apron of the national dress can also be seen on other pieces that are created by the local designer.
"I know there's a lot of backlash but I'm not too focused on it," Payne said.
He told SEARCHLIGHT that he has in the past pushed for a national wear and he feels good to have won the competition that makes his design the official one for this country's national wear.
Payne was one of three finalists whose designs were on display at Friday's cocktail. While his design won in the category of national wear for females, local designer, Sophelia Blucher's design was chosen as the official national wear for men.
And both male and female categories of national costume were won by Debbie Barbour, another of this country's local designers.