Posted on
Export of large quantities of cattle hurts local businesses – butcher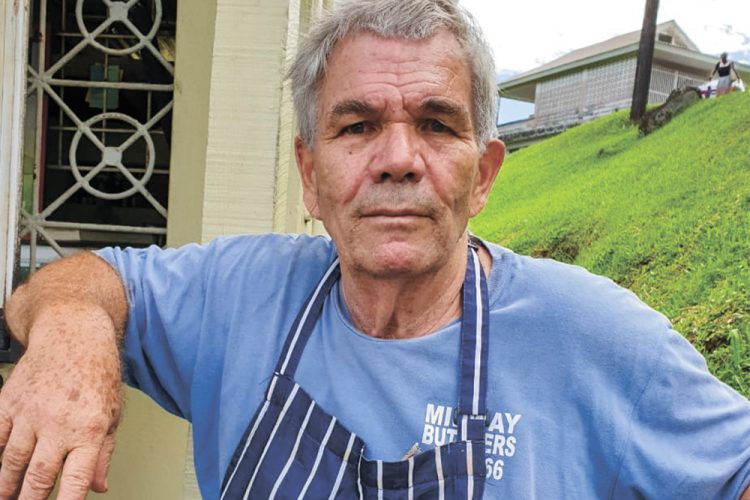 by Lyf Compton
Some local butchers and persons who purchase farm animals are complaining that the trade of mostly cattle between St Vincent and the Grenadines (SVG) and Grenada is damaging local businesses.
"I do not buy animals. I have agents who go out and seek the animals and last week they were traversing the whole country trying to get animals and nobody has any and we heard that 100 cattle are due for export," Richard Gibson, owner of Midway Butchers told SEARCHLIGHT on Wednesday at his shop at Grand Gate, Lowmans Leeward.
Currently, Grenadian businessman Jude Jack is organising the shipment of 100 heads of cattle and 400 pigs from SVG to Grenada. Minister of Agriculture Saboto Caesar told SEARCHLIGHT on Tuesday that Jack has a personal relationship with farmers and the Ministry cannot dictate to a farmer to whom his/her livestock can be sold.
But Gibson said before the livestock can be exported, the Ministry of Agriculture must issue a permit. He said the Ministry should regulate export sales because when so many animals are exported, a shortage is created on the local market.
The experienced butcher also denied that he pays a lower price for beef than that paid by Jack, disclosing that he buys his meat by carcass weight and he pays more than the local supermarkets.
Gibson said that he pays $6 a pound for beef from a bull, $5.50 a pound for beef from a heifer and $9 a pound for goat meat.
"When I buy an animal and it weighs 500 pounds, I have to debone it, defat it, de-gristle it and I get a 100 pounds of waste which cannot be used, only good for dog meat and I give that away," explained Gibson who added that he does not sell bone, fat and the gristle as he is a professional butcher.
"The price is paid subject to weight. If it have an animal weighing 500 pounds at $6 that's $3,000 and then I buy the parts which is the head, the foot, the tripe and the skin so that's another 100 pounds at $3 so that's $3,300 but there is no work out price strategy in St Vincent," said Gibson who added that this means that sometimes persons who go to the farmer try to get the animal for as cheap as possible.
He however said that despite the bidding process that goes on, he does not think that the Grenadian buyer (Jack) is paying more than what locals pay for the animals.
"I don't know if it's a quick market or a sure market because when the Grenadian is coming perhaps there is an agent in St Vincent organising the sales," Gibson commented.
He said at the moment, he has cut back on his sales and persons who want 300 pounds of boneless beef can only get 150 and those who want 1,000 beef burgers, can only get around 200 or 300.
"This is nothing political. It is for the good of St Vincent. This time of year, they should cut down on the amount of beef being exported to Grenada because this will protect the local butchers. I am paying more than the supermarkets and they sell for more than me," Gibson stated.
The former United Kingdom (UK) based butcher said when a female calf is born, it takes about five years before it reaches the table — 15 and 20 months before it can mate, and once conceived the gestation period is nine months; 24 to 30 months before it should be slaughtered.
"So, you see where the problem is, it's not like making bricks," said Gibson.
Livestock purchaser Andy Davis told SEARCHLIGHT on Wednesday, that for the last two weeks, he has been searching the country for cattle and has only managed to get "one or two animals".
He said that he usually pays $6 per pound for a cattle and some persons are saying that the locals pay less than the Grenadian, but he has heard stories where farmers who sold to Jack were not satisfied with the final price they received.
"I think the government should try to limit the amount of animals. Too much leaving, there must be a limit", said Davis who added that both mature and young animals are leaving the state.
"I think that mature animals alone should go. If another 100 heads of cattle leaving, local butchers will have a problem," Davis opined.
Robert "Bobby" Balcombe, one of this country's largest cattle farmers, with about 100 cattle, said he does not sell his cattle for export to Grenada as he does not like the price that is offered.
He said he dealt with the Grenadian exporter once and he was not pleased with the price he received for his cattle, between 20 to 30 animals.
"Like with anything, if you carry the produce, they tell you how much they will give you and you decide if you will take the price offered. If the animal valued at $2000, they want to give you $1000 after you spend two years raising that animal," said Balcombe.
He said that the local butchers operate the same way, so he prefers to rear his animals, butcher them and sell the meat himself.
In relation to persons complaining about a dwindling supply, Balcombe said he does not believe that to be the case as if the supply was dwindling, the price for one cattle would be more, but the price remains the same.
He added also that this country along with a few other countries were offered an abattoir by the European Union and only Grenada took the opportunity and now they have a state-of-the-art facility.
Farming for 30 years now, Balcombe thinks that farmers would benefit more if they form themselves into a collective body.