Posted on
Cops praised in arrest of man with guns, bullets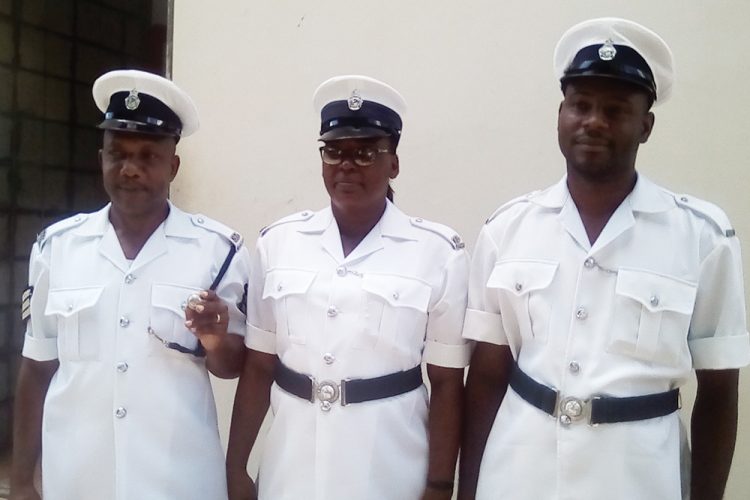 Fifty-seven-year old building contractor and farmer Sealy Matthias of Arnos Vale is expected to know his fate today after pleading guilty to 10 charges of possessing ammunition and two charges of possessing firearm without license.
Initially, Matthias was charged jointly with his common-law wife Francelia Thomas on nine counts of possessing ammunition without license and one count of possessing a firearm without licence.
Those items were found in a house said to be unoccupied and located next to Thomas' house. Thomas pleaded not guilty to the charges while Matthias pleaded guilty.
Thomas was charged separately for a Smith and Wesson firearm and ten rounds of .40 ammunition at Stubbs on July 7, 2019. He pleaded guilty to the charges.
The prosecution accepted the pleadings. They then withdrew the charges against Thomas.
The numerous charges stemmed from the search of a house in Arnos Vale on July 7, 2019, after police constable 43 De Roche searched motor vehicle PN200 which was driven by Matthias and was involved in an accident at Stubbs public road.
The court heard that PC De Roche observed Matthias acting suspiciously and, as a result, he requested a search of the vehicle. During the search, he found a Smith & Wesson firearm loaded with ten rounds of .40 ammunition in a black leather bag on the back seat.
Matthias was informed of the offence and taken into custody. Further investigations were carried out and, as a result, Sergeant 366 Giles of the Calliaqua Police Station led a party of police officers to execute a search warrant at a house in Arnos Vale. The party of police officers included WPC Alisia Wright.
During the search of the house, in a bedroom, a Remington 12-gauge shotgun loaded with seven rounds of ammunition were found in a barrel which contained tools and other items. Seven rounds of ammunition were also found in a box in the barrel.
"Officer, that is mine," Matthias told police then.
In a chest of drawers in another bedroom, police found a black magazine with seven rounds of .40mm ammunition among female underwear.
Thomas admitted to owning the underwear items but denied knowledge of the ammunition. Matthias, on the other hand, said he found them.
Police also found two boxes containing 200 rounds of .22 ammunition on a cupboard in the same bedroom.
"Way all them dey come from, Rickie?" police quoted Thomas as asking Matthias (also called 'Rickie') on the discovery of the ammunition.
Police said Matthias replied: "I find them on the site where I work."
Police said Thomas began assisting in the search and lifted a bed mattress to reveal a green bag with two black handles. The bag contained 17 rounds of 12-gauge ammunition, 25 rounds of .38 ammunition, 10 rounds of 9mm ammunition, six rounds of .44 ammunition, 12 rounds of .357 ammunition, three rounds of .380 ammunition, two rounds of .32 ammunition and 100 rounds of .40 ammunition.
Again, Matthias claimed he found them.
"Officer, I found them. Is find I find them where I am working," he said.
Matthias and Thomas were arrested and taken to the Calliaqua Police Station and subsequently charged.
Matthias' lawyer Michelle Fife in her closing submission highlighted the mitigating circumstances of the case and sentencing.
Fife said that while it is customary for custodial sentences to be imposed for such offences due to the increase in gun-crimes, it was her submission that each case should be determined on its own merit. She said she observed that the court has a discretion under Section 4 (3) of the Firearms Act which allows for a fine not exceeding $20,000 as an alternative to a custodial sentence.
Fife said that although a non-custodial sentence is not customary, due to the increase in gun-related matters, "the opportunity to expand our jurisprudence is available to the court in weighing the circumstances of the case regarding sentencing."
She said that if the court, all circumstances considered, decides to impose a custodial sentence, it was her submission was that the notional starting point for such offences tends to be a term not exceeding seven years as stipulated under section 4 (3) of the Firearms Act.
Fife contended that the mitigating factors of the case outweighed the aggravating factors and the court should consider this.
Among the mitigating factors, she said, were: the defendant is 57 years of age, an independent contractor in the construction industry, a farmer, he had no criminal record and has always been "a law-abiding citizen for the last 40 years prior to this offence," he pleaded guilty and therefore is entitled to a discount in sentence, he showed remorse and cooperated with the police.
Fife contended that there was "no harm" done in the matter in that her client "did not actually hurt anyone." She added that the way in which the items were discovered it indicated that he had no intention to hurt anyone. She said it was not a case involving serious physical violence or sexual violence and so he was not a threat or danger to members of the public.
Fife maintained that the mitigating outweighed the aggravating factors. She contended that the aggravating factor was "the general increase in gun crimes."
She said the maximum penalty, under the circumstances, 'would be grossly disproportionate in the prevailing circumstance." She said the defendant Is of good character and that good character is a mitigating factor which affects the defendant and should result in a deduction of sentence.
Fife submitted that with lenience and mercy from the court a custodial sentence should be in the range three to five years.
Senior Prosecutor Adolphus Delplesche in his closing submission responded to Fife's contention that her client did not pose a threat to members of the public.
Delplesche said that when someone is found with a large quantity of ammunition and a shotgun which has cartridges – of which a single cartridge has about 112 pellets and so mushrooms when discharged – "that is a threat to society."
"Society is in trouble when that happens. Society is not safe when that happens," the Senior Prosecutor told the court.
Responding to the defendant's claim that he found the items, Delplesche questioned if, as a farmer and accomplished builder, the defendant wanted the court to believe he is in the habit of going around and finding ammunition. He said the prosecution did not accept that claim, and he asked the court not to accept it.
"This is more somebody who deals in ammunition. So he had his supplies and he had to supply his customers," Delplesche said.
On the defense's submission that no harm was done, the prosecutor noted that it was because of police constable De Roche's "keen observation and vigilance" that he was able to find the firearm in a bag on the back seat of a motor vehicle the defendant drove.
The Senior Prosecutor commended PC De Roche for what he described a "brilliant work" and "magnificent work." He also commended sergeant Giles who led the search and WPC Wright who searched and found items at the house.
Delp'esche said that as a result of the motor vehicle accident tempers could have flared and with the firearm in the vehicle, who knows what could have happened.
On the issue of proportionate sentencing, as raised by the defendant's lawyer, Delplesche said: "The proportionality of sentencing somebody with a large quantity of ammunition and firearm must reflect the seriousness of having those things without a license. The time must fit the crime.'
Delplesche said one of the tenets of sentencing is deterrence.
"Persons must know that they will not be allowed to go around all over the society having these kind of things which can cause serious harm and cause death. And one of the things the court has to take into consideration when sentencing is the reality of our society," the Senior Prosecutor submitted.
Chief Magistrate Browne-Matthias said that there were a number of matters to be considered. She adjourned the matter for sentencing today.