Posted on
SVG's smallest premature baby in last 5 years doing well, one year later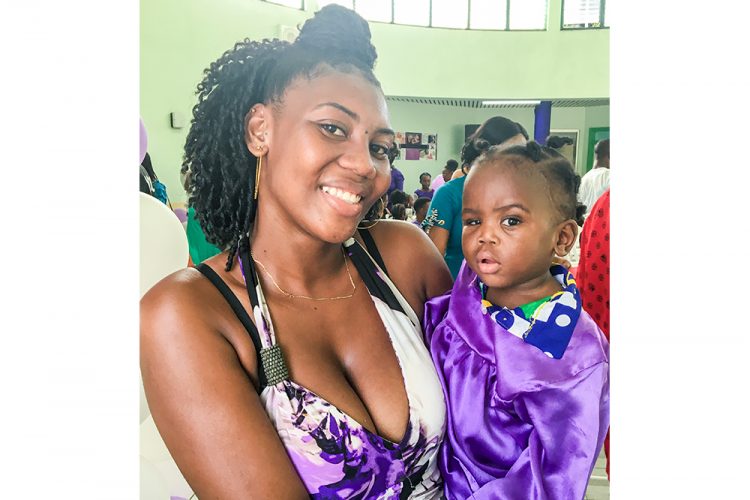 St Vincent and the Grenadines' smallest premature baby in the last five years made quite an entrance into the world, having spent only five months in the womb and weighing just under two pounds.
Kyrell Soleyn, who is now one year old, was among 44 other children who were honoured at a graduation ceremony on Sunday at the Milton Cato Memorial Hospital to celebrate World Prematurity Day.
Soleyn was honoured as the valedictorian of the ceremony. He was born on June 27, 2018 at 25 weeks at 831g (1.8 pounds).
"He just came down. After I went for an ultrasound, I told the doctor that I was feeling pain and she told me that that's not her concern, she's not my prenatal nurse," Kaleen Glasgow, the boy's mother told SEARCHLIGHT.
She said that she kept feeling pain but didn't think anything of it. The first-time mother said she went home and started vomiting, not knowing that these were all signs that she was about to have her baby.
Kyrell was initially due on October 14, 2018.
"I felt something, a lump in my vagina and I felt his head right there and after a while, everything just gush out. He came out, fell out on the ground. One of his hands was broken and he was tiny, tiny, tiny, tiny," the Belair resident said.
Glasgow said that they called an ambulance and chose not to cut the umbilical chord. And when the ambulance finally turned up, her son was rushed to the hospital where he was immediately admitted to the Neonatal Intensive Care Unit (NICU).
" …They told me he's not going to make it because his heart rate kept on dropping and stopping," the 19-year-old recalled.
She said she kept praying and spent a lot of time crying. She added that she couldn't sleep because she had to make constant trips to the NICU.
"It was very hard, sad and I don't want anyone to experience that at all," Glasgow said.
The mother thanked all the nurses in the intensive care unit and in Maternity B ward for being nice to her and doing a good job.
"I almost became the assistant in Mat B for how long I was there," she joked. "I spent two months in the hospital without going home or anything. We had to spend a lot of money and I never used to get breast milk at all, so we had to buy milk. It was very tough but I'd like to thank the nurses for sure because they treated me well."
Looking at her son, who was balanced on her left hip while she spoke with SEARCHLIGHT, Glasgow said that they haven't encountered any problems since she left the hospital and took him home.
And she describes Kyrell as an active, energetic child, who really is "the best".