Posted on
Restaurant workers claim unfair dismissal after striking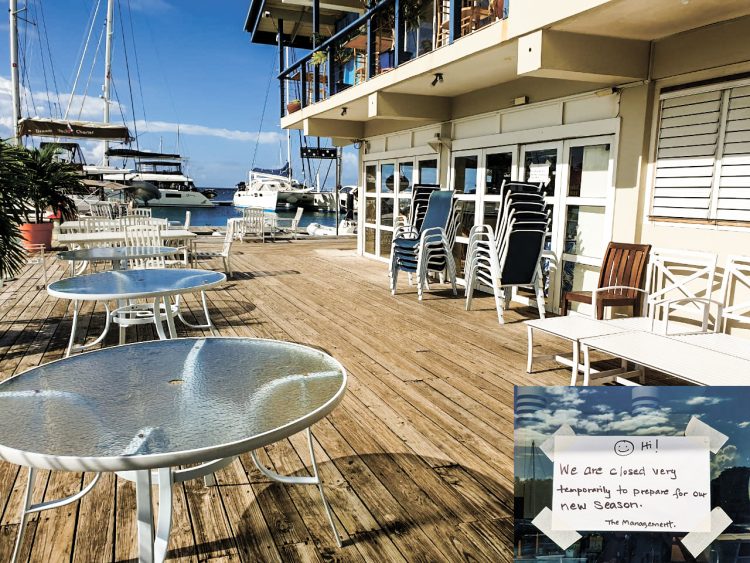 by Bria King
Nine workers are seeking some form of redress for what they believe was unfair dismissal from their jobs at popular local restaurant, Café Soleil.
The employees received termination letters on Monday, November 11, exactly one day after a two-day strike they took part in from the job ended.
A worker told SEARCHLIGHT this week that the decision to strike was made on Friday night because of countless, futile requests the staff had made for meetings with management to address their grievances.
She said that the first day of the staff strike was on Saturday, November 9 and that same day, a letter was sent via e-mail to Ginette Harris, the managing director of Cafe Soleil's parent company, Caribbean Lifestyles Ltd, outlining several complaints from the staff.
In the employees' letter, the complaints included but were not limited to: working full eight-hour shifts without a break; asking numerous times to cook something to eat without a response; not being allowed to sit during slow hours; the need for proper ventilation in the kitchen area; overtime pay and not receiving any credit card tips for almost a year.
The worker also said that because they were advised that they could legally strike for two days, they also stayed home on Sunday as well.
"Usually a schedule comes out Sunday for all locations no later than 2 pm letting workers know where they'll be placed, but the schedule for [Cafe Soleil] came out after 10 p.m. and we noticed it was an irregular one, so we all decided to go to work at once. Upon arriving at work the Food & Beverage Manager told us to go to Professional Secretarial Services to collect our letters and we did," the former Cafe Soliel employee said.
The letters that these nine people collected were termination letters, which were effective from that same day.
"Management has reviewed its human resources and it was concluded that within the new structure, your services will no longer be required," the letter read.
The termination letter, which was signed by Caribbean Lifestyle Ltd's managing director, also informed employees that "…your final payment has been processed as enclosed and detailed on your wage slip. I will like to take this opportunity to wish you the best in all your future endeavours".
Harris also responded to employees' claims in another letter, which was also dated November 11, where she said that the complaints being made by employees "are patently false".
In responding to some of the more serious complaints, Harris said that the claim of staff not receiving holiday pay, double time on Sundays and also overtime pay is incorrect and can be verified with the company accountant and the Inland Revenue Department, as all the data is accurately documented.
The managing director, in her letter, also said that staff has always been paid their credit card tips, with last year's tips being accumulated and given with Christmas pay "to assure more disposable income for the season".
"Given the nature of this small family-run business and friendly staff management relations, I would have expected you to first have a discussion about whatever your perceived problems are just as I have met with you several times to discuss fairly and calmly my complaints about staff performance and company procedures. However, you have decided to organise a sick out before asking for a meeting to discuss your concerns in a professional manner," Harris wrote in her letter.
SEARCHLIGHT was reliably informed that the e-mail regarding the employees complaints was sent on Saturday (the first day of the strike) at 9:54 am, almost three hours after the first shift at the Cafe was scheduled to start.
SEARCHLIGHT has also seen a copy of a pay slip which takes into account overtime payments to the employee.
However, the former workers are questioning why they should wait until the end of the year to get credit card tips, particularly since credit card tips from one customer can be as much as $100.
One of the workers also highlighted that the complaints detailed in their letter are from different people and "I might be getting my overtime pay but someone else isn't, so why deny us from having a meeting?"
And the aggrieved employees said that whether Harris believes that their complaints were false or not, they should have been granted the meeting that they have been asking for, for almost two years.
"They could [have] called a meeting immediately when they heard of the strike. But this just shows how much they are spiting us," one of the former employees said. "Okay, if the claims are false, give us the meeting and tell us that. Explain to us. Let us know we are making false claims. Again, that's how a good management will respond to workers…"
The former Cafe Soleil worker said it was against their rights as a worker to not be able to have a meeting with management.
Eloise Gonsalves, the owner of Caribbean Lifestyles Ltd told SEARCHLIGHT on Wednesday that they have attempted to address some of the employees complaints in the past.
"I would say that the question of lack of proper exhaust which we have been addressing with the landlord has been a great concern for both the employees as well as the management," she said.
Gonsalves, who is the wife of Prime Minister Dr Ralph Gonsalves, also said that the issue of overtime holiday and double time has been explained more than once to them.
She added that staff are given 50 per cent discount on several items on the menu, "which eliminates any profit" so that they can have meals at a subsidised rate.
"We encourage them to take their contracts and wage slips to the labour department to have their fears assuaged if necessary," the businesswoman said.
Upon receiving their termination letters, employees went to the Department of Labour to lodge the complaint of being dismissed unfairly without a reason.
The employees said that they were told that the Labour office will look into the matter and call with an update. The employees said they also followed up on Tuesday, November 12 but they have yet to receive a suitable response.
While the former Cafe Soleil workers are proud that they took a stand for their rights, some are left wondering what will happen, now that they are unemployed.
"For me being terminated it took a weight off my shoulder and I feel very proud because I [stood] up with great staff for our rights and even for those who are afraid to stand because they know they will be victimised for doing so," one worker said. "Some people will understand our pain, some won't. That's fine. At the end of the day, Cafe Soleil can say they just fired a great team. No one should have to work under those conditions."
Another worker said; "[I'm] stressed out. Money spending…and none coming in. You might have kids to take care of, bills to pay and other financial issues so we need our work but we can't work under slavery conditions".
Some workers share the belief that members of the public will take the situation as an opportunity to involve politics. But they said that it is solely just a matter of standing up for their rights.
"We are not fighting a political war…" one of the terminated employees said. "Lots of us are frustrated cause we are out of jobs by trying and demand a meeting we asked for and never got. We have kids, we have wives or husbands, bills, our homes to take care of. How we suppose to go about that with no jobs?"
The worker also said that they are "crying out to the public, any one can help us on getting jobs so we can take care of our homes".