Posted on
'PeeJohn' begs for likes on Facebook, donates money to education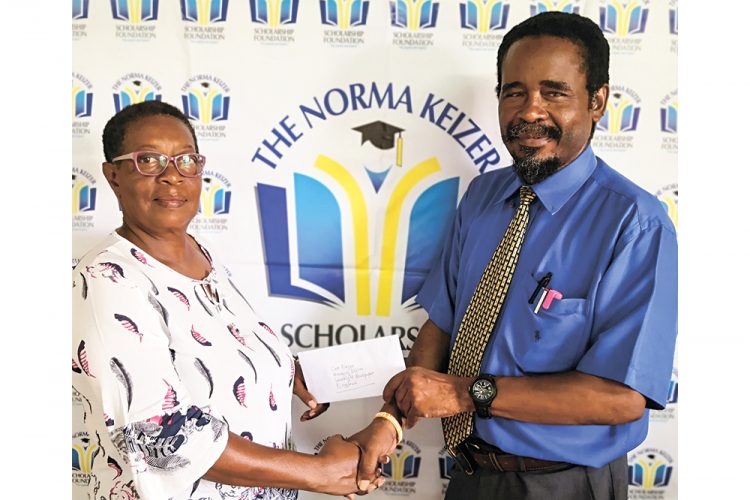 A light hearted post on Facebook by a veteran educator who admits he uses social media to make mischief has resulted in over $400 being donated to the Norma Keizer Scholarship Foundation (NKSF).
Yesterday, Thursday, November 7, deputy principal of the Central Leeward Secondary School Philbert 'PeeJohn' John handed over $431.10 to Corletha Ollivierre, a member of the board of directors of the NKSF.

The donation is the fulfilment of a promise made by John on Facebook on Monday, November 4, when at 7:30 a.m. he posted a picture of himself, and said that he was "begging for likes". He said that for every "like" his picture received in a 24-hour period, he would donate $1 to the NKSF, in support of education.
By 7:30 a.m. the next day, he had received 147 likes, as well as a pledge from his brother Marlon Bute who resides in Canada, that he (Bute) would also donate $1 for every like that John received.
The $431.10 handed over represents one EC dollar from John for each of 147 'likes', plus Cdn$147 (EC$281.10) from Bute. John also contributed an additional $3 for three additional likes that came in after the 24-hour time had expired.
"After using social media to make mischief and get other people upset, the idea came to me as a joke, but I was overwhelmed by the response, so I had to make good on my promise…," John told SEARCHLIGHT at the brief handing over ceremony yesterday.
"We are very appreciative of this gesture. As an educator yourself, you would appreciate the work that we are doing through the Norma Keizer Scholarship Foundation and we really wish to extend our appreciation to you and Marlon for this gesture," director Corletha Ollivierre said.
And she invited others to do the same.
"We are always open for donations that would help us to do more with the children who are in need, to be able to get through school, and to do so with the support that they get from the Norma Keizer Scholarship Foundation."
John said he is pleased with how everything turned out.
"It is really a lesson about how to make better use of social media. It is not just a problem, it can be used for good. Although it started facetiously, it really came out to be quite good."
The NKSF was started in 2015 as part of SEARCHLIGHT's 20th anniversary celebrations to honour the late Norma Keizer, the newspaper's first editor and a past headmistress of the Girls' High School. To date, through fundraising and sponsorship, the NKSF has been able to award 12 full scholarships to secondary school entrants that run for a duration of seven years. The Foundation has also given 16 one-off bursaries and one three-year universary bursary to a student who completed her studies at the University of the West Indies St Augustine campus during the 2018/2019 academic year.