Posted on
Thomas to resign as Speaker of House early in 2020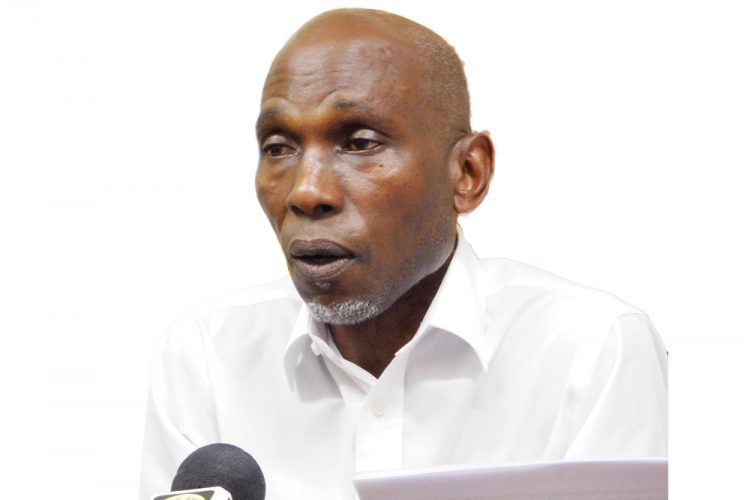 by Bria King
Jomo Thomas has tendered his resignation from the Unity Labour Party (ULP) and in the first quarter of next year, he intends to step down as the Speaker of the House of Assembly.
Thomas, a lawyer and social activist, made the announcement on Tuesday during a press conference at his law firm's chambers in Kingstown.
And in response, Prime Minister Dr Ralph Gonsalves was dismissive, telling SEARCHLIGHT "A man can join a party and a man can resign."
Thomas was a candidate for the ULP in the 2015 elections, when he ran in the South Leeward constituency. But he said that he has no intention of offering himself as a candidate in the upcoming general elections, constitutionally due by December 2020.
"Primarily, the reason is the time, the energy, the money, the effort cannot be properly justified, considering the current state of the play in the party," he said.
The lawyer lost the 2015 election by 118 votes to New Democratic Party (NDP) candidate, Nigel Stevenson, who got 2738 votes. Following his defeat at the polls, Thomas was appointed Speaker of the House of Assembly, but he was also considered the caretaker of the South Leeward constituency for the ULP.
"Consequently, to allow for the ease of transition and to allow for the sense of clarity to prevail among the long-suffering and neglected people of South Leeward, I formally remove myself as caretaker for the constituency so that others who may desire to represent can move forward," Thomas said on Tuesday.
He further announced his intentions to step down from his position as Speaker of the House of Assembly in the first quarter of 2020.
And the activist said that he believes these decisions are important in allowing him to do a number of things.
"They allow me to free myself up from any strictures I may have to say and do what I want to do as the year 2020 rolls in. I believe as someone who has been in the heat of the battle and the struggle for the advancement for the people of St Vincent and the Grenadines since I was 14 years old, I still have a contribution to make to Vincentian development and Vincentian reality and I want to not be hindered or hampered in any way as I go forward," he said.
Thomas, who authors a weekly column called Plain Talk in a local newspaper, has been a member of the ULP since 2013 when he joined the party and served as a senator, before being chosen as the candidate to run in the South Leeward constituency.
He told media on Tuesday that his relationship with the party has been a contentious one.
"It was a relationship which was marked by accusations, it was a relationship which was marked by venomous and scurrilous statements about me and my practice, what I do and what I said, and I don't think that I can properly remain a member of the Unity Labour Party in that kind of atmosphere," he said.
Persons speculate that much of the contention between Thomas and the ULP comes from his open criticism of the party in his weekly column.
In his column dated October 4, 2019 the social commentator compared his constituency with the East St George constituency, which is represented by finance minister and the prime minister's son, Camillo Gonsalves.
Thomas, in his column, wrote that in the run up to the 2015 general elections, Gonsalves received a significant amount of assistance to ensure that he won his seat, while influential people in the ULP said that the South Leeward seat needed to be sacrificed, if only to stymie his (Thomas') victory and ascendancy.
Just six days later, Prime Minister, Dr Ralph Gonsalves, who is also the president of the ULP, told Thomas in Parliament on October 10: "if you want to pick on me for other reasons, pick on me for those reasons, alright? If something is in your craw, Mr Speaker, speak it".
Gonsalves' comment was in response to Thomas' rebuke that he (Gonsalves) was abusing the rules of the House.
And on Tuesday afternoon, Gonsalves, in response to Thomas' announcement, told SEARCHLIGHT "it's a free and democratic country. A man can join a party and a man can resign".
When asked about the contentious relationship to which Thomas referred, the ULP president said that he had no comment on that matter and reiterated that a man is entitled to join a party for whatever reasons he considers and likewise, leave for whatever reasons he considers.
He added; "I have a lot of important work to do for the country and I'm just doing my work".
Gonsalves also said that there is more than one person interested in running in the South Leeward constituency on the ULP ticket.
"…They are known in the constituency, but in due course, we'll make them formally known when our whole processes have been gone through," he said.
The Prime Minister also expressed similar thoughts on Thomas' announcement that he will resign from his position of Speaker of the House.
And said that he has no further comment on the matter other than to acknowledge that it was a free and democratic country and that someone can take a job and leave it.
Thomas said on Tuesday that he just wanted to indicate to the people where his mind is. He also said that it was not unnatural to announce his intentions to resign from his position of Speaker, months in advance.
He said that he always felt like he did not want to sit the entire term as Speaker because there are many things that he wanted to do.
"You may recall some time ago, the SEARCHLIGHT had done a front page spread in which it said the Speaker declares that he will not sit on a party political platform while he is the Speaker. That to me is a principled position I took, if there are other things that I want to do, I wouldn't want to be encumbered in any way by being the Speaker of the assembly," Thomas said.
Thomas, who has served for almost four years as Speaker, said that he is not sure there is anything else left for him to do in the position.
He said that he has tried to the best of his ability to be fair and apply the Standing Orders and Constitution, but "we have a rambunctious bunch and people will try to push, pull your chains here and there and people will try to rile you up…".
"I am proud that I haven't been able to allow any individual to pull me into a personal debate or discussion on any matter in the almost four years that I have served as the Speaker," he said.
Thomas said that our Parliament consists of "the cream" but he doesn't believe that they always do the best they can do when it comes to coming up with ideas and conceptualising and implementing policies.
The Speaker noted that the year was almost finished and reiterated that "very, very short into the new year, I would step down".