Posted on
Frank Clarke throws himself into the political ring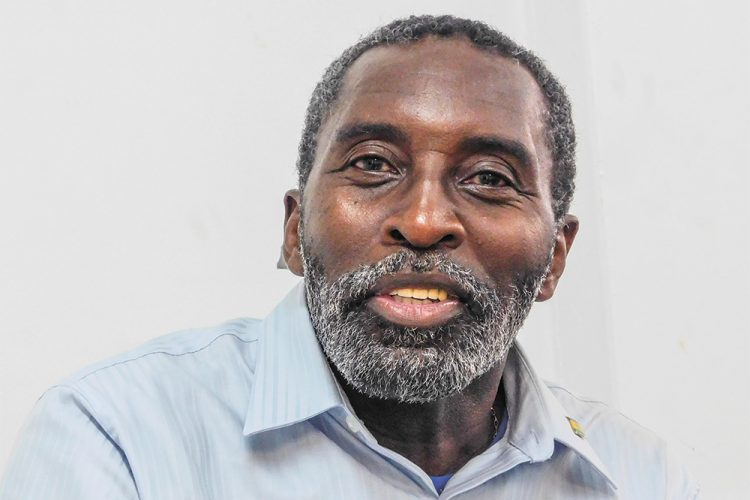 by Bria King
After almost 30 years abroad, Frank Monty Clarke is ready to spur the change he believes this country needs by inserting himself into the political arena of St Vincent and the Grenadines (SVG).
Since Arnhim Eustace, the parliamentary representative for East Kingstown announced last month, his intention to not contest in the next general elections, several names are being considered as prospective candidates for the New Democratic Party (NDP).
And Clarke, who represented St Vincent and the Grenadines for 12 years at the SVG Embassy in Washington DC, is among those names being considered to run on the NDP ticket in that constituency.
"I knew in 2015 I was considering this thing," Clarke told SEARCHLIGHT in an exclusive interview recently. But it wasn't until last year, that he made a decision to throw himself into the political ring.
The 63-year-old, who returned home in July this year, said he believes his passion for politics snuck up on him. But he shared memories of inadvertently attending political meetings in the Market Square as a young boy.
"Living in Frenches, you got to come to the Market Square to hear all the politicians speak. My father gave both Labour and PPP a hook up from the shop, so I had a balcony seat, front row to politics," the son of Dudley Clarke and Violet Derrick said.
Clarke, with the SVG flag pinned on the left tip of his shirt collar, told SEARCHLIGHT that he is in love with his country.
And the accountant, who was born on the saddle of Sion Hill, grew up in Frenches and lived in Cane Garden for 10 years before he migrated, spoke fondly of the areas within his constituency as he knew them when he was growing up.
He also shared some of his knowledge around the island that he also journeyed to as a young man.
Clarke got involved in his community and served as a member of the Sion Hill Sports and Cultural Club. He was also involved in the Cricket Association and served as vice president in the SVG Jaycees organisation.
In his interview with SEARCHLIGHT, he said that there are people who believe that there should not be a change in government, just for the sake of it. And this is a notion that he disagrees with.
While he acknowledges the advancements made under the current government, he said that there is more that could be done.
"After 20 years in government, you're tired. It's time for a change. That's why Fitz Bramble and myself could come and bloviate over changing and the Labour party is looking for ways to scandalise that and all that kind of thing, because we are a breath of fresh air," he said, referring to another prospective NDP candidate for the East Kingstown constituency.
Clarke said that Prime Minister Dr Ralph Gonsalves is essentially fitting "square pegs in round holes" through his initiative to train people without ensuring that jobs are available for their specific qualifications when they return home.
And he said that people are suffering under the current circumstances of the country.
"Sometimes people come home and they get placed as a teacher instead of going into the ministry of foreign affairs or going into the ministry to do those kinds of things," he said.
The NDP hopeful said that SVG needs an economic revival and he believes that his party can help to kickstart this revival.
"We have to reduce unemployment. As a person who comes from the economic screen of things, how could you go about reducing unemployment? Get some quick road programmes. It doesn't take a lot of money. Just get people back to working," he said.
Clarke also proposes strengthening the facilities and infrastructure to help farmers who were displaced when banana fell through and programmes with other countries which allow persons to receive training and work overseas.
He said that his plan not only benefits the citizens, but builds the capacity of the country.
The accountant, who also holds a postgraduate degree in International Relations, said that the country's issue is cashflow and he believes that the international airport is what has killed SVG in that regard.
"Nobody is against the airport, or very few people, but it kind of cashflow-strapped the country because we didn't get the assistance from places we were supposed to have gotten them in that volume," he said. "If things didn't break out like that globally, Cuba would've given us more assistance and so too, Venezuela. They gave us so much, but they could've given us more when this thing was on the drawing board."
Clarke also expressed the view that citizens are feeling the pressures of the economy because the prime minister doesn't want to go to institutions like the IMF and World Bank "for fear that his contemporaries would laugh at him because he expounded socialism while he was in opposition".
During his interview with SEARCHLIGHT on October 23, Clarke said that he intended to go to Murray's Village with members of his team to speak with people in the area.
In fact, the prospective candidate revealed that he has been canvassing his constituency for some time. And he is confident that his experience with people, some of which comes from his time working at the Washington Embassy, will help to endear him to the people.
And while he considers himself to be a shy guy, Clarke said that he is not afraid to ask for a vote.
He stressed that although he has spent almost three decades abroad, he is not a foreigner and in fact, very familiar with his constituency.
He also said that Luke Browne, the Unity Labour Party's (ULP) candidate for East Kingstown has a programme (Luke Kid's Club) that he has been running for the last 10 years. Clarke, noted that many of the children who attended may now be able to vote.
"I don't know the Millennials and the Gen-Zers but I know their parents," Clarke said.
The prospective candidate noted that younger people tend to shy away from voting but "I would have to present myself as a person for change and who is willing to work with them so they can feel comfortable giving me their vote even if they don't know me personally".
The 6ft 7" man told SEARCHLIGHT that he believes he can convince constituents that he can be a good representative for them. He said that he has been an athlete all his life and his sporting assets and mentality, coupled with his discipline from working abroad will work in his favour.
"I'm not going around boasting about anything, but when the whistles blow, I'm going to be ready to do what I have to do," he said.
Clarke added that he is not worried about his competitors and he is focused on selling himself because as a sportsman, he believes that trouble manifests when one starts worrying about what the opponent is doing.
"I'm here to better the lives of Vincentians and to do that, you have to influence young people because they are the future and I got the practice from my children. They're never wrong until you prove that they're wrong," the father of four said.
He added that even if he does not win the nomination for a chance to represent the East Kingstown constituency, he would still give his full support to the NDP.
"…I'm here to get my party over the hump so that we can form the government. There are many opportunities for me, so I have incentive not to be short sighted to just try and be the nominee. There are lots of things I can do for an NDP government other than be the MP," Clarke told SEARCHLIGHT.
Eustace, the former opposition leader, is the current parliamentary representative for the East Kingstown constituency. It is a position he has held for 21 years. Before Eustace won the seat in 1998, Carlyle Dougan, also of the NDP, was the parliamentary representative.