Posted on
Drilling at geothermal site yielding positive results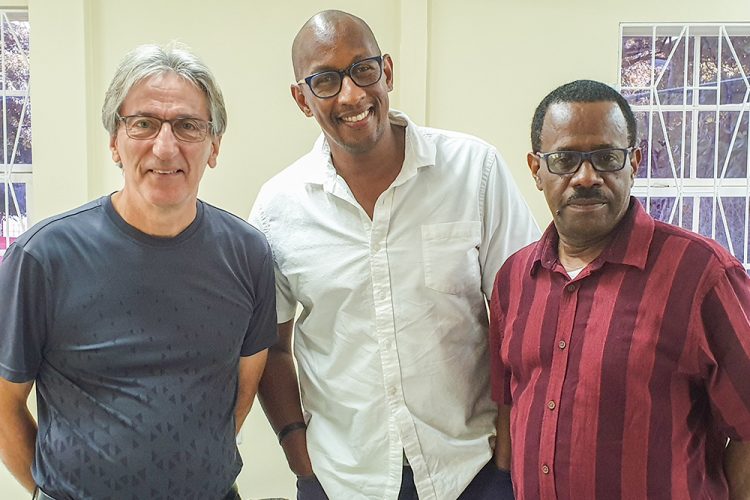 by Lyf Compton
The second phase of drilling at the geothermal site at Bamboo Range has yielded positive results so far.
Project Director Ellsworth Dacon said that the drilling of the second well, named Well Number Three, took about 83 days to complete and stimulation shows that this well is at 215 degrees Celsius and getting hotter, the right amount of energy needed for geothermal power generation.
He added however that although the initial findings point to this, testing equipment still has to be procured to determine how much power Well Number Three can produce.
Dacon said with geothermal energy, two things are needed — heat and permeability (permeability is the flow of water through porous rocks).
He said with the first well they drilled, Well Number One, they went down to 2800 metres and found good temperature in the rock; indications that the temperature could have been over 250 degrees Celsius, but there was no permeability and that well collapsed from 2800 m to 1800 m.
"So we couldn't get the liners (metal casing) all the way down so instead of spending money trying to repair the collapsed well, we just decided to move on, because we didn't get the permeability, so we went in a different angle in the second well, Well Number Three," explained Dacon.
He added that while drilling Well Number Three, they saw some improvements as they had learnt from the first set of drilling, so they procured some equipment to prevent well collapse.
Dacon said they were able to put the liners all the way down to 2800 metres and again they didn't see any permeability, but they dealt with that through a process called stimulation.
"In the geothermal world, you can do what you call well stimulation which is, there are fractures in the earth, and you add water pressure in to sort of open the rocks to allow water to pass by pumping water," explained Dacon.
He said water was added to Well Number Three, and the news is positive.
"Sometimes when you stimulate a well, there is no fracture, so the water does not discharge into the reservoir, but because we are able to discharge into the reservoir we can assume there was permeability…I think that we have made good progress with that through well stimulation," said Dacon.
He said the stimulation was successful and so was the drilling, and currently they are pumping close to 70 litres per second of water into the reservoir.
"Now we can't tell how much power or production we can get from the well yet, but we have to get some testing equipment and that will measure the flow of water, how much is the well discharging, we will do some measurements versus the temperature," said Dacon.
He said it will be known what the well can produce when the testing equipment arrives in two to three months.
"We will do our calculations … when we get the equipment and that is how we will determine how much production that this well can give.
"It can give very low power, it can give a lot, we not sure," Dacon told SEARCHLIGHT.
He said there is technology for geothermal wells that are producing at low heat, under 200 degrees Celsius and technology for wells producing over 250 degrees Celsius, so the testing will also tell us what kind of plant we will have to build.
He said if we can produce over 10 megawatts of power at Bamboo Range, that will be enough to satisfy what we are looking for.
"But we are being conservative in that we will like at least 3.5 megawatts in each well which is a good amount of power, but not a great well, but we are being conservative.
"We will assume we will have three wells with production and that will get us to 10 megawatts, and we need one well to reinject the water, so we don't know yet," Dacon stressed.
He added, "so if Well Number One produces one megawatt and Well Number Two produces nine megawatts then we still get 10 but you can only tell the power by testing."
Dacon noted also that they will proceed with the plant design after the test results because the plant design is dependent on the test results.
Once the plant design is chosen, it will be sent out to tender then plant construction will take about 18 months.
Dacon said they are hoping to complete the drilling program by December, 2019, repair Well Number One by February, 2020, start testing in March 2020 then go to the market for plant design by August/September 2020.
"Plant construction can start late 2020 or early 2021 and that is the plan if everything goes well," Dacon said.
He noted also that the good thing is that SVG has the money lined up for the project, unlike Dominica, which had geothermal steam since 2013, but just went to market for plant design because they lacked the money.
"This project in SVG is probably one the better designed geothermal projects they have in the world because we have the contingent grant facility which allows you to mitigate the risk," said Dacon.
"There is absolutely limited risk for the developer or the government. It doesn't mean we must be reckless. We don't know what is underneath there. We don't know the outcome, and if there is a negative outcome it is grant; we don't pay it. It is not a debt or a burden to the treasury," Dacon noted.
Project Manager Thorleifur Finnsson said they will continue to inject the well with water for about a month to open the fractures.