Posted on
Vincentian culture on showcase in Taiwan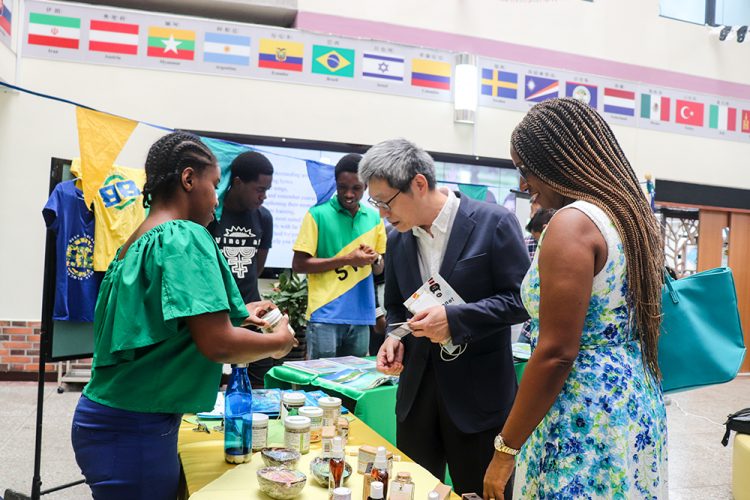 by Chanolde Munroe
in Taiwan
As part of celebrations for St Vincent and the Grenadines'(SVG) 40th anniversary of Independence, the Embassy of SVG, Republic of China (Taiwan), hosted an exhibition on Wednesday at the National Normal Taiwan University Mandarin Center in Taiwan.
Minister Counsellor Elroy Wilson told SEARCHLIGHT that the exhibition was held to showcase the Vincentian culture, food and music to the Taiwanese population.
"Seeing that it is our 40th anniversary, Renewal at 40, what we are trying to do is to get people to be more aware of what Vincentians are doing in Taiwan and what Taiwanese can expect when they visit St Vincent and the Grenadines," Wilson said.
Many persons who visited the displays were able to sample Vincentian chocolate, pepper sauce, bread pudding and Vincentian made cosmetic products.
Students were also clad in carnival costumes, much to the amazement of persons at the exhibition.
One international student told SEARCHLIGHT that while he had heard of St Vincent and the Grenadines, he did not know much about the country.
He added that he especially enjoyed the spicy sauce (pepper sauce) and cake (bread pudding).
Ambassador of SVG to Taiwan Andrea Bowman explained that exhibition was held to present SVG to non-Vincentians in Taiwan.
Bowman also commended the students for taking the responsibility for planning many of the Independence activities.
"These ideas, the idea to have the exhibition, to have the picnic, the church service, these all came from them…. So what we simply did was, we divided them into groups, meaning there are certain groups who would be responsible for certain things," she noted.
The Ambassador also expressed her gratitude for the turnout of students at the weekend's activities.
"I got a turn out more than I anticipated, I was thinking 15, we actually seated for the lunch that immediately followed the church service on Sunday, 30 persons, so that was double," Bowman said.
Cerelia Aberdeen, one of the co-ordinators of the exhibition said that she was excited to see people who are from SVG excited about their culture.
"I see smiles on their faces as they would tell them (the public) about back home…so they are really excited about what's going on here today."
Jenn-Yeu Chen Director of the Mandarin Center, pledged the school's support for next year's activities,calling the day's exhibition "lovely".
"We should turn it into a flea market of some sort," Chen suggested, adding that the products should be on sale.
Celebratory activities continue tomorrow, October 26 with countdown party, dubbed "Hairouna Countdown" and a cocktail reception at the Embassy on October 27 to bring the curtain down on activities.